Contact ThinkInsure
Please call our Customer Service line for service related matters or Sales line for sales inquiries. You can also use our company email directory below if you would like to email an individual.
Customer Service - Existing Customers
Existing clients please use Customer Service numbers for policy related matters.

Customer Service Hours : Monday to Thursday 8:30am - 4:30pm, Friday 8:30am - 4pm

Toll Free Customer Service : 1-888-415-8802

Local Customer Service : 905-415-8800

Fax : 905-415-8875

Sales - Inquiries, Quotes and New Policies
Please use our toll free sales line to get an insurance quote or for sales inquiries.
Sales Hours : Monday to Friday 8am - 8pm, Saturday 9am - 5pm

Call Toll Free For A Quote : 1-855-550-5515

Emergency Claims
Please click here to go to our Emergency Claims page.
Address
11 Allstate Parkway, Unit 206
Markham, Ontario
L3R 9T8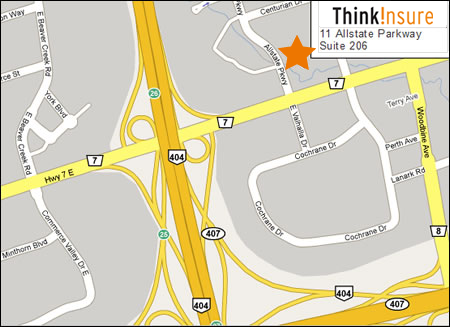 Management

President
Dean Waddell

Commercial Insurance Lines Manager
Gavin Flood

Personal Insurance Lines Manager
Franca LoMaglio

Sales Manager
Jimmy Lau

Group Sales Manager
Cathy Wanvig

Office Manager
Darren Wisz

Marketing & Technology Manager
Greg Flemming

Web Sales & Service Manager
Gurwinder Galsi