Car Insurance Calculator - Calculate The Best Ontario Prices
A Car Insurance Calculator Can Help You Save!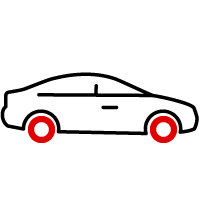 At ThinkInsure, we know you value your time, and you don't want to spend hours and hours comparing car insurance rates. Going from insurance company to insurance company takes up a lot of time, and you've got better things to do with your time than shop for insurance.
We also know that you want to get the best car insurance rates possible. This is why we've made it easy for you to compare car insurance rates and coverage options using our car insurance calculator.
With ThinkInsure, you'll save time and money on your insurance rates. Sounds like a win-win proposition to us!
To get started, all you need to do is enter your personal information, tell us a little about your vehicle and driving habits, and we'll compare auto insurance rates from the top insurance companies, so you can save money and get the car insurance coverage you need for your vehicle. The best part is that using our insurance calculator is easy, and it's 100% free to use.
Benefits Of Using An Online Car Insurance Calculator
Simply allowing your car insurance coverage to renew year after year without exploring your options could cost you – and it could cost you more money than you think. Your car insurance rates could change from year to year, making it extremely important to compare your options, assess your coverage needs, and see what the market has to offer.
Taking a few minutes out of your day to get an estimate could save you more than you think. Here are some of the benefits of using a car insurance calculator when comparing your insurance options :
You only have to fill out your information once to assess rates from dozens of insurance companies.
You fill out your information, and we will do the insurance shopping for you.
We'll find you the best insurance rates based on the information you provide.
You could save money – some extra cash never hurt anyone!
It helps you get a better idea of your total costs to own and drive a car.
You ensure you are getting the best rates each time you renew your auto insurance policy.
It's quick, easy, and most importantly, it's FREE!
Failure to get a car insurance estimate annually could cost you money. Saving a little money on your insurance rates each month can add up quickly. Considering it only takes a few minutes to fill out your information, it's time well spent.
Online Car Insurance Calculator
Calculate prices from top insurance companies
We save our customers hundreds everyday
It's quick, easy and free
Savings Tip - Call Us
Call to get additional car insurance discounts and expert savings advice. A quick call could save you a lot more!
Why Car Insurance Calculators Are Important
Car insurance calculators play a very important role in helping make car insurance shopping more convenient. They also ensure you have a solid comparison point for comparing your coverage options and rates. Rather than jumping from website to website and trying to compare apples to oranges – our car insurance calculator ensures you are comparing your insurance options based on the same criteria.
How car insurance rates are determined vary by insurance company. Each company uses a different set of variables and places greater weight on certain factors when determining rates. This is why you will often receive quotes that vary in price when comparing companies. Insurance calculators also allow you to see how a certain variable can affect your rates and your premium.
For example, the car you drive has an impact on your rates, and some insurance companies offer better rates than others because of how they assess the risk factor of a specific car. If you didn't use a rate calculator, you could overpay for insurance just because of the company you choose. So, when shopping for your next vehicle, make sure to consider its insurability to keep your rates down. Learn more about the cheapest cars to insure.
Car Insurance Calculators Help You Save Money
If you have never used an auto insurance calculator before, you'll be surprised on just how easy they are to use and how easily they can save you money. There is a reason why hundreds of thousands of drivers in Ontario and across Canada use insurance calculators when shopping for auto insurance – they help you save money, without having to go through the painstaking process of getting estimates from individual insurance companies.
Learn how to save even more money on auto insurance rates here : Top 10 Car Insurance Savings Tips
Even more importantly, insurance calculators provide you with options. You'll be able to clearly see the options that are available to you. You'll be able to see what you'll get from various insurance providers in terms of the coverage amounts for the estimated premium. This information will help you make a more educated and informed decision about your car insurance when it comes time to renew your policy.
If you're not satisfied with your current insurance provider, using a car insurance calculator ensures you have options – lots of them!
Tips To Get The Most Out Of A Car Insurance Calculator
Getting the most out of a car insurance calculator to get an estimate is important. It ensures that your estimates are as accurate as possible. Here are some great tips to maximize the effectiveness of our auto insurance rate calculator:
Gather your driving information ahead of time : Getting together your current insurance policy, vehicle information, driver's license, driving history, and the information of all drivers you want to include on your policy will help you save time when using our car insurance calculator.
Know your coverage limits : It's important to know the coverage limits you want to include. Know how much of a deductible you are comfortable with and the level of liability coverage you want included in your policy. Make sure you use the same coverage amounts for each estimate to ensure you are comparing rates using the same information.
Don't shop on price alone : Yes, the price of your insurance premium is important, but it's not the only thing to consider when comparing your auto insurance rates. To ensure you get the best coverage, it's very important to consider the amount of value and coverage you are getting for the estimated insurance rates. For example, one insurer may offer a lower premium, but it may not offer the same level of coverage than another with a slightly higher rate.
Use our car insurance calculator to consider all the variables when choosing car insurance coverage. Consider the price, coverage levels, and overall value of a policy before making a final decision about renewing your car insurance policy.
To learn more about how to save money on car insurance, check out : How are Ontario car insurance rates determined?
Calculate Ontario Car Insurance Rates In Your City
ThinkInsure takes pride in offering affordable and reliable car insurance to drivers across Ontario. Whether you drive in the crowded streets of Toronto, through the streets of the nation's capital in Ottawa, along the 403 in Hamilton, or in a quiet community in rural Ontario, we can help you get auto insurance coverage that meets all your needs.
Shop for car insurance in your city or region now :

Ontario Car Insurance
Barrie Car Insurance
Brampton Car Insurance
Hamilton Car Insurance
Kingston Car Insurance
Kitchener-Waterloo Car Insurance
London Car Insurance
Markham Car Insurance
Mississauga Car Insurance
Ottawa Car Insurance
Sudbury Car Insurance
Toronto Car Insurance
Windsor Car Insurance

With the with the June 2016 Ontario car insurance changes, using a car insurance calculator to get an estimate and assess your options is becoming even more important.
Need home insurance? Try our home insurance calculator to see how much you could save!