Compare Quotes And Save Money On Motorcycle Insurance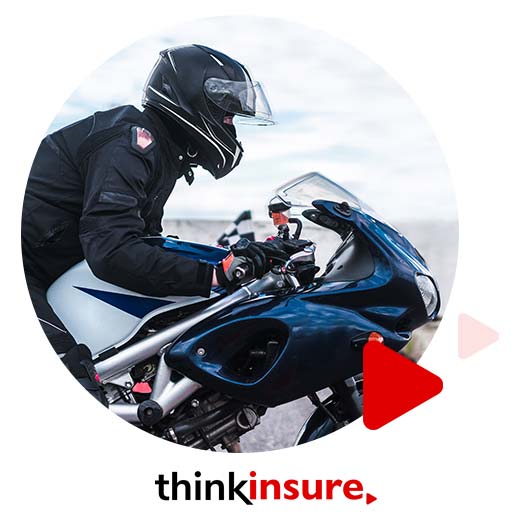 For years, we've been helping riders get affordable Ontario motorcycle insurance by providing expert advice and comparing quotes from the top insurance companies.
Why? Because we know you want to enjoy the freedom of the open road and cruising with your buddies without a care in the world, knowing you are covered.
One of the most effective ways to get the cheapest motorcycle insurance rates is to combine it with your current car or home insurance in a bundle.
Whether your motorcycle is a secondary vehicle, summer toy, a project, or even your mid-life crisis ride, ThinkInsure is your best option for online motorcycle insurance quotes. We'll make sure you are protected each time you take your bike out for a spin.
ThinkInsure shops multiple motorcycle insurance carriers to find the best combination of cheapest price and best coverage for you and your motorcycle or scooter, saving you both time and money. If you combine motorcycle insurance with existing policies, you can save even more.
One Stop Motorcycle Insurance Shopping : We make the process of buying motorcycle insurance as quick and simple as possible. Whether you compare quotes online OR by phone 1-855-550-5515, choosing the best motorcycle insurance coverage at the cheapest price in Ontario has never been so easy.
It's Quick And Easy To Save : We're not trying to sell you only on one single offering - as banks or insurance companies do. We want to be your go-to insurance broker for all your insurance needs – home, auto, motorcycle, and more. We get you a range of motorcycle insurance quotes from leading Ontario and Toronto insurance carriers so you get the cheapest insurance quotes, saving you money.
Compare The Best Quotes : Why bother going to each company's website to get a quote? You don't have to spend time searching through countless insurance websites. Compare motorcycle quotes online and we'll do all the legwork for you. One stop and we'll get you multiple insurance quotes!
It's All About You, The Rider : We aim to find our customers cheaper, lower priced motorcycle insurance policies that combine excellent policy features and benefits with very affordable premiums in Ontario. Unlike other companies, we won't try to fit you into a box of unnecessary coverage. We only give you exactly what you need.
How Much Is Motorcycle Insurance In Ontario?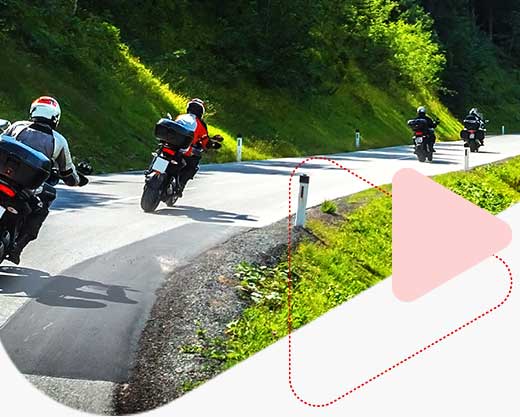 The cost of motorcycle insurance is unique to the individual rider. Your level of experience, age, type of bike you have and driving history. Even whether or not you bundle motorcycle insurance with other insurance policies will impact your motorcycle insurance rates.
Another reason to call one of our motorcycle insurance experts. They'll do the shopping for you and you can compare the best quotes. You can also compare use our online motorcycle insurance comparison quick quote. It's easy to use and you'll see the top quotes.
For best savings bundle your motorcycle insurance with your auto insurance or home insurance.
How To Get Cheap Motorcycle Insurance In Ontario
Aiming To Provide Affordable Ontario Motorcycle Insurance
ThinkInsure aims to provide cheaper, low cost motorcycle insurance for Ontario motorcycle riders. We understand that price is important to our valued customers, and that is why we compare prices from many of the leading motorcycle insurance providers. Many of our customers enjoy cheap motorcycle insurance. Shouldn't you?
3 Ways to Get The Cheapest Quotes
1. Ride Responsibly : Being a safe and responsible rider is important, not only for your safety, but also to help keep motorcycle insurance costs down. Avoid riding when road conditions are poor, and make sure your bike is stored and maintained properly.
2. Choosing A Reasonable Bike : The make and model of bike you choose matters, and it can have a big impact on your insurance rates. Choose a bike that is known for its safety, reliability and for having lower insurance rates.
3. Get Experience Through Proper Training : Taking government-approved motorcycle safety courses is important. It shows insurance companies that you are serious about being a safe driver. In addition to your M1 and M2 motorcycle driving test training, any advanced training courses will help you save. The MTO provides a list of motorcycle safety courses in Ontario.
Motorcycle Types And Bike Insurance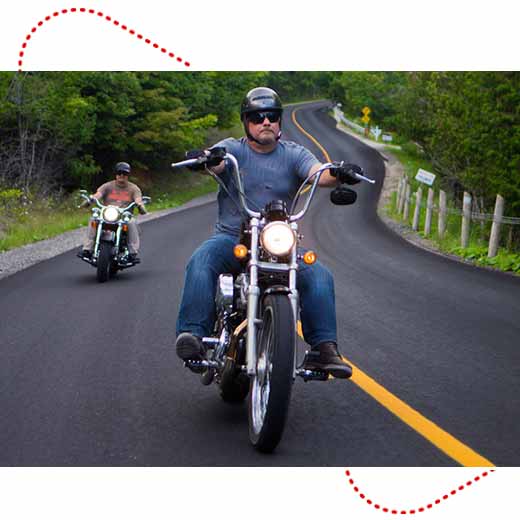 Like cars, there are many different types of motorcycles. Just like with cars, the type of bike you ride will have an impact on your motorcycle insurance. Some are cheaper to insure then others. Therefore, choosing a reasonable motorcycle is important if you want to have low cost motorcycle insurance.
Some of the most common bikes we insure include :
Standard Street Bikes : Also referred to as naked bikes or roadsters, these are your general purpose motorcycles that you commonly see on city streets.
Cruisers : When you think cruiser motorcycle, you think Harley Davidson and choppers.
Touring Motorcycles : These motorcycles are designed for long distance trips. They have large fuel tanks, storage compartments and are more comfortable to ride.
Tricycle Motorbike : These bikes, which have been gaining in popularity, are safer to drive because they have three wheels. The two back wheels provide added support and stability, making them easier to drive.
Insurance For Scooters, Vespas And Mopeds in Ontario
Scooter Insurance
Scooters are a popular motorcycle in Ontario. A scooter motorcycle is also known as a limited-speed motorcycle (LSM) with a top speed of 70 km/hour. Scooter motorcycles are popular because of their low cost of purchase, operation and insurance (much cheaper than a standard motorcycle insurance). Other benefits such as convenience in parking, storage and obtaining insurance when compared to a typical motorcycle. Standard basic Ontario motorcycle insurance is required.
Insurance For Vespa Scooters
Looking for cheap Vespa insurance in Ontario? Getting Vespa insurance is the same process and requirements as getting scooter insurance since they are an updated model of traditional scooters. Standard basic Ontario motorcycle insurance is required.
Moped Insurance In Ontario
A moped is a low-powered motorcycle designed to provide cheap and safe transportation with minimal Ontario motorcycle licensing requirements. They are commonly equipped with bicycle-like pedals. Moped motorcycles are typically restricted to 50 km/h, making them cheap to operate and moped insurance in Ontario is easy to obtain. Standard basic Ontario motorcycle insurance is required.
Ontario Riding Requirements for Scooters, Vespas, and Mopeds
To ride a scooter or a moped on Ontario roads you must have :
1. Licence : A motorcycle licence (M1, M2) and/or a licence that allows you to only drive scooter motorcycles, LSMs, Vespas and mopeds.
2. Insurance And Registration : Your must have insurance with registration and valid plates.
3. Helmet : A helmet approved for motorcycle use by the Ontario government.
Tips To Save On Motorcycle And Scooter Insurance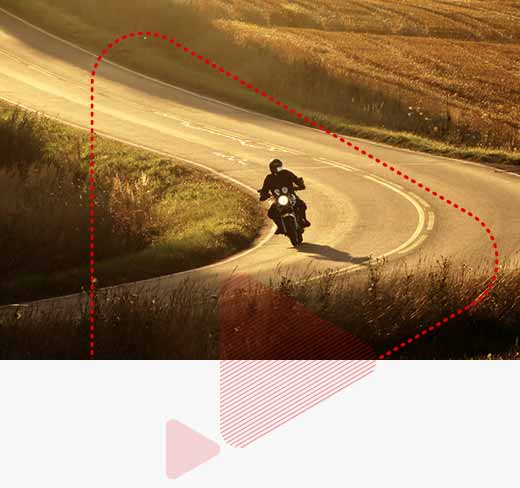 We know you want to get the lowest motorcycle insurance in Ontario. In addition to shopping around for motorcycle insurance quotes with ThinkInsure, there are many other ways to save – including making sure you have the correct amount of motorcycle insurance and tailoring your coverage to your usage.
We aim to find our customers cheaper, lower priced motorcycle insurance policies that combine excellent policy features and benefits with very affordable premiums in Ontario. Unlike other companies, we won't try to fit you into a box of unnecessary coverage. We only give you exactly what you need.
Motorcycle Insurance Coverage 101
Required Basic Insurance Coverage
Ontario motorcycle riders are required by law to have basic insurance coverage to get an Ontario plate and to ride legally. This includes Liability, Accident Benefits, Uninsured Automobile and Direct Compensation Property Damage.
Additional optional coverages and increased benefits can be purchased. Speak to one of our motorcycle insurance specialists for more information, so you can choose the level of protection - and price - that best suits you.
Required Ontario Motorcycle Insurance : Third Party Liability
If an insurance claim is brought against you due to your involvement in an accident and you are found to be responsible, resulting in someone's injury or death, or if your motorcycle damages property, the liability insurance component of your motorcycle insurance will cover a claim made against you.
Ontario requires a minimum amount of liability insurance coverage, but often we advise additional motorcycle insurance so that if a claim exceeds your insurance coverage, and you are held responsible for the balance, you're protected.
Required Ontario Motorcycle Insurance : Uninsured Motorist
If you're involved in an accident with an at-fault uninsured driver, Uninsured Motorist Coverage compensates you and your passengers for any bodily injury incurred.
Optional Motorcycle Insurance : Comprehensive Coverage
Similar to auto insurance, when your motorcycle is not involved in a collision but is damaged and is in need of repair or replacement, usually as a result of theft, fire or vandalism, comprehensive insurance coverage protects these occurrences.
Optional Motorcycle Insurance : Collision Coverage
Similar to auto insurance, when your motorcycle is involved in a collision, this insurance coverage will repair or replace your motorcycle if it is damaged.
Optional Motorcycle Insurance : Specified Perils Coverage
Specified Perils covers physical damage to your bike but only for damage caused by hazards specifically listed on the policy (for Ontario). The list may include :
Fire, theft, acts of God including lightning, windstorms, hail, earthquake, explosions, riots or civil disturbances, stranding, sinking, burning, derailment or collision and much more are covered by this perils insurance.
However, Specified Perils insurance coverage normally will not include vandalism or damage caused by flying or falling objects, including rocks, etc.
Optional Ontario Motorcycle Insurance : Family Protection Coverage
If you are involved in an accident by an at-fault, underinsured driver, this insurance is for you and your family. This motorcycle insurance provides coverage in the event that you are travelling out of Ontario and in another province or state.
It will protect you in an accident up to and including the amount specified on your Ontario motorcycle insurance policy limits, even though the other driver's insurance coverage levels may be less than yours.
Coverage From The Top Motorcycle Insurance Companies In Ontario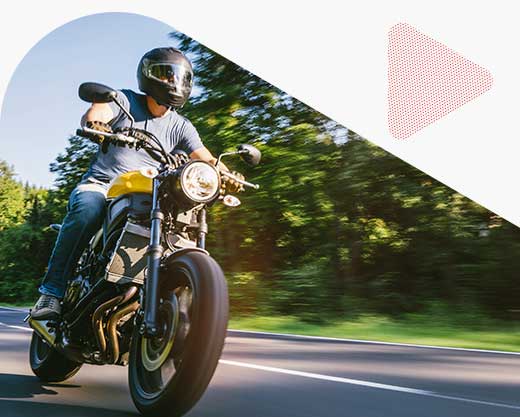 At ThinkInsure, to ensure you get affordable motorcycle insurance coverage, we work some of the top motorcycle insurance companies in Ontario. This provides you with policy and coverage options, and the ability to combine your home/auto and motorcycle insurance in one policy.
Ask about motorcycle and car insurance bundles for even more ways to save.
Motorcycle Safety Is Important For Insurance
If you want to save on insurance, you need to take motorcycle insurance seriously. Insurance companies do, and so should you as a rider. Motorcycle safely is not only about being a safe driver, it's about being a responsible motorcycle owner and understanding how to properly store your bike, how to take action against theft prevention and reduce the odds of having to file a motorcycle insurance claim.
Here are some motorcycle safety tips that will help you save on motorcycle insurance :
Defensive Riding : Be a defensive driver and always be aware of your surroundings.
Safety Gear : Wear safety gear when riding – helmet, gloves, boots.
Weather : Avoid riding during poor weather such as heavy rain or wind.
Obey Road Rules : Always follow the rules of the road – see and be seen.
Proper Bike : Don't ride a bike that you can't handle.
Parking : Always park your bike in high traffic and well-lit areas.
Alarm : Invest in a good alarm system to prevent theft.
Garage : If possible, park your motorcycle in a garage.
Bike Inspection : Always inspect your bike before riding – do a walk around.
Winter Storage : Follow proper storage protocol during the winter months. Store your motorcycle in a garage or enclosed location over the winter.