Ontario Car Insurance - Get A Cheap Quote And Save
Save Hundreds With Expert Advice & The Best Quotes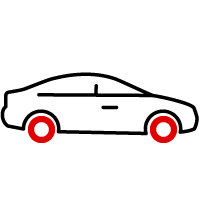 Save on your car insurance with Ontario's best broker, ThinkInsure. Get expert car insurance advice and compare quotes from the top insurance companies. You'll get best coverage and service at the cheapest rates.
The Current State Of Ontario Car Insurance
Ontario drivers want cheap car insurance. We know this; however, many of us are still paying too much. In addition to personal driving factors, insurance fraud, government regulations, and economic factors are all playing a role in how much you pay for auto insurance.
At ThinkInsure, we understand that you are not satisfied with their car insurance rates. We're here to help fix this! We are your car insurance partner, and we will help you compare car insurance quotes to find the cheapest car insurance rates, based on your unique situation.
It pays to shop around, and we will help you find cheap car insurance rates. Saving money on insurance starts with being an educated consumer, and we aim to help you better understand the current state of Ontario car insurance.
Why Get Your Car Insurance From ThinkInsure?
Discover The ThinkInsure Broker Advantage to see why so many Ontario drivers choose ThinkInsure to be their car insurance broker.
We can save you money. As an independent Ontario broker, we can get you quotes and discounts from over 40 insurance companies. We save our customers hundreds of dollars each year on their car insurance.
Choose from the top insurance companies. Quickly compare quotes and we'll help you choose the best option for your car insurance needs.
Customer service is a top priority. We value your business and our team of licensed insurance brokers is here to help you with all your car insurance needs in a personal and professional manner.
We make car insurance easy. If you are getting a new policy, making a claim or just asking a question, our expert team of licensed brokers is there to make it easy for you.
So whether you get an
Online Quick Quote
OR you call toll-free
1-855-550-5515
, getting the best car insurance at the cheapest rates in Ontario is quick and easy.
"
Mario took my driving info, answered some of my questions and gave me advice on other ways I could save on my car insurance. He quickly get me some quotes and now I'm saving over $300/year! I'm so glad I called ThinkInsure.
"
Dave, Toronto, ON
Ontario Car Insurance News And Resources
ThinkInsure takes pride in helping people save on their car insurance and keeping Ontario roadways safer for everyone. So we update our site regularly with information and tips on insurance savings, driving safety, news and much more.
Here are the latest articles. Visit our Help Center to see the full list of articles.
Save With The Cheapest Ontario Car Insurance Rates
All drivers want to know how to get the cheapest car insurance rates. The good news is there is no secret formula – saving on auto insurance is actually easier than you think!
Here is how you do it :
1. Shop and compare quotes : There are many insurance companies in Ontario who want to insure you. Having multiple quotes to compare will help get you the cheapest car insurance rates.
2. Stay up-to-date with the latest developments in the insurance industry : Things change quickly in the insurance industry. Staying up-to-date allows you to use this information to help you make the best car insurance decisions.
3. Be an educated consumer : Know what your policy means and the coverage you need. If you are not sure about a specific insurance term, talk with your broker to get clarification. Never make assumptions about your coverage.
4. Focus on value when comparing insurance rates : Price is important, but it's not the only thing. When comparing car insurance rates, make sure you understand the level of coverage you will receive for your quoted car insurance rates.
5. Consider insurance before you buy a car : The car you drive will impact your insurance rates. Inquire about the insurance rates of vehicles you are considering before you make your final vehicle purchase decision.
Here is some more information to help you save on your car insurance :
What Are The Cheapest Cars to Insure?
Top 10 Car Insurance Savings Tips
Ontario's Best Car Insurance Discounts
Bundle Home and Auto Insurance To Save Up to 20%

Start your search for cheap car insurance quotes in Ontario by entering some basic information into our Online Quick Quote.
We will quickly compare multiple quotes for you. Then you can make your choice from the cheapest rates in Ontario. You can also call toll free 1-855-550-5515 and one of our licensed brokers will be happy to help you.
We Put Your Car Insurance Needs First
As an independent insurance broker, we can get you unbiased quotes from the 40+ insurance companies we partner with. This means that you get the best coverage at the lowest price for your insurance needs.
Getting you the best coverage and rates is only part of how we put our customers needs first. Each customer gets personal service team that is dedicated to taking care of all their insurance needs in a timely and professional manner.
Whether is shopping for better rates, answering questions or helping with a claim, we go the extra mile to make sure our customers insurance needs get taken care of.
Why Is The Cost Of Car Insurance In Ontario So High?
Car insurance rates in Ontario are the highest in Canada, particularly in the Greater Toronto Area (GTA). We understand that this can be very frustrating for drivers, and we are working feverishly to help all drivers get the lowest car insurance rates possible.
How Much More Are Ontario Drivers Paying?
According to Canada Drives, the average car insurance premium for Ontario drivers is $1281 annually. This is the highest in all of Canada, and it is almost double the amount drivers pay in Quebec ($622), PEI ($695), New Brunswick ($728), and Nova Scotia ($735).
While each province calculates car insurance premiums differently, there are a number of common factors that play a role in determining your rates :
Driving experience
Driving record
Age and gender
Location
The car you drive
There are also additional factors that are outside of your control that can impact your car insurance rates, including :
The prevalence of insurance fraud : Insurance fraud costs the industry 1.3 billion per year in Ontario.
The increasing cost of injury claims : It's estimated that the cost of accident injury claims is 5 times higher in Ontario than in other provinces.
There are more drivers on the roads : This increases the risk of accidents and vehicle damage.
How rates are calculated by insurers : Insurance companies also control their rates based on their business objectives and set prices accordingly.
Learn more about car insurance rates in Ontario :
How Are Ontario Car Insurance Rates Determined?
Car Insurance Fraud In Ontario – Learn How It Works And How To Avoid It
Why Does Car Insurance Cost More In Ontario And Greater Toronto Area?
Coverage For All Kinds Of Drivers And Regions
With the depth of industry-leading insurance companies we work with, you can be rest assured that we can get you coverage regardless of what type of driver you are. Good, bad, young, old or high-risk driver - we'll get you the best car insurance for your needs.
Did you know that where you live and which company you choose impacts your car insurance rate?
Insurance companies all have different rates for different regions. This makes getting the best coverage and insurance rates difficult. Each region has its own set of unique factors that impact your rates.
You don't have to worry about that with ThinkInsure, though. Since we partner with over 40 insurance companies, we can quickly get you the best insurance quotes regardless of where you live in Ontario. We have customers all over the province from Windsor to Toronto to Sudbury and everywhere in between.
So no matter where you live, whether in a large urban center or small rural town, we'll get you the best coverage and cheapest auto insurance quotes. Shop for car insurance in your city now!
Get The Cheapest Ontario Car Insurance Quotes By City
Barrie Car Insurance Quotes
Brampton Car Insurance Quotes
Hamilton Car Insurance Quotes
Kingston Car Insurance Quotes
Kitchener-Waterloo Car Insurance Quotes
London Car Insurance Quotes Markham Car Insurance
Mississauga Car Insurance
Ottawa Car Insurance Quotes
Sudbury Car Insurance Quotes
Toronto Car Insurance Quotes
Windsor Car Insurance Quotes

A Quick Guide To Car Insurance Coverage And Policies In Ontario
Buying the best car insurance policy is more than finding the cheapest rates. Your best policy also ensures that you are properly covered so that you have the right financial protection if you have a car accident or need to make a claim.
Don't think about driving without car insurance. Fines for drivers who do not have valid car insurance coverage can range from $5000 to $50,000.
Here's an overview of the different insurance coverage options available in Canada:
Liability Insurance : The law in Canada requires this insurance for all drivers. Liability insurance covers costs associated with damages cause to another person or vehicle if you're in an accident. Costs can include:
Lost earnings
Medical bills
Rehabilitation
Legal bills
Other expenses – up to the limit on your insurance policy.
With this kind of coverage, you want to make sure that you have enough coverage to ensure that your personal assets won't be at risk if you're in a major accident.
Collision Insurance : If you're in an accident, this insurance covers damage to your car or vehicle. This insurance includes coverage to replace your vehicle.
Comprehensive Insurance : Your vehicle will be covered for damages from unexpected, harmful events like extreme weather, fire, theft and vandalism.
Emergency Road Service : This type of insurance provides roadside assistance if your car breaks down from a mechanical failure or mishap. You can have peace of mind if you breakdown on any road trip. Services associated with this coverage include:
Light mechanical work (installing a new battery for example)
Delivery of oil or gas
A boost to a dead battery or a new battery
A tire change
Towing to a nearby service garage
Uninsured Motorist Coverage : Should you be in an accident with a driver who does not have insurance protection, this coverage ensures that you'll have financial protection from costs associated with injury or death.
Direct Compensation Property Damage (DCPD): If you're partially at-fault, this insurance coverage protects you from the cost of loss or damage to your vehicle. NOTE: This coverage is available only in Ontario, Quebec, Nova Scotia and New Brunswick.
All-Perils Insurance : With this insurance, unless specified in your policy, you are protected from all risks. Accidents Benefits Coverage: This insurance coverage provides medical care and income replacement benefits for all persons injured in an accident. In most provinces, the law requires that this coverage be provided in all policies. Speak with your broker.
No-fault Insurance Coverage : This coverage permits you to deal with your insurance provider no matter who is at-fault in an accident. You avoid the headache of pursuing the other party's insurer. You deal directly with your insurer. You'll get faster results from your claim and reimbursement for out-of-pocket medical expenses.
Talk with your insurance broker to discuss your coverage requirements. You have coverage options. The coverage you choose can impact your rates.
Learn more on our Ontario Car Insurance Frequently Asked Questions / FAQs page.
Ontario Driving Information
Driving in Ontario is unique. With the country's busiest roads, largest population, famous traffic congestion on Highway 401, QEW, Don Valley Parkway, and Gardiner Express Way in the Greater Toronto Area, driving safely and getting to your destination on time can be a challenge, even for the most experienced drivers.

Here is some useful information to keep in mind for driving in Ontario :
Over 13.5 Million People : Wondering why there are so many vehicles on the road in Ontario? It is home to over 13.5 million people, accounting for almost 40% of all Canadians and making it the most populous province in the country.


The 401 : To move all these people around, many drivers take Highway 401, which stretches 818 kilometers (508 miles) across the province from Windsor to the Quebec border.


400,000 Vehicles Per Day : Some sections of the 401 see AADT (Annual Average Daily Traffic) numbers exceeding 400,000 vehicles. That works out to a total yearly volume of more than 146 million cars on just those particulars section of the 401.


Lot's Of Roads To Explore : Hoping to find the open road in your car to see Ontario? You've got lots of territory to cover. It covers more than 1 million square kilometers (415,000 square miles), an area larger than France and Spain combined.


Cottage Country : Driving your car to a lake or cottage this weekend? You have lots of options: Ontario has more than 250,000 lakes, which contain about one-third of the world's fresh water.


Holiday Traffic : Highway 400, a main conduit for traffic to access Muskoka and Parry Sound cottage country, sees traffic volumes 25 percent higher on long weekends like Victoria Day, compared to other summer weekends. Highway 35/115 to cottage country in Haliburton and the Kawarthas sees car volume 50 percent higher on the Victoria Day May 24 weekend compared to other summer weekends.
Ontario Drivers And Licensing
Ontario drivers are required to complete a graduated licensing process to get their full (G) driver's license. To apply for a driver's license, you must be at least 16 years old, pass an eye exam, and pass a written test. Once you pass your G1 test, you will be required to complete the G2 and G road tests. Visit a DriveTest centre in your area for all driving tests.
Once you have your driver's license, you must carry it with you at all times when driving, have valid insurance, ownership and license plate on your vehicle, and obey all traffic laws.
Learn more about Ontario drivers and licensing by reading :
Top 15 Ontario Driver's License Questions
G1, G2, G - Ontario's Graduated Driver's Licensing System Guide
Top 10 Questions About Ontario's Graduated G1, G2, G Driver's License
Ontario Car Insurance Testimonials
"After being with the same insurance company for years, it was a smart financial decision for us to change our car insurance plans to Thinkinsure. Saving money these days is more of a priority than ever before for us."
Mary & Bob, Toronto, Ontario
"I was expecting a big hassle when I was choosing and purchasing car insurance but I found it very easy. I have had a couple of reasons to call my dedicated broker in the past and always had prompt and very courteous help over the phone. Yes I would recommend Thinkinsure to everyone, in fact I have."
Dave, Mississauga, Ontario
"Quite easy to apply, lots of choice, easy to buy and easy to renew. A user friendly experience."
Manny, London, Ontario
"Thinkinsure's website was so simple to use. In a few minutes I had multiple car insurance quotes and a few minutes later I was speaking and locking in the best rate. I would recommend Thinkinsure's auto insurance to a friend."
Sonya, Ottawa, Ontario
"We have been with Thinkinsure for over 10 years now and haven't had a problem with them the entire time. And I like my assigned account manager-Broker, Gavin. He's always there when we call."
Paul, London, Ontario
"If you're new to car insurance, want to switch to a different auto insurance company or looking for a low car insurance rate, choose Thinkinsure. By shopping for lower car insurance rates, you could save hundreds on your auto insurance."
Hilary, Kitchener, Ontario
"Been with Thinkinsure for over 10 years now and haven't had a problem with them the entire time. And I like my assigned account manager. He's always there."
Andrew, Toronto, Ontario