Jul 10, 2020
Does Your Insurance Cover A Stolen Car?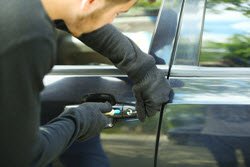 Car theftis not something you want to think about when considering auto insurance coverage options. But you should. Auto theft is one of the many threats to your vehicle.
Every day, cars are stolen from driveways and parking lots in Ontario. According to Statistics Canada, in 2016 alone, over 17,000 vehicles were stolen in Ontario and more than 78,000 in Canada – or about one car every seven minutes. Car theft insurance can protect you if your car is stolen.
Is Theft Covered In Car Insurance?
Will insurance cover a stolen car? If my car gets stolen, does insurance cover it? These are common questions we receive from our customers. The simple answer is yes, if you have the right coverage in place.
Auto theft insurance coverage is not included as part of basic, or mandatory coverage. So, if you have the bare minimum coverage, you may or may not have car theft insurance. It is available in optional coverage packages such as comprehensive car insurance.
What Are My Car Theft Insurance Coverage Options?
You can add car theft coverage to your insurance policy by adding comprehensive coverage, all perils coverage, or specified perils coverage to your policy:
Comprehensive Coverage : This pays for the cost to repair or replace your vehicle as a result of unforeseen situations, including theft.
All Perils : In addition to theft coverage, it provides protection against loss if your vehicle is stolen by someone living in your home.
Specified Perils : If you don't want to add comprehensive coverage but want protection from car theft, you can add a specified peril for theft.
What Do You Do If Your Car Is Stolen?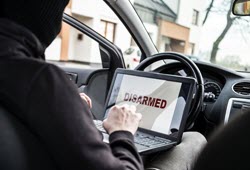 Once you are sure your vehicle has been stolen, contact the police immediately to file a police report. Follow police instructions. Call your insurance company to inform them your vehicle has been stolen. Contacting your insurer protects you if your vehicle is used to cause harm or commit a crime.
Here are the 3 key steps to take if your vehicle has been stolen :
Be sure your vehicle is stolen : While your first reaction will be to call the police immediately, take a few minutes to consider if your car was actually stolen. Could it have been towed? Did you lend it to someone? Who else do you know who has access to your car keys? Could it have been repossessed? Call the police once you are sure it was stolen.
Call the police : Call your local police to start the stolen car investigation process. You will be expected to provide a detailed explanation of your vehicle, including the make, model, license plate, VIN, and details surrounding the theft. Also notify the police of technology that may be able to help them track down your vehicle, such as the telematics system in your vehicle.
Call your insurance company : As soon as you have filed a police report, call your insurer. This will protect you if your vehicle is used in a malicious manner once stolen. Provide as much information as possible, including personal items that were in the vehicle at the time.
How Do You File An Insurance Claim For A Stolen Car?
When you file a car insurance claim for a stolen vehicle, expect your insurance company to open a stolen car insurance claim investigation. This is standard procedure. Your insurance company will assist you with the claims process. They will ask you a series of questions.
Information you will be expected to provide includes :
When and where the theft occurred : The time and date of the theft and where it was stolen from.
Vehicle details : Year, make, model, kilometers, other distinguishing marks (stickers, scratches, etc.).
Police report : Insurers will want a copy of your police report.
How Long Does The Stolen Car Claims Process Take?
Most insurance companies have a minimum waiting period before closing the claim. Typically it is 30 days. This happens to see if your vehicle can be recovered. Since all insurance companies are different in how they handle stolen car insurance claims, ask them about the time frame when filing your claim.
If A Car Is Stolen, How Much Does Insurance Pay?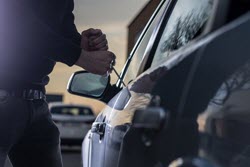 If your car is stolen and not recovered, it will be considered a total loss claim. You will work with your insurance company to agree upon the market value of your vehicle, or actual cash value (ACV). This is the amount you will be paid out for the claim. You will not be reimbursed for the original value of the vehicle or the cost of a replacement vehicle.
How Does Auto Theft Affect Car Insurance Rates?
Auto theft can affect how much you pay for Ontario car insurance. It costs drivers, insurance companies and the government millions of dollars annually. Your auto insurance rates are impacted by many factors such as the auto theft rate in your neighborhood, the theft rate of the vehicle you drive, and more.
Where you live : Larger cities like Mississauga, and Ottawa are known to have higher auto theft rates. If you live in a neighborhood that is known for a high theft rate, you can expect higher insurance rates.
The car you drive : Cars that are common targets for theft have higher car insurance rates. Each year the Insurance Bureau of Canada puts out a list of the most stolen cars in Canada. See if your car made the list.
Here Are Some Tips To Prevent Auto Theft
Auto theft is preventable. In fact, nearly half of thefts are because of driver error – leaving the doors unlocked, keys in the ignition, etc. Follow these auto theft prevention tips :
Always lock your vehicle : Make sure all doors are locked before you leave your vehicle.
No spare key : Never leave a spare key in your vehicle or any easy place to find.
Never leave the car running : Never leave your keys in the ignition or the car running without someone in the vehicle.
Park in the garage : If you have a garage at home, use it.
Keep windows rolled up when parked : Always close your windows and sun roof before exiting the vehicle.
Park in well-lit areas : Always park in well-lit and high traffic areas, especially at night.
Invest in car anti-theft devices : Installing a theft prevention device in your vehicle will make it more difficult to steal, less of a target for thieves, and you could qualify for car insurance discounts.
Keep valuables in vehicle out of plain sight : Never leave valuables, such as your phone, wallet, or shopping bags where people can see them.
Make sure you have car theft insurance coverage : If you are not sure if you have auto theft insurance coverage, talk with a broker today. Don't leave anything to chance.
Car Theft Insurance FAQs
Here are some of the most common question about car theft and insurance :
It depends. Most insurance companies have a set number of days they will wait to see if a stolen vehicle is recovered. Over 40% of stolen cars are never recovered. Once the grace period passes, your insurer will pay out your insurance claim.
The Ford F Series pickup line is the most stolen in Canada. A number of the different models regularly appear on the most stolen list. Pickup trucks in general are a popular target.
Keep in mind you still need to make your car payments and insurance payments during this time. You will need to come to a resolution with your insurance company and finance company (if applicable) to ensure you meet all obligations.
Gap insurance comes in handy during total loss claims, such as stolen car claims. It is the difference, or gap, between how much your vehicle is worth and how much you owe.
For example, let's say your vehicle was stolen and not recovered. The actual cash value of your vehicle was determined to be $10,000 and you still owe $15,000 on your car loan. This means there is a $5000 gap.
Gap insurance covers this difference. Without it, you would be on the hook for the $5000 if your vehicle was stolen and deemed a total loss.
It is a common insurance myth that insurers will not cover a stolen car claim if the keys are left in the vehicle. This is not true. Whether you left your vehicle unlocked, have a spare key in your vehicle, or even left the keys in the ignition, in most cases, your claim will be settled. It could be denied, however, if there is a history of auto theft.
No. Personal belongings such as your phone, GPS, car seats, wallet, and other items are not covered under car theft insurance. However, you can get coverage for personal belongings through a home insurance or tenant insurance policy. You may have to pay a second deductible if you file a claim for loss of personal belongings as a result of a stolen vehicle.
Until your car loan is paid in full, you are still obligated to make payments, even if your vehicle is stolen and not recovered. Your insurance payout can be directly applied to help pay off your car loan. If there is still a balance owing after you've paid the insurance claim money to your finance company, you will be responsible for paying the difference out of your pocket, unless you have gap insurance.
What happens when a stolen car is recovered? Your insurance provider will cover the damage caused to your vehicle. The repairs will be covered under your comprehensive coverage. You are responsible for paying the insurance deductible.
Compare Car Theft Insurance Coverage
Not sure if you have car theft insurance? Want to update your insurance coverage? Contact a ThinkInsure insurance broker today. Compare quotes by calling us at 1-855-550-5515 OR compare quotes online.
Here Are Some Other Articles You May Be Interested In
Car Accident Reporting And What Do After You've Been In An Accident
A Guide to the Ontario Graduated Driver's Licensing System
What Are The Cheapest Cars To Insure?
Commuting In Canada : Stats, Facts, Tips On Commuting In Canada
A Simple To Follow Guide For How To Buy A Used Car
<<What Is Uninsured Motorist Coverage?
What Are The Most Stolen Cars In Canada?>>