Jan 9, 2021
Make Sure You're Covered Against Car Theft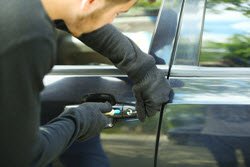 Auto theft is one of the many threats to your vehicle. Making sure you are covered when you are considering auto insurance options can help lower the risk and costs of a stolen automobile.
According to Statistics Canada over 86,000 vehicles were stolen across Canada in 2018. Even with the advancements in technology, taking preventative measures to protect your automobile from theft can make a difference.
With numbers rising around theft, what should a driver to do protect their car, truck, or SUV?
What Does Insurance Cover If Your Car Is Stolen?
If you have the right coverage in place, it will cover an automobile that has been involved with theft.
Auto theft coverage is not included as part of basic, or mandatory policies. If you have basic policy limits, you may not it included. It is available in optional packages such as comprehensive coverage.
This type of additional coverage will help :
Replace a stolen vehicle
Replace parts that are stolen or damaged
Repair damages to your automobile from theft or a break-in
What Are My Options For Car Theft Insurance Coverage?
You can add protection against auto theft by adding any of these additional modifications to your policy :
For example, let's say your vehicle is not recovered. The actual cash value was determined to be $10,000 and you still owe $15,000 on your car loan. This means there is a $5,000 gap. This coverage will cover the difference. Without it, you would be on the hook for the $5,000 if your vehicle was a total loss.