Ottawa Car Insurance Quotes - Save With Cheap Auto Rates
Ottawa's Best Auto Insurance Broker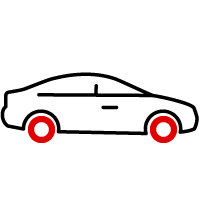 ThinkInsure has been proudly providing the best car insurance coverage at the cheapest rates in Ottawa for over 45 years. Discover The ThinkInsure Broker Advantage and learn why more and more Ottawa drivers choose ThinkInsure to be their insurance broker.
We can save you money. We are a large broker and can get you quotes from over 40 leading insurance companies that serve Ottawa and across Ontario, allowing you to choose the cheapest auto insurance quotes and get real savings on your car insurance. Our average customer saves over $400 each year. Choose ThinkInsure and be the next one of our customers to save!
You get lots of choice for car insurance. You'll have access to cheap car insurance coverage in Ontario. Who doesn't want that, right? You will be able to quickly compare car insurance quotes from 40+ insurance companies and choose the cheapest option for your needs.
We want and value your business. Customer service and satisfaction is a top priority for us. You are our top priority, and our experienced team of insurance brokers will work hard to take care of all your auto insurance needs in a professional and timely manner. We will do what it takes to win and keep your business!
Getting the best car insurance coverage is easy! Our team of licensed brokers makes all aspects of car insurance easy for our Ottawa customers. No matter what your insurance needs, you can count on us to be there for you.
Your lowest quotes for auto insurance starts here. Bundle your Ottawa home insurance and save 20% more! Compare quotes online or call toll-free 1-855-550-5515 and start saving!
"
ThinkInsure got me really good rate on insurance for my SUV. My personal broker Rich is very knowledgeable and is always available when I need him. The customer service at ThinkInsure is so much better than at my last insurance company.
"
Dave, Ottawa, Ontario
Ottawa Car Insurance News

May 9, 2018: Insurance for high risk drivers in can be expensive. Learn about how drivers get the high risk label and the best approach to get cheap insurance for high risk drivers.

Apr 13, 2018: Need to insure a car in Alberta? There are many types of car insurance coverage to consider. Some are mandatory, while other types of coverage are optional. Here we outline the types of required and additional auto insurance coverage options for Alberta drivers.

Apr 4, 2018: Gap insurance is an often overlooked and misunderstood form of auto protection. Learn about how gap insurance works and if it's something you should consider adding to your auto insurance coverage.
Want To Get The Cheapest Car Insurance Quotes In Ottawa?
So, if you want to save money - and who doesn't? - it makes perfect sense to shop around before making a major buying decision. Car insurance is no exception. If you are a driver in Ottawa, it's important to take every opportunity to compare car insurance rates to get the cheapest rates.
When are the best times to shop for car insurance in Ottawa to get the cheapest rates?
Purchasing a new vehicle
Your insurance policy is up for renewal
When you need to update your information
You make a change to your policy (add a driver, car, more coverage)
Talk with your ThinkInsure auto insurance broker each time these moments occur to ensure you are taking advantage of cheap car insurance in Ottawa. When you choose ThinkInsure, you'll see how we've made comparing competitive, cheap car insurance quotes quick and easy.
Your Lowest Quote For Auto Insurance Starts With Us - Insurance Coverage For Any Ottawa Driver
One of the main reasons why drivers in Ottawa use ThinkInsure to get the lowest car insurance rates is because we can help all drivers – not just drivers with great driving records.
If you are a young driver, a senior, or even if you've had a few driving convictions in the past and are considered a high risk driver, we will help find you the proper coverage at the cheapest rates, given your current situation.
To ensure you get the auto insurance coverage you need, we are partners with many different types of companies who specialize in car insurance for all different types of drivers. If you are having car insurance challenges, call 1-855-550-5515 and one of our licensed brokers will be happy to help you.
Quickly Compare Ottawa Car Insurance Quotes From 40+ Insurance Companies
Comparing car insurance with us is simple! All you need to do is enter some basic information about you and your car into our Online Quick Quote and - presto - we will find and present multiple auto insurance quotes for you.
Then make your choice from the cheapest car insurance rates in Ottawa. Alternatively, call 1-855-550-5515 and one of our licensed insurance brokers will be happy to find the lowest quotes for you.
We all need car insurance, so why not make sure your car insurance quote is at the cheapest rate and provides you the coverage you need to drive with confidence? We can help you with that. Call or click now for a quote.
Compare Ottawa Car Insurance Quotes
Compare quotes from 40+ insurance companies
We save our customers hundreds everyday
It's quick, easy and free






Savings Tip - Call Us
Call to get additional car insurance discounts and expert savings advice. A quick call could save you a lot more!
Your Auto Insurance Needs Are Our Top Priority – We Help You Get The Best Car Insurance Coverage
Our team of licensed insurance brokers are car insurance experts, and we'll go the extra mile to satisfy your needs. Since ThinkInsure is an independent broker, we can get you a number of unbiased quotes from over 40 different insurance companies we work with. This ensures that you get the best insurance advice and the best insurance coverage for your needs at the best price.
Getting the best coverage and rates is only part of what we do to make sure our customers' car insurance needs get taken care of. We make sure you get a dedicated personal service team member that is responsible for addressing all your insurance needs in a friendly and timely manner. This means you only need to contact one person for all your insurance needs.
Whether you have a simple question about your insurance policy, you need to update your information, you want to explore insurance discounts, or if you need to file an insurance claim, we are here for you!
Ottawa Auto Insurance Driving Facts And Stats
With about 1.2 million residents, and with millions of tourists visiting the city each year, Canada's capital definitely requires that drivers have a good car insurance policy. Known for its great communities, large highways, and traffic congestion, the city is actually one of the safest to drive in all of Canada. In fact, fatalities and injuries as a result of accidents have dropped by more than 50% over the past 3 decades, even with an increase in the number of drivers in the region.
Here are some other important and interesting Ottawa car insurance and driving facts :
The Capital Is The 4th Largest City : The capital and fourth largest city in Canada, Ottawa has a population of 883,911 within the city and 1.2 million in its metropolitan area.
Ottawa Residents Are Young And Smart : Nearly half of Ottawa residents are under 35, making it one of Canada's youngest cities. It also ranks as Canada's most educated city, and has the most scientists, engineers and PhDs per capita.
Canada's Best Community To Live In : Mercer, a human resource consulting company, ranks it second in quality of living among large cities in the Americas, and 14th in the world. It is ranked the second cleanest city in Canada and third in the world. In 2012, MoneySense magazine ranked it as Canada's best community to live in for a third consecutive year.
5,400 kms Of Roads : Ottawa's main freeways include Highway 417 (known as The Queensway) running through the middle of the city; Highway 174 to Orleans and beyond; and Highway 416 connecting Ottawa to Highway 401. It has 5,400 kms of roadways, 1,580 km of sidewalks, and 60 km of Transitway.
Busy Intersections : Among the top 10 signalized intersection collision locations in Ottawa, Hunt Club Road and Riverside Drive topped the list in 2011 at 53 collisions, followed by Belfast and St. Laurent at 32 and Baseline and Woodroffe at 31. The remaining top Ottawa locations varied from 28-30 annual collisions.
15,295 Accidents : While there were no fatalities at any of the 349 intersection accidents in Ottawa, there were 25 deaths - 9 drivers, 7 passengers, 1 motorcycle driver, 1 cyclist and 7 pedestrians - among the total of 15,295 reported accidents within it's city limits in 2011.
Road Safety Is Improving : According to the Ottawa Police 2014 Annual Report, criminal code traffic offenses are down by 66%, traffic notice offenses are down by 14.6%, and fatalities are down by 7.4%.
Reduce Accidents And Car Insurance Claims With These Ottawa Driving Tips
Like any other city in Ontario, Ottawa offers a unique driving experience. With a combination of driving in residential areas, busy intersections, and along major highways, drivers need to stay alert at all times. Here are some driving tips to ensure you don't need to file a car insurance claim and help you drive safely :
When driving on the outskirts of the city or one lane highways, watch out for deer and other wildlife. It's estimated there are more than 1000 collisions with wildlife annually.
Make sure to invest in a high quality set of winter tires.
Be careful of snowbanks and slick road conditions during the winter months.
Watch out for tourists – drivers and pedestrians. There are lots of them, especially near popular tourist attractions.
Be careful at intersections, a common location for accidents in the city.
How Do These Facts Impact Ottawa Car Insurance Rates?
These stats and facts help reveal a vibrant and desirable Ottawa that is not without the traffic and accident issues all cities face. Yes, a great deal of driving occurs, which can lead to car accidents - including multi-vehicle accidents.
Plus, there's traffic tickets, road conditions, insurance fraud and theft, and high population density that all play a role in how car insurance companies determine your rates. They all relate to the number of vehicles and drivers in Ottawa. A wide range of factors, all weighted differently, contribute to insurance companies determining different quotes based on calculations they use to set their rates.
Learn More About Getting The Cheapest Auto Insurance Rates
Ways To Save On Car Insurance
Usage Based Insurance
Car + Home Insurance Bundle
Ottawa Home Insurance
Car Insurance Discounts
Car Insurance Calculator
Compare Car Insurance Quotes For Different Types Of Drivers
Young Driver Insurance
New Driver Insurance
High Risk Auto Insurance
Uber Insurance
Most Popular Car Insurance Articles
What Are The Cheapest Cars To Insure?
G1, G2, G - Ontario's Graduated Driver's Licensing System Guide
Top 10 Tips To Save On Car Insurance
Important Changes To Ontario Car Insurance In June 2016
How Are Ontario Car Insurance Rates Determined?
Get an Online Quick Quote OR call toll-free 1-855-550-5515 and start saving on your Ottawa car insurance.
Car Insurance Quotes By Province And City
We are a licensed Alberta and Ontario car insurance broker. So if you are an Alberta or Ontario driver we can get you coverage. Since we work with so many insurance companies you'll be able to compare mutliple quotes for your region and get the lowest rate.
Alberta
Ontario
Barrie
Brampton
Burlington
Calgary
Edmonton
Etobicoke
Fort McMurray
Grande Prairie
Guelph
Hamilton
Kingston
Kitchener-Waterloo
Lethbridge
London
Markham
Medicine Hat
Mississauga
Red Deer
Richmond Hill
Oakville
Oshawa
Ottawa
Scarborough
St. Catharines
Sudbury
Thunder Bay
Toronto
Windsor
Vaughan

Ottawa Car Insurance Testimonials
"I called Thinkinsure in a panic as my insurance was expiring with another company and I was referred to Thinkinsure. They got me setup with a policy the next day at a better rate!"
Tony, Ottawa, Ontario
"They are very professional and do their best to help. They got me a better rate and the process was very easy."
Barb, Ottawa, Ontario
"I use Thinkinsure for all my vehicles and toys. They are very great to deal with and give me great service when I need it!"
David, Ottawa, Ontario
"Easy to buy, easy to renew. A great all around experience. "
Heather, Ottawa, Ontario
"I just started using Thinkinsure for my new car. They got me a great rate and the process was very quick and easy."
Mike, Ottawa, Ontario