Get A Lower Rate On Toyota Car Insurance
Want to save more on Toyota car insurance? You've come to the right place. Toyota is one of the most trusted car brands. With a record year of vehicle sales in 2018 in Canada, there have never been more drivers looking for Toyota insurance. Drivers want better rates and good coverage.
ThinkInsure can help you get the best car insurance coverage for your Toyota. We'll compare quotes from the leading insurance companies in Canada. Get options for all makes and models. Simply call us toll free 1-855-550-5515 or you can compare quotes online. Saving on insurance for your Toyota is quick and easy.
About Toyota Car Insurance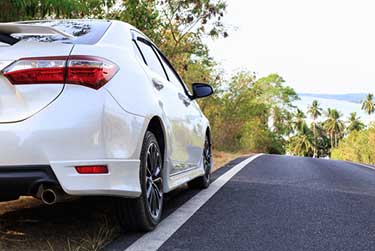 Founded by Kiichiro Toyoda in 1937 in Japan, Toyota is one of the world's largest companies. It is 6th biggest in terms of revenue in the world, and the top in revenue generation in the automotive industry. It is the second largest auto manufacturer worldwide. The company gets its name from the city they operate out of, Toyota City, Japan.
The company has regularly produced more than 10 million vehicles annually since 2012 and is the world leader in hybrid vehicle sales. Perhaps best known for the Corolla and Camry, the company also offers a line of luxury vehicles through its Lexus brand.
Toyota Canada
Toyota Canada was founded in 1964. To date, the company has sold more than 4 million vehicles in the country, with 2018 being its best year for sales in the company's history. The company sold 231,646 vehicles, a 3.2% annually sales growth. Overall, the company had the best sales year yet for many of the models including Prius, Tacoma, Tundra, RAV4, and the Lexus NX.
The Corolla remains the company's most popular vehicle because of its reliability, good resale value and overall performance.
How Much Does Toyota Car Insurance Cost?
The insurance cost for a Toyota vehicle largely depends on the make, model, and driver. The average insurance rates can range from as low as $1,100 for some Toyota models and up to $1,800 or more annually for drivers with a clean driving record.
You also have to factor in your location, drivers on the policy, limits, deductible, and many other factors when determining Toyota insurance premiums. Comparing car insurance insurance quotes is the most effective way to understand how much it will cost to get a policy.
Factors That Impact Toyota Auto Insurance Rates
Here are some some factors that can affect Toyota car insurance premiums :
Make and model : Rates vary based on model. The model, make, and features you choose will affect your premiums.
New vs used : Used models, especially the Camry, are more affordable to insure.
Collisions claims : The frequency of accidents by a specific model is used by insurers to determine premiums. The Highlander is known for a higher than average collision claims rate.
Theft : Theft negatively affects the insurance costs. The Camry and Corolla, two of the most popular vehicles, are also two of the most commonly stolen.
Retail and repair costs : Toyota vehicles are known for having a relatively low MSRP and affordable repair costs on almost all models.
Get Help Renewing Car Insurance For Your Toyota
Once you already have a Toyota, you'll need to renew your policy annually. Rather than just allow your policy to auto renew, it's important to review quotes as part of your car insurance renewal process.
We can help you explore your Toyota Toyota insurance options and see if there are ways to lower your costs each year. Contact us if your insurance is coming up for renewal.