Feb 9, 2021
Insurance Pink Slips Are Legally Required To Drive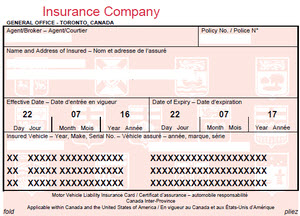 Do you know where your proof of insurance card is right now?
Having proof of insurance or producing your pink slip in Ontario is an important part of driving. We all know that we are required by law to have coverage to drive, many of us overlook the importance of always having proof with us – whether it is paper or electronic.
Failure to show proof of car insurance in Canada is not only inconvenient, but it could land you a fine and it could impact your payments. The following outlines the laws, your responsibilities, and the repercussions of failing to provide valid proof of your policy.
How To Get Proof Of Car Insurance
When you get car insurance for the first time or renew, you will receive proof of insurance with your documents. It is the detachable pink slip that lists the following information :
Registered drivers name and address
Vehicle year and make
Policy effective date
Insurance company name
Policy number
Proof of insurance will be issued for every insured, drivable vehicle with liability coverage. If you have a vehicle that is stored or towed, it will generally not be issued it.
Get Your Pink Slip Electronically In Ontario
Being able to get your pink slip online is something drivers have wanted for some time. With technology more prominent than ever, it is the next step forward. Paper copies will soon become a thing of the past.
As of 2020, drivers in Ontario are able to show it using their mobile phones. Ontario has become the fourth province to introduce electronic proof of auto insurance (EPAI).
Here are some other important facts you should know :
Go digital now : Digital pink slips are available now.
Paper version still available : Providers will still issue paper copies.
Security : Digital copies will have features that prevent editing and altering to protect against fraud. Parties will not be able to track your location or collect personal data without explicit permission.
Drivers responsibility : Drivers are responsible for ensuring their phone or device can properly display it. Broken phone screens, poor reception and a drained battery will not be accepted as an excuse.
Benefits Of Electronic Proof Of Insurance
Here is how digital coverage simplifies the process :
Eliminates the need for the current paper slips.
Insurers and brokers can send it to consumers electronically.
Going digital solves the issue of drivers not being able to show proof because they forget their paper slip at home, saving them from getting an unnecessary ticket.
Digital Pink Slips Help Fight Fraud
While some argue that electronic proof could lead to additional instances of insurance fraud, paper pink slips can be duplicated and manipulated just as easily. Technology solutions such as electronic proof and secure delivery of authentic cards can help minimize fraudulent use.
This situation commonly leads to a problem where risky drivers cancel their policy after getting their pink slip, allowing them to show the police proof when they do not have any. The driver cancels or defaults on payment and does not have coverage, but the police do not have a way of verifying unless they call the provider. Electronic proof will help stop this type of fraud from occurring.
Ontario Proof Of Insurance Laws
Drivers are responsible for showing proof of insurance if requested by the police during a traffic stop. You are required by law to have it with you in your vehicle when driving. Failure to produce it can result in a fine if you are pulled over by the police and cause issues when you search for car insurance quotes.
Failure To Surrender Insurance Card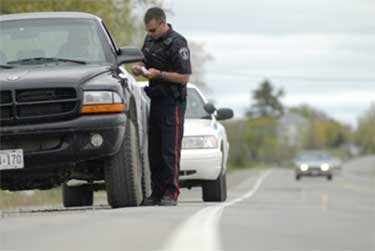 Even if you have valid car insurance in Ontario, you can still face a fine if you fail to surrender your slip when prompted by police. You know that if you are pulled over by police during a traffic stop, they are going to ask for your driver's licence, vehicle registration and proof.
If you cannot provide proof, you can be charged with :
Operating a motor vehicle without insurance : This charge implies you were driving without insurance.
Failure to surrender proof : This charge implies that you failed to produce proof of insurance to the police.
If you have forgotten your card, all you will need to do is attend court to show proof of a valid policy and the charge will be cancelled.
However, if you choose to pay the ticket for failure to surrender proof it will go on your driver's abstract. It could also impact your premium, even if you do have a valid and active policy.
What Is The Fine For Failure To Show Proof Of Insurance?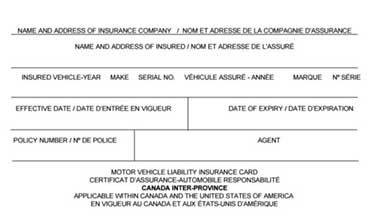 The fine for failure to show proof of insurance can be up to $500 (including surcharges), but in most cases, you will receive an $85 fine plus surcharges.
If you are not the vehicle owner and cannot provide proof of the vehicle you are driving, you can be charged with failure to surrender evidence of coverage. The fine for this infraction is $85.
If you receive a ticket and do not have any, you could face a $5000 fine for driving without it.
When Do I Need To Show Proof Of Insurance
Here are some of the main situations where you may need to show it :
Traffic stop : When pulled over by police.
Rental cars : When renting a car.
Buying a car : You will be required to show proof when buying a used car or a new car.
Registration : When registering a car.
Renewals : Renewing your license plate or plate sticker.
Proof Of Insurance FAQs
Proof of insurance refers to your insurance pink slip. It is the card you receive from your insurer. It includes your policy, number, vehicle, expiry date, and the names and addresses of those insured on the policy.
No, you no longer need to print proof of insurance. You can show your proof electronically.
Yes. You will need to show proof of insurance as part of the vehicle purchase process. You will need it in order to drive the vehicle off the lot.
If you lose or misplace your proof of insurance documents, contact your insurer right away. Depending on the company, you may be able to download a temporary card and order documents online.
Some provinces allow you to use electronic slips. You can use a mobile app from your provider or the wallet app. You'll be able to easily access the documents with a click of a button. Check your local rules and regulations.