Feb 28, 2021
The OPCF 44 And 44R Endorsement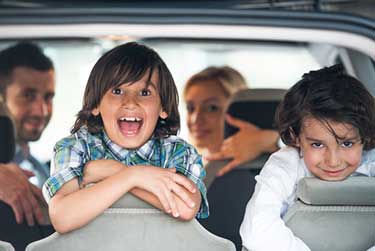 Often when we search for coverage, we focus on the yearly premium, not what is fully provided under the policy. In addition to the mandatory required insurance, you also have access to many different optional types, including family protection coverage (OPCF 44).
When it is time for renewal, it might be worth looking into Family Protection Coverage, or OPCF 44. Here is what you should know about adding Family Protection to your Ontario car insurance.
What Is The OPCF 44 Endorsement?
This Ontario Policy Change Form eliminates potential risk and gives you added coverage in case of an accident. It allows your third party liability limits to be increased if you are ever involved in an accident with a driver who is underinsured or is not insured.
How Does OPCF 44 Work?
OPCF 44 applies if you are involved in an accident where you are not at fault and the other driver is not insured, has less car insurance, or is unidentified (the case of a hit and run, for example). OPCF 44 provides you and eligible family members with additional third-party liability and benefits (bodily injury or death). With the help of this endorsement, you can recover the remaining damages.
To add this endorsement, you will need to contact your insurer and fill out the OPCF 44 form. You will provide the amount and family members that will be covered under the endorsement.
What Does OPCF 44 And 44R Cover?
If an individual ever hits you with and they have insufficient or is driving without insurance, OPCF 44 will provide extra protection to those named in the endorsement and their family.
The OPCF 44R ensures that you will have access to insurance if you or a family member is injured. It applies to children under 18, those who are financially dependent, or family members residing in your home.
It is active regardless of whether you or your family members are in the car when the accident occurs. It also applies to injuries from a motor vehicle accident if you were the driver, passenger, cyclist, or pedestrian.
Depending on your insurer, you may have a few limits to choose from. OPCF 44R will mirror your third party liability. For example, if you have a limit of $2,000,000 and the driver who causes an accident only has $1,000,000 in liability, OPCF 44R will provide another $1,000,000 in protection. This additional amount can go a long way if someone faces a serious or lifelong injury.
Is OPCF 44R Mandatory?
OPCF 44, 44R is not mandatory in Ontario. It is optional protection drivers can purchase and add to their plan.
Will OPCF 44 Increase My Premium?
The cost to add this endorsement is generally minimal and less expensive compared to other types, such as accident benefits. The increase in your cost will depend on a few factors, such as your driving record and any previous claims.
Adding OPCF 44 And 44R
OPCF 44, 44R can be worth purchasing for additional protection. Speak with our advisors for help or to add OPCF 44, 44R, to your car insurance quotes.