Find Lower Rates For Hyundai Car Insurance
Drive a Hyundai? Planning to lease or buy one? Before making a vehicle decision it's important to compare Hyundai insurance quotes. Exploring your insurance options ensure you find the lowest rates and the best policy for your Hyundai vehicle.
Hyundai made huge waves in the Canadian auto market in the early 2010s with the redesigned Elantra and Sonata. Their vehicles are well priced and offer great value. Thousands of Canadians each year continue to choose Hyundai cars, SUVs, and crossovers.
At ThinkInsure, our experts can help you get the lowest premiums to meet your unique driving needs. Get quotes for all Hyundai makes and models quickly and easily. Simply call us toll free 1-855-550-5515.
About Hyundai Insurance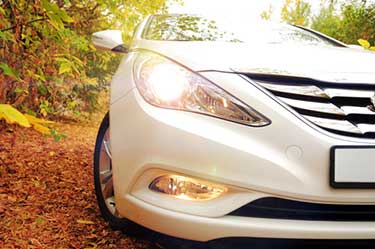 Hyundai was established in 1947 in Seoul, South Korea, originally as a construction company. It wasn't until 1967 that Hyundai Motor Company was launched. Hyundai is a Korean word that means modernity.
In 1974, in coordination with Ford, the company launched its first model, the Cortina. In 1975, the company released is first solo vehicle, the Pony.
Today, it is the third largest manufacturer in the world and its home to the largest integrated automobile facility worldwide. The company is best known for their mid-size cars – the Sonata and Elantra. It's also the parent company for Kia. The Palisade and NEXO are the two newest models to hit the market.
Hyundai Canada
Hyundai entered the Canadian market in 1984, two years before starting to sell vehicles in the United States. Today, its vehicles are very popular with Canadian drivers. Hyundai Canada has been the top selling vehicle manufacturer in the country on multiple occasions.
Currently, Hyundai offers two of the top selling vehicles in Canada. The Elantra is regularly in the top 3 of best-selling cars, and the Santa Fe is a popular selling SUV.
Overall, the company hold about 10% market share of all cars sold in the country. The company sold 129,280 vehicles in Canada in 2018, very similar to sales numbers in 2017.
How Much Does Hyundai Insurance Cost?
Hyundai is known for affordable coverage for most of their makes and model, some of which appear on the lists of lowest insurance costs. Premiums are in the range of about $1,250 annually.
Insurance costs vary based on many factors such as your location, model, features, your driving record and others. Compare quotes today to see prices from top insurers for your unique situation.
Factors That Impact Hyundai Insurance
Safety : They are known for great safety ratings. Many of the models are recipients of the top safety pick by IIHS. Tucson, Elantra, Sonata, and Santa Fe have all received this honor. Good safety ratings reduce coverage costs.
Make and model : The type of Hyundai you drive will impact your costs.
Theft : One of the great benefits of Hyundai models is they are not frequently stolen. They rarely appear on the most stolen list.
Low repair costs : They are known for having affordable repair costs after a car accident. Only the Veloster and Genesis have higher than average repair costs.