Apr 1, 2022
What You Need To Know About Comprehensive Car Insurance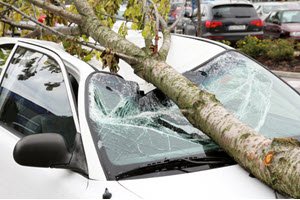 Comprehensive insurance is one of the many different types of coverage you can add to your policy - it is not part of mandatory Ontario auto insurance. It protects your vehicle from risks unrelated to a collision such as fire, theft, vandalism and weather.
For example, if your vehicle was stolen, then later found and returned to you, you could submit a car insurance claim to cover the cost of repairs.
In this blog, we'll explain this type of insurance, how much it costs, and when you need it.
What Does Comprehensive Insurance Cover?
Comprehensive insurance provides additional protection not included in basic automobile policies - it goes above and beyond the minimum requirements. It provides assurance against non-collision related threats.
"This coverage pays for losses, other than those covered by collision or upset, including perils or dangers listed under Specified Perils, falling or flying objects, missiles and vandalism," says FSCO.
Here is what it includes :
What Does Comprehensive Insurance Not Cover?
There are things comprehensive policies do not include. They are :
Damage to your vehicle from an accident
Medical expenses or loss of income after an accident
Damage to another driver's vehicle as a result of an accident
Medical expenses or lost income for another person after an accident
Theft by a member of your household.
Rental car accident after filing a claim
Should You Have Comprehensive Car Insurance?
When comparing options, it's important to determine whether or not comprehensive meets your needs. Some people opt not to have it as a way to lower costs.
However, you are also reducing your amount of protection. Depending on the cause of damage, you may be on the hook for the repairs. Note that you may need to have it if you have a loan on the vehicle.
Consider these important questions when determining your needs :
Peace Of Mind : Is the extra amount added to your premium worth the peace of mind?
Financial Situation : Are you able to pay out of pocket for repairs if you choose against it?
Vehicle Value : Many owners of older vehicles don't add this type of because of the lower vehicle value.
Risk : Do you think there is risk or chance that you will need to make a claim?
Car Loan : Do you have a car loan? If so, your lender will likely want you to have a comprehensive insurance.
Expect comprehensive protection to add a few hundred dollars to your Ontario car insurance quote. This will vary based on where you live, your insurer, driving history.
How Does Comprehensive Insurance Work?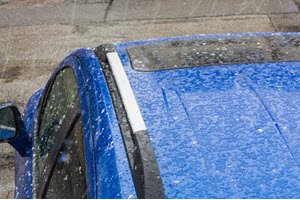 Comprehensive is an optional form of insurance you can add on to your policy. It's much like all perils or specified perils, and optional policy endorsements (OPCFs). They provide additional protection to your vehicle against a variety of threats and non-accident damage situations.
Does Your Comprehensive Insurance Cover You While Driving Another Persons Car?
This depends on your insurance. It's important to check with your insurer to get clarification. Many companies now offer driving other cars (DOC) under a full comprehensive policy.
How Does Comprehensive Insurance Work For Claims?
A comprehensive insurance claim is similar to a standard claim. The only difference is what you are claiming and your deductible amount.
Most policies include a $300 or $500 deductible. You can increase your amount, which will help lower the cost. You only need to pay your deductible for claims that fall under comprehensive.
For example, there is a bad storm and a tree branch falls on your car while it was parked. The damages added up to $2000 but you had a $500 deductible. Therefore, you will pay the $500 ad your provider will cover $1500.
What Is My Comprehensive Insurance Limit?
Comprehensive is subject to a coverage limit (the most your policy will pay out). This amount is different depending on your policy options and insurer. Claims made are subject to these limits.
Comprehensive Or Third Party Car Insurance?
Comprehensive and third party liability are different types of policies, but it is recommended to have both. Third party coverage is mandatory - it covers you if you are at-fault for an accident that results in damage or injury. Comprehensive is an optional addition.
When Should You Consider Dropping Comprehensive Insurance?
Many people consider dropping the comprehensive as their car ages. It's a quick way to save money on your plan. Vehicles depreciate at different rates, so it depends on your current situation.
Consider the value of your car against your policy costs and financial situation. Speak with your insurer to learn about your options.
What Is The Difference Between Comprehensive And Full Auto Insurance?
Full automobile insurance is something people refer to when they have all types of coverage. This means you have comprehensive, collision, and other optional policies.
Do You Need Collision And Comprehensive Insurance?
Some confusion exists between collision and comprehensive insurance, partly due to the fact that both apply as a result of damage to your car. But each protects you from different causes of damage.
Comprehensive policies cover more sources of damage to your vehicle than collision insurance.
If you have an older vehicle, then collision may not be in your best interests. If you want to pay as little as possible, having neither may be what you want. It all comes down to your risk tolerance and ability to cover costs if you experience damage.
For many drivers, having both types provides them with peace of mind. You'll have financial protection from the majority of threats to your vehicle.
Comprehensive Insurance FAQs
It depends. Coverage limits, car value, age, and other factors affect costs. Expect it to cost a few hundred dollars extra to add comprehensive. Find out for sure by contacting us today.
If you lease or finance your vehicle, you will most likely need to have comprehensive coverage. This will be part of your lease or finance agreement.
Comprehensive may cover you for damage to your vehicle from rodents and animals. Check your policy and speak with your insurer to confirm.
Get Added Protection With Comprehensive Insurance
Find out if your auto insurance has comprehensive coverage by checking your policy. Your policy documents will outline the limits, deductible, and other key information if you do. If you aren't sure you can contact us to learn more.