Find Better Ford Insurance Rates
Comparing Ford insurance quotes is your best path to getting the most affordable rates. As one of the largest auto manufacturers in the world, there are countless makes and models to consider – F-150, Focus, and Mustang immediately come to mind.
All Ford vehicles have unique factors affecting insurance. Is your policy up for renewal? Are you in the process of buying or leasing a Ford vehicle? At ThinkInsure, we can help you find the best rates for Ford insurance from the top providers in Canada. Get estimates for all makes and models. Simply call us toll free 1-855-550-5515 or get started online to save on your coverage.
About Ford Car Insurance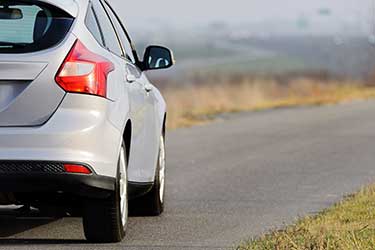 Founded on June 16th, 1903 by Henry Ford, the company is best known for perfecting the automotive assembly line. The Ford Motor Company Of Canada was established shortly after in 1904 to manufacture and sell vehicles in Canada.
The company continues to be the one of the 5 largest auto manufacturers in the world largely due to the success of the F-Series line of trucks. The brand also owns Lincoln, Troller, a Brazilian SUV manufacturer, and stake in Aston Martin. The company sold just under 2.4 million units in the US in 2018 and holds a 13.8% market share in the Canadian auto market. The Escape and F-150 were two of the top 10 selling vehicles in Canada in 2018 and continue to be top sellers.
The company's US head office is located in Dearborn, Michigan and the Canadian office is located in Oakville, Ontario.
The company plans to phase out most of the cars they sell in North America. 90% of sales in North America are trucks, SUVs, and commercial vehicles. This will be the company's focus going forward.
How Much Does Ford Insurance Cost?
Ford insurance costs vary greatly based on many factors, specifically the vehicle you drive, your location, how often you drive, your driving history, coverage limits and more. Rates start as low as $1,250 annually. Sportier vehicles such as the Mustang and Fusion are more expensive to insure than SUVs and pickups like the Escape and F-150.
Factors That Impact Ford Insurance Rates
Here are some of the top vehicle related factors that impact insurance costs for Ford cars, SUVs and truckscosts for Ford cars, SUVs and trucks :
Repair Costs : The cost to repair a vehicle after an accident or claim is always a consideration. Edge models can be expensive to repair after a collision, contributing to higher rates.
Theft : Premiums increase with the likelihood of a vehicles getting stolen. Ford trucks are popular with car thieves. They are consistently on the most stolen list.
Reliability : A variety of models have had recalls in recent years. This can increase fees.
Safety Features : Ford vehicles offer customized vehicle packages with a variety of great safety features. Adding these safety features will help lower costs.
Model : The type of vehicle you choose will certainly affect costs. If you are looking to save, choose a vehicle with more safety features, and a model that has a good insurance track record.