Uber Insurance Quotes For Toronto & Ontario Drivers
Ride Sharing Insurance Coverage Is Now Available In Ontario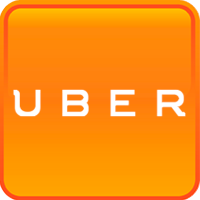 Finally, Uber and ride sharing drivers can get proper auto insurance coverage in Ontario. Intact Insurance now offers car insurance coverage for drivers who use their own car or vehicle to transport paying customers for ride sharing services.
Uber has a primary commercial insurance policy with Intact Insurance. It provides coverage to all vehicles, drivers and passengers from the minute a driver turns on the app and is available to accept a ride request until the passenger exits the vehicle. Coverage is also available through Novex, Jevco, and Belairdirect via Intact.
This new form of auto insurance fills a gap in coverage that has existed in the industry for some time. With the rise of the sharing economy, it provides innovative solutions that meet the needs of consumers. It is great for both drivers and passengers as they can have peace of mind knowing that they have proper insurance coverage.
About Uber Insurance Coverage In Ontario
The coverage is available to drivers who use their vehicles for ride sharing services like Uber. The new form of coverage, which already exists in Alberta, provides additional car insurance coverage that is separate from your personal car insurance policy.
Under the new policy:
Uber drivers,
Passengers, and
Vehicle owners
are all covered when Uber is in use. When the app is turned off, the vehicle owner's personal car insurance policy applies.
If you're thinking about becoming an Uber or ride sharing driver, it's important to make sure that you, your car and your passengers are properly covered through your car insurance policy.
Here are some FAQs (frequently asked questions) we get about Uber, ride sharing and auto insurance so you can learn more about how to protect yourself if you become an Uber driver.
What Is Included In Uber Insurance Coverage?
The Intact policy provides coverage that includes:
Statutory accident benefits
Uninsured motorist coverage
Third-party liability

Up to $1 million of coverage when the app is in use, but no ride has been accepted
$2 million in coverage after a ride has been accepted
In order for you to have access to collision and comprehensive coverage, vehicle owners must be covered with similar coverage under their personal policy
If you have any questions or want to get Uber or ride sharing insurance coverage, please call one of our licensed insurance brokers toll-free at 1-855-550-5515.
How Does Intact Uber Ride Sharing Insurance Work?
Using a phase by phase approach, Uber drivers are protected by ride sharing insurance the minute they turn on their app and are ready to accept ride requests.
When you are using your vehicle for personal use, you will be protected under your personal auto insurance policy. No need to call your insurer or notify them when you switch between being an Uber driver and driving for personal use. Once you log into your Uber app, you're covered by the Uber commercial auto insurance policy.
The chart below illustrates how the Intact Uber & Ride Sharing coverage works :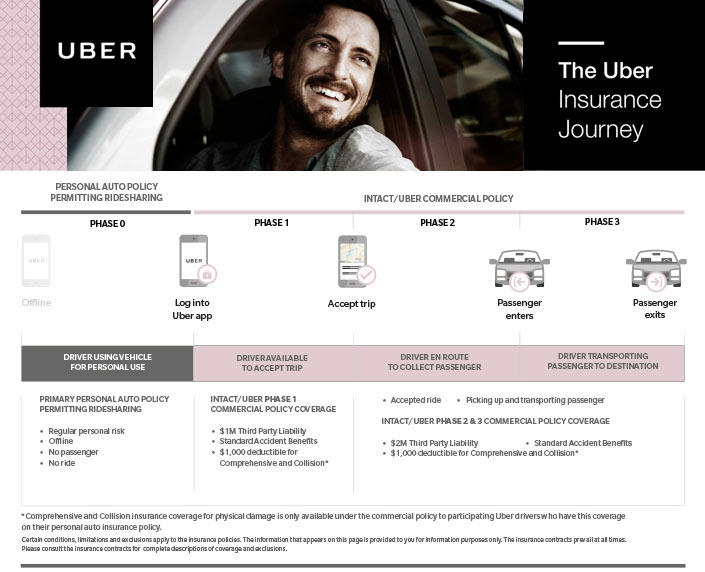 How Much Does Uber Insurance Cost?
Ride sharing insurance coverage for Uber drivers can be added to your personal insurance coverage at no additional cost. If you currently participate in ride sharing or plan to become an Uber driver, you must inform your broker. Your broker will then advise Intact about your intentions to ensure you are protected.
Which Uber Drivers Are Included?
Intact Insurance offers commercial coverage for the following Uber ride sharing operations:
UberX
UberXL
Uber Select
UberHop
UberPool
UberEATS (Only if you also participate in ride sharing. The Intact commercial coverage does not apply to drivers who only deliver food using the UberEATS platform.)
Do I Need Proof Of Uber's Commercial Insurance Policy?
Drivers will not receive a paper copy of a certificate of commercial insurance. An electronic certificate of car insurance can be found through the Uber app. Refer to this document if you experience an accident or traffic violation.
Do I Still Need To Get Uber Insurance Quotes In Ontario?
Under the new Uber commercial car insurance policy through Intact, drivers do not need to get Uber car insurance quotes in Ontario. All you need to do is simply contact your broker – us! Just let ThinkInsure know that you are an Uber driver, and we will advise your personal car insurance provider. No need for Uber insurance quotes in Ontario any longer.
Why Do I Need To Get Proper Car Insurance Coverage As An Uber Or Ride Sharing Driver?
Here are three main reasons why you need Uber commercial car insurance coverage:
Regular Car Insurance Doesn't Cover Ride Sharing :  1. Uber requires you to have valid personal car insurance coverage, but your insurance company may not cover you or your vehicle if you get in an accident while ride sharing. So you'll need to pay out of pocket for damages to your vehicle and for medical costs (if applicable). The Uber commercial insurance policy through Intact solves this issue and ensures Uber drivers are properly insured.
Your Current Car Insurance May Get Cancelled : Your insurance company may lapse or not renew your policy if they find out you are a ride sharing driver. If you are currently an Uber driver or plan to become one, contact ThinkInsure today. We will ensure you take advantage of the Uber car insurance available through Intact.
Peace Of Mind With Proper Coverage : You'll have peace of mind knowing you and your passengers are properly protected. Whether you are driving for personal use or are driving people around using the Uber app, you will have the car insurance coverage you need.
What Is The Difference Between Ride Sharing And Taxi Insurance Coverage?
Taxis are considered commercial vehicles so they must have proper commercial auto insurance coverage to legally drive and operate in Ontario. Ride sharing vehicles are used for both personal and paid fare driving purposes.
Whether you are a licensed taxi driver or are an Uber driver and are not sure which coverage applies to your situation, it is best to ask your insurer or broker.
Can My Current Personal Car Insurance Policy Cover Me As An Uber Driver?
Insurance companies are working on products for Uber and ride sharing drivers. Aviva now allows part-time Uber drivers to have an endorsement added to their auto policy for additional coverage for a nominal increase in premiums. Rates are based on how many hours per week a driver does paid ride sharing. The Aviva coverage only applies to part-time drivers who use their vehicles up to a maximum of 20 hours per week.
An endorsement is a clause in an insurance policy detailing an exemption from or change in coverage. Call a ThinkInsure broker at 1-855-550-5515 to find out more about Aviva Uber insurance coverage.
What Happens If I Get Into An Accident While Driving For Uber?
UberX provides insurance coverage for bodily injury and property damage to third parties. But as an Uber driver, you are responsible to ensure that you have adequate insurance coverage for your vehicle and yourself.
To make sure that you and your passengers are properly protected, check with your insurance broker. Know what your existing personal car insurance covers and what you can do to adjust your current policy.
Here Are Some Interesting Uber Facts In Ontario, Toronto And Ottawa
1. In its first year of operation, (Sept 2014-15) in Toronto, Uber boasts :
34 million kilometres driven by Toronto drivers
Over 16,000 Uber driver-partners
$50 million in revenues for Uber and its drivers
2. Uber Ottawa made history on New Year's Eve 2015
The Ottawa Uber blog reported 5.7 times the trips being completed over NYE 2014.
3. Here are the Ontario regions where Uber currently operating
In Ontario you can partner with Uber in the following regions :
Learn More About Uber And Being An Uber Driver In Ontario
Do you want to know more about Uber, Uber driving and insurance for Uber? Here are some recent articles to get you started.
Uber Ontario
Uber Drivers in Ontario Now Insured Automatically
Intact Uber Ride Sharing Insurance

 If you are an Uber driver or are considering becoming one, call toll-free 1-855-550-5515. We'll be happy to get you proper coverage.