Mar 6, 2018
Are You Covered By Insurance If Your Vehicle Gets Damaged?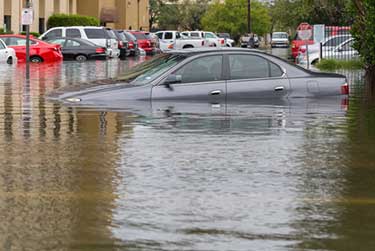 Extreme weather events are on the rise. While many associate extreme weather events and home insurance , they also pose an increased risk to your vehicle.
The recent severe storms in Atlantic Canada and the recent flooding in various cities in Ontario are prime examples of how Mother Nature, or Acts of God, can cause damage.
Does your car insurance cover you for all perils? Do you have coverage to protect you from extreme weather?
Acts Of God And Auto Insurance Coverage
Acts of God and auto insurance coverage can be somewhat confusing for drivers. Many assume they are covered for things like water damage, hail, and fire. But, if you only have the minimum mandatory auto insurance coverage, you may not be covered.
In this blog we outline the types of insurance coverage that protects your vehicles against weather events. We'll outline what is and is not covered, and answer common questions about extreme weather events and auto insurance coverage.
Natural Disasters And Auto Insurance Coverage
Your car insurance will cover you against most weather-related risks. You just need to make sure you have the right type and amount of coverage in place.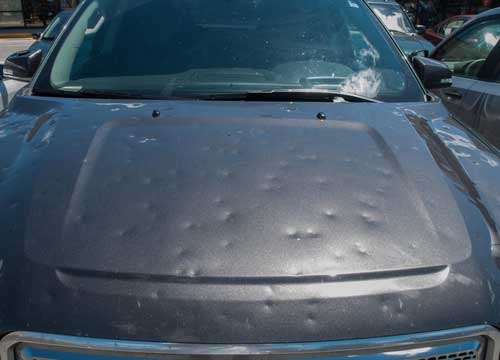 Basic auto insurance coverage will not provide you with all the protection you need. If you don't have comprehensive auto insurance or all risk car insurance, your weather damage claim may not be covered.
Comprehensive insurance provides coverage for non-accident related threats and weather events specifically. All perils insurance provides combined collision and comprehensive coverage, plus additional coverage.
Weather Related Specified Perils In Car Insurance Coverage
Does car insurance cover natural disasters? Here are some of the most commonly asked questions regarding car insurance and weather damage :
Does Car Insurance Cover Hail Damage?
Yes. Hail storm damage is covered by most auto insurance policies. It might be named specifically or fall under storm damage in your policy. Hail car insurance coverage is found in your comprehensive coverage.
When big enough, hailstones can do damage to your vehicle's roof, windshield and body. They cause small dents, and the cost to repair depends on the size of hail, depth and number of dents.
Is Water Damage Covered By Car Insurance?
Find your car underwater? Water damage is covered under your auto insurance policy. Often referred to as rising water coverage, you are covered for events that are out of your control, such as a lake or river overflowing, a significant rainstorm, or a sewer line backup. If any of these issues happen and cause water damage to your vehicle, you may be covered.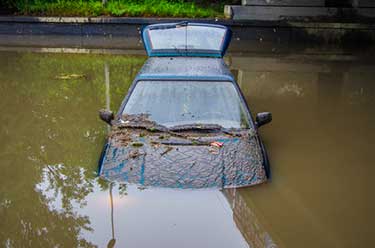 Is Car Flood Insurance Part Of My Policy?
Additional car insurance coverage above and beyond basic coverage can provide you with flood insurance for your vehicle. Acts of nature of this kind are covered but may be subject to exclusions and coverage limits.
Does Car Insurance Cover Tree Damage?
Falling trees, branches, and other objects are typically covered in your auto insurance. Coverage will help pay to repair or replace your vehicle if it's damaged by a falling tree. Your policy will cover you regardless if the tree is on your property or neighbor's.
Does Car Insurance Cover Wind Damage?
Strong winds can cause significant damage to your vehicle. Damage from high winds is typically covered. This includes flying debris that damages your vehicle such as smashed windows, windshield damage, dents, and more.
Do I Have Car Fire Insurance In My Policy?
Vehicle fires can be scary. They can cause significant damage. Your car insurance policy typically provides coverage for damage caused by fire.
Fires as a result of a collision with another vehicle or object are covered under your collision insurance. All other instances of fire damage are covered by comprehensive coverage. This includes fires from faulty wiring, engine fire, natural disaster, fire spreading from a house fire, or a thief burning a vehicle after it's been stolen.
Some exclusions may apply. Check with your insurance broker for more details about what is outlined in your policy.
Is Lightning Covered By Auto Insurance?
While lightning strikes on vehicles are rare, they do happen. They are typically covered by your insurance. Your coverage will help to pay for repairs related to lightning damage such as electrical issues, car fire, and body damage. Check your policy to make sure lightning damage is included in your policy.
Know Your Policy Limits And Exclusions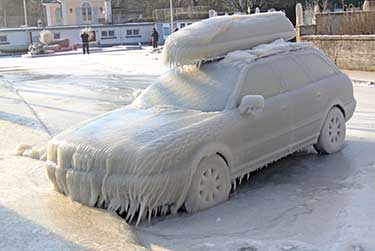 Many drivers assume all forms of weather damage are covered by auto insurance. However, some weather events and natural disasters may be excluded or have limited coverage such as tornados, hurricanes, earthquakes and flooding.
You may be able to purchase optional insurance enhancements for extra coverage. Know your area and know the risks to your vehicle.
Should You Pay Out Of Pocket Or File A Claim For Weather Damage?
Weather damage happens. Whether a tree branch, hail, or even a flying object in a wind storm has damaged your vehicle, think twice before filing a claim.
Always compare the damage costs with your deductible amount. It may make more sense to pay out of pocket than to file a small claim and risk your car insurance rates increasing.
Review Your Auto Insurance Policy To Make Sure You're Covered For Extreme Weather
Auto insurance policies vary. Depending on the type and amount of coverage you have, you may or may not be covered for extreme weather. Some policies cover some types of weather events, and not others.
Before you assume you are covered, check with your insurance broker to be clear on which types of weather damage are and are not covered.
Tips To Protect Your Vehicle From Weather Related Damage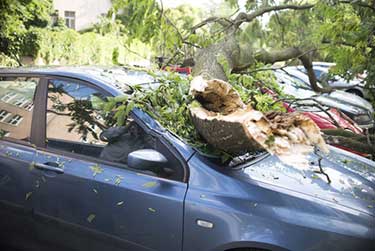 While many weather events are not preventable, there are a number of things drivers can do to protect their vehicle. Do the following to reduce the odds of having a weather damage car insurance claim :
Park in the garage : If you have a garage at home, use it. Also, park your vehicle underground or at indoor parking lots if possible to reduce exposure to weather.


Cover your vehicle : If you park outdoors, consider using a cover or hail protector if a hail storm is in the forecast. Covering your vehicle, especially if you have a sun roof, can also help prevent water leaks.


Pay attention to the weather : Paying attention to the weather forecast can help you be proactive in protecting your vehicle. For example, if flooding is forecast in your area and you normally park underground, consider moving your vehicle above ground.


Mind where you park : Avoid parking underneath large trees and in areas where wind could blow objects into your vehicle and cause damage. At home, cut back tree branches so they don't fall on your vehicle if a wind storm occurs.


Choose the right auto insurance coverage : While you can't prevent the weather, you can choose additional insurance coverage to protect your vehicle.
Not sure if you are covered for extreme weather? Contact your insurance broker today to review your car insurance policy and make adjustments if necessary.
Here Are Some Other Articles You May Be Interested In
What Drivers Need To Know About Showing Proof Of Car Insurance In Ontario
Car Accident Reporting And What Do After You've Been In An Accident
A Guide to the Ontario Graduated Driver's Licensing System
What Are The Cheapest Cars To Insure?
Commuting In Canada : Stats, Facts, Tips On Commuting In Canada
A Simple To Follow Guide For How To Buy A Used Car

<<Driving Without Insurance In Alberta
Alberta Accident Report : Reporting A Collision To Police And FAQs>>