Jan 23, 2020
Alberta Vehicle Registration Information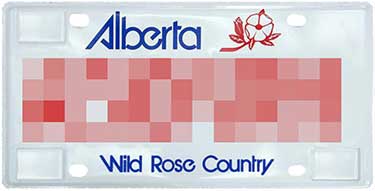 Vehicle registration in Alberta is important. You can't drive without having a vehicle registered. You need to know when it's time to renew. You need to understand the process to ensure you are compliant with all car registration laws.
There are more than 5 million total vehicles registered in Alberta. There are more than 1 million passenger cars, over 1 million trucks, and close to 1.5 million trailers.
When you need to renew, registration costs, and how to update your information varies based on the type of vehicle you drive.
Here we provide you with all the information you need for Alberta vehicle registration. Learn about how to register a car, renewals, costs, and frequently asked questions by Alberta drivers.
How Do You Register A Car In Alberta?
All vehicles on public roads are required to have a vehicle registration certificate. Steps to complete the registration process are :
Visit : Visit a registry agent in person
Ownership : Provide proof of vehicle ownership
Insurance : Provide proof of valid Alberta car insurance
ID : Personal identification
Fees : Pay the vehicle registration fee
Registration : Receive your vehicle registration certificate
How Long Is The Alberta Motor Vehicle Registration Period?
Passenger car registration can be issued for a minimum of 1 year to a maximum of 2 years.
Can You Register A Vehicle Online In Alberta?
No. You are required to register all vehicles in person at a registry agent. You can only renew your registration online.
How Do You Register A Used Car In Alberta?
The registration process for used cars follows the same steps as new cars. If you are buying a from a dealership, they will usually handle the registration process for you. If it's a private sale, you will need to visit a registry agent to complete the transfer of ownership and registration.
The Alberta Vehicle Registration Renewal Process
Vehicle registration renewals expire on assigned months based on your surname. You have three options to renew your registration :
Can You Renew Your Vehicle Registration Online?
You can renew online if there are no changes to your information. To renew, you will need your vehicle registration certificate, insurance pink slip, and a credit card for payment. You can renew online here.
You CANNOT renew online if :
You have unpaid fines
You have less than 10 business days until your registration expiry date
You have a name or address change
Renewal Registration In Person
You can renew your registration in person at any Alberta Registry Agent. Bring your driver's licence, proof of insurance, and vehicle registration certificate.
Renew By Mail
You can renew your passenger vehicle registration by mail. Simply complete the general mail-in renewal form and mail it to the address listed on the form.
It's recommended you only use the postal option if your registration expires in 30 days or more. You cannot renew by mail if you have outstanding fines or want to make changes.
Will I Get An Vehicle Registration Renewal Notice?
No, you will not receive a reminder unless you sign up for the Renewal Reminder Service. This service will send you an email or text message reminder prior to your next renewal date. You can sign up for the service here.
Where Can I Find My Car Registration Renewal Date?
You can find your expiration date on your licence plate tags, registration certification, or on the registration expiry date chart.
How Much Does It Cost To Register A Car In Alberta?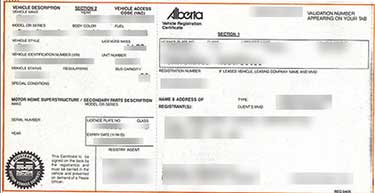 The cost of passenger vehicles is $84.45 for one year and $159.45 for two years. If you are registering a vehicle for the first time, it will be prorated based on your expiry month. The same fees apply to renewals.
Alberta Vehicle Registration Fees Are Based On The Type Of Vehicle
Vehicle registration fees vary based on the type of vehicle :
Cars : $84.45 (1 year)
Motorcycles : $54.45
Off road vehicle : $54.45
Trailer : $109.45
Antique vehicles : $39.45 (one-time fee)
Which Vehicles Don't Require Registration In Alberta?
Vehicles that are not permitted to drive on public roads do not require registration. They include :
Electric scooters and mini bikes
Small mopeds
Miniature all-terrain vehicles
Golf carts
Some vehicles exempt from registration that can be driven on roads include farm equipment, heavy industrial equipment, some trailers, and mobile homes.
How To Register A Vehicle From Another Province?
Vehicle standards and registration processes vary. To register your vehicle in Alberta, you will have to get it inspected and provide the following information :
Out of Province Vehicle Inspection Certificate
Proof of ownership
Proof of residency in Alberta
Proof of insurance
If you are importing a vehicle from the United States, you will also be required to provide a Certificate of Origin and Transport Canada Form 1.
What Is The Fine For Driving Without Vehicle Registration In Alberta?
It is an offense to drive any vehicle without valid registration. If you are stopped by the police, you could be fined a minimum of $230.
How Do You Register A Commercial Vehicle In Alberta?
There are specific registration requirements for commercial vehicles in Alberta. Commercial registration applies to Class 1, Class 2, and Class 3 plates. Owners must register for the proper class of plate or they could face charges. Commercial vehicle registration costs vary based on class and weight category.
You may need to obtain a Safety Fitness Certificate and/or an Operating Authority Certificate. Commercial vehicle registration can be a minimum of 3 months and a maximum of 1 year.
Alberta Vehicle Registration Locations
Alberta vehicle registration locations are found in cities across the province. Currently, there are more than 200 locations across Alberta. Visit your local registry agent to register your vehicle. Click here to find a registry agent near you.
Registration In Edmonton
Edmonton vehicle registration can be completed at 28 locations across the city. You can register and renew your vehicle, take driving road tests, and access many other services.
Registration In Calgary
Registration in Calgary follows the same steps as other areas of the province. There are about 30 locations across the city where you can register your vehicle.
Alberta Vehicle Registration FAQs
Here are some of the common questions asked about Alberta vehicle registration :
Is There An Alberta Registration Renewal Grace Period?
No. There is not a grace period. If you drive with an expired licence plate, you could face fines and late penalties.
Is Classic Car Registration In Alberta Different?
Yes. Classic car registration is permanent. There is a one-time cost of $39.45. You do not need to renew your registration each year.
Can I Register A Vehicle For Someone Else In Alberta?
Yes, you can register a vehicle for someone who cannot make it to a registry office. To complete the registration, you will need to bring the person's proof of ownership, proof of insurance, and their identification. You will also need to bring a signed and completed Authorization for Vehicle Services form.
What Is The Alberta Vehicle Registration Authorization Form?
This form allows you to give someone else the ability to register, renew, or transfer vehicle registration on your behalf. This form is used if you are not physically able to be present in a registry office to complete the transaction. Fill out the official form provided by Service Alberta.
Can I Register A Vehicle If I Have Outstanding Fines?
No. You will not be able to register or renew vehicle registration if you have outstanding fines. You must pay fines in full before registering or renewing.
When Does A Vehicle Registration Expire?
Registration expiration dates vary. Your registration expires at the end of the month that corresponds with the first letter of your last name.
I Lost My Vehicle Registration Certification In Alberta. How Do I Get A New One?
You can get a copy by visiting a registry office. You will need Government of Alberta photo identification. A $22.45 fee applies for the new registration to be printed.
Depending on your expiry date, you may have the option to renew and extend the term of your registration.
Can I Cancel My Vehicle Registration In Alberta?
Yes. Visit a registry agent and fill out the License Plate/Parking Placard Cancellation form. You will need to bring ID, your licence plate, and pay a $9 cancellation fee. You are eligible for a refund based on the amount of time left on your registration.
How Do I Change My Address On Vehicle Registration?
You have 14 days to change your address. You must visit a registry agent in person to apply for an address change. A $7 fee applies to change personal information on your registration.
What Are Some Tips To Renew Car Registration In Alberta?
Alberta no longer provides postal reminders for expiring registration. Here are some tips to ensure you renew it on time :
Renew early (at least 10 business days in advance) so you have access to online renewal
Pay fines well in advance of renewal (if applicable)
Sign up for electronic reminders for registration renewal
Write down the month of your renewal in a planner or somewhere you check frequently
Keep all renewal documents filed together
Know the documents you need to successfully complete the process
Alberta vehicle registration doesn't have to be complicated. Use the information above to successfully complete registrations and renewals with ease.
Here Are Some Other Articles You May Be Interested In
Alberta Driver's License System Guide
Demerit Points In Alberta
<<Wiring And Electrical Insurance Considerations
Distracted Driving Laws In Alberta>>