Jun 10, 2015
Ontario Government Passes Legislation To Improve Road Safety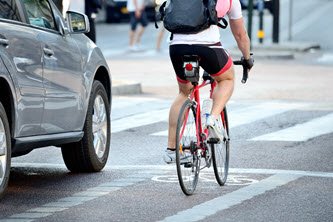 In an attempt to improve safety to everyone sharing roads in Ontario, our provincial parliament unanimously passed Bill 31, legislation that will increase penalties, fines and amend rules of the road for drivers and cyclists. The bill targets distracted drivers with significantly increased fines and also permits cities to build more bicycle lanes.
Studies Reinforce The Need For Changes In Driving Behaviour
These amendments address some alarming studies that have recently come to light about drivers and their behaviours. According to a recent CBC article, a Centre for Addiction and Mental Health 2014 survey revealed that more than 33% of licensed Ontario students "admitted to texting while driving."
Ontario government statistics also indicate that over 45% of drivers killed in Ontario were found to have drugs, alcohol or a combination of the two in their system.
Fines And Penalties Will Get Drivers Attention
Bill 31 is aiming to increase road safety and accountability for everyone – cyclists, motorists and pedestrians. The point of stiffer penalties and fines is to get drivers' attention. Brian Patterson, President and CEO at Ontario Safety League, was quoted in a Star article about distracted driving, saying, "As people get the message the roads will become safer."
Important Changes To Ontario Driving Laws You Should Know About
Here are the highlights of Bill 31 and how they apply to driving practices, penalties and fines according to the Ministry of Transportation:
New Driving Rules And Fines
School Crossings & Pedestrian Crossovers - Drivers have to give the entire whole road – not just half – to pedestrians at school crossings & pedestrians "crossovers"
Car Dooring Cyclists - Drivers who "door" – open their car door in the path of a cyclist, may incur fines of up to $1,000 and 3 demerit points (dooring was previously 2 demerits)
Drivers Must Give Cyclists One Metre Space - Drivers must give cyclists a 'one-metre' berth when passing them
Slow Down And Move Over For Tow Trucks - Drivers must slow down and move over into the next adjacent lane similar to what is required for police and emergency vehicles.
Drug Impaired Driving
The new rules for drug impaired driving are the same as existing restrictions for alcohol-impaired driving including:
Suspensions - Road-side licence suspensions of three, seven, 30 and 90 days
Vehicle Impoundment - Impounding your vehicle for 7 days
Repeat Offenders - Education or treatment and monitoring requirements for repeat impaired driving offenders
Distracted Driving
Increased Fines - Fines for distracted driving are increasing from $60 to $500, to $300 to $1,000
Increased Penalties - Drivers will receive 3 demerit points
Novice Drivers Suspensions - There will be escalating sanctions for novice drivers :

First conviction – 30 day suspension
Second conviction – 90 day suspension
Third conviction – license suspension and a return to the beginning of a graduated licensing program
If You're Medically Unfit To Drive
You will be allowed to keep your license as identification if your license has been suspended for medical reasons. Medical professionals will be given clearer guidelines for reporting medical conditions. Other medical professionals will be allowed to report on medical conditions affecting licensed drivers.
What Cyclists Need To Know
Riding At Night - Cyclist may be fined $60-$500 for not using lights and/or other reflective material 30 minutes before dust and 30 minutes after dawn. (Source: National Post)
Riding On Paved Shoulders - Cyclists can ride on the paved shoulders of unrestricted provincial highways
Flashing Red Lights - Cyclists are now permitted to use flashing red lights as a safety feature on their bikes
New Bike Lanes - Municipalities can now build bicycle lanes where cyclists can ride opposite the flow of driver traffic. A one-way street is an example of where these 'contraflow' lanes could be built.
Making Ontario Roads Safer
This new legislation seeks to make roads safer for everyone. ThinkInsure applauds the government's work to make Ontario roads safer for everyone. We hope that this legislation will give drivers and cyclists pause and encourage them to become more vigilant. The safer we can be on roads, we can keep car insurance in Ontario costs low.