Oct 7, 2021
Learn All About Alberta's Class 7 Learners Drivers License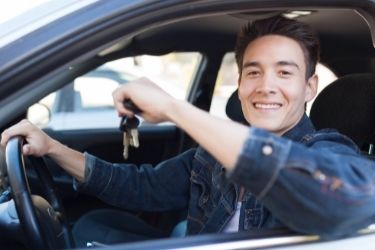 The Class 7 license (or Class 7L) in Alberta is the first of many steps to get your full Alberta driver's license. All drivers in Alberta start with a Class 7 before moving up to a Class 5 Alberta License. This graduated system is designed to help new drivers gradually build their knowledge and confidence on the road.
This blog post outlines all the information you need about getting your Class 7 license, restrictions, tips for helping you study and pass the test, and how car insurance in Canada works in the province.
What Is A Class 7 License In Alberta?
The Alberta Class 7 driver's license is a learner's license that allows you to operate Class 5 vehicles such as cars, SUVs, pickup trucks and other regular vehicles under the supervision of a fully licensed driver. You can also operate a moped by yourself.
How To Get A Class 7 License In Alberta
The first step toward getting your Class 7 license is to get a copy of the Alberta Drivers Handbook. All questions in your knowledge test are taken directly from the handbook, so make sure you read it a few times. You can download a copy of it on the Alberta Transportation website.
You must also meet the following requirements :
Be 14 years of age or older
Have parental or guardian consent if you are under 18 years of age
Pass a knowledge test
Pass a vision test
Next, you will take a knowledge test. You will have to pay a fee of around $20 (it will depend on which registry you go to). Don't forget your form of accepted ID.
The third, and final step, is to purchase your license card. If you successfully pass the knowledge and vision tests, you can purchase the Class 7L license card. You may receive a temporary 30-day license until the official card comes in the mail. Once it arrives, you can destroy the temporary one.
Alberta Class 7 Restrictions
No matter what Class license you have in Alberta, you should strive to stay current on any restrictions. As a Class 7 L, you are subject to a series of driving restrictions. Here are the main five you must follow at all times :
You must be supervised : You cannot drive independently as a Class 7L driver. You must always be accompanied by a driver who holds a full Class 5 Alberta license, is 18-years old or older, and is seated in the passenger seat. You cannot act as an accompanying driver.
Zero tolerance : You are not allowed to consume any alcohol. There is a zero tolerance policy for driving under the influence. If you caught, you risk losing your license and facing penalties.
No night driving : No driving is permitted between midnight and 5 am, even if you have supervision of a fully licensed driver.
Demerits : You driver's license will be suspended if you accumulate eight demerit points (not the standard 15).
Limited on passengers : No more passengers than seatbelts in the vehicle.
License : You are not permitted to upgrade to a commercial license.
Fines And Suspensions If You Violate Class 7 Driver's License Restrictions
Violating the above driving restrictions will result in fines, suspensions, and demerit points in Alberta. Here is a closer look :
Violate BAC/ impaired restriction : Immediate 30 day suspension and seven day vehicle seizure.
Violate night driving restriction : 2 demerit points and a fine up to $115.
Violate passenger restriction : 2 points and a $115 fine.
Violate supervisory driver restriction : 2 points and a fine up to $230.
Tips To Pass The Alberta Class 7 Test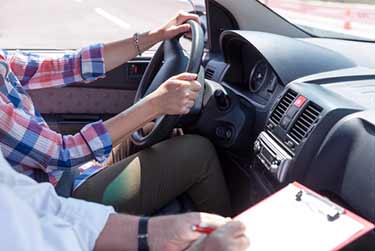 If you're feeling overwhelmed about your Class 7 L test, we've put together some tips to help you prepare for the test. When the big day comes, you'll be ready to pass.
Study your driver's guide : Everything you will be tested on will be found in the Alberta Driver's Guide.
Take the practice test : Before taking the knowledge test, it's a good idea to take a practice test or two to test your knowledge. There are many free online Alberta Class 7 practice tests you can take. Try a few to test your preparedness.
Review problem areas : If you noticed questions you kept getting wrong, take some time to study them and do some additional reading to help yourself learn.
Once you feel confident, it's time to visit your local testing centre.
The Class 7 Alberta Knowledge Test
The Class 7 knowledge test is designed to test basic knowledge of road rules, traffic signs, and safe driving. Here is what you need to know about taking the test :
To write the test you will need to show proof of citizenship, proof of residency in Alberta, and pass a vision test.
There will be 30 multiple choice questions and you need to get 25 correct answers to pass the test.
The test will be completed on a computer.
You are expected to complete the test within 60 minutes.
You can take the knowledge test at most Alberta Registry Agent offices.
You can take the test once per day.
No appointment is required.
When you pass the test you will be issued a Class 7 learners license. The cost for a 5 year term is around $65.
Moving From Class 7 To Class 5 In Alberta
In order to take the next step in the GDL license system in Alberta, you must :
Spend one year as a Class 7 driver (two years if you got our Class 7 when you were 14).
Be at least 16 years of age.
Pass a vision test.
Show proof of residency in Alberta.
Pass the basic road test.
You can learn all about the Alberta Class 5 License.
Class 7 License Alberta FAQs
In Alberta, you can get the Class 7 learners license when you are 14 years of age. The youngest you can upgrade to a Class 5 GDL is 16.
You must hold the Class 7 license for a minimum of 12 months. You can renew the Class 7 license as many times as you want. It is recommended that you log at least 60 of driving before taking the basic road test.
All supervisory drivers must be at least 18 and have a full Class 5 non-probationary license. They must be seated in the passenger seat of the vehicle at all times.
You are required to pay a fee of $17-$20 to take the knowledge test. You will have to pay an additional fee for your learner's license.
You can buy a vehicle with a Class 7 license as long as you are over 18 or have consent from a parent.
Class 7 Alberta Drivers License and Insurance
Are you looking for insurance as a newly licensed driver in Alberta?
Newly licensed drivers are considered a greater risk than experienced drivers. Most Class 7 drivers will have difficulty finding an insurer, and often, premiums will be higher. Your best option is to be added as an occasional driver on your parent's or other driver's policy. Completion of the government-approved defensive driving course will qualify you for a discount to save on car insurance in Alberta.