Sep 30, 2021
Learn All About Alberta's Class 5 GDL Drivers License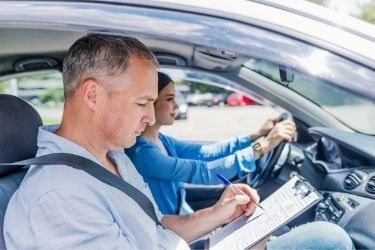 A Class 5 license in Alberta is the most common among drivers. For the average driver, once you get your Class 7 license, the goal is to work your way up to get a Class 5 driver's license and the driving privileges it offers – being a fully licensed driver.
Whether you've just received your learners permit and are working toward your full license or you are an experienced driver, this blog will outline to you everything you need to know about the Class 5 license including restrictions and tips for passing.
What Is The Difference Between A Class 5 and Class 5 GDL License in Alberta?
The Class 5 driver's license in Alberta is the standard license to operate a car or light truck, motorhome, or moped. It's one of 7 classes of Alberta driver's licenses you can have. There are two types are :
Class 5 graduated driver's license (GDL) : Also known as the probationary stage two license. This allows new drivers time to practice their driving skills while still adhering to some restrictions to help keep all drivers safe on the road.
Full Class 5 : a full license for personal driving needs.
Class 5 GDL License Restrictions
As a probationary driver, you have a number of driving restrictions :
You must maintain a blood alcohol level of zero and no drugs in your system when driving. There is a zero tolerance around this rule and it has serious consequences.
You are not permitted to upgrade to a commercial one.
There is an earlier potential license suspension since you are only permitted 8 demerit points in Alberta, compared to a Class 5 which has 15.
Never have more passengers than seatbelts in the vehicle.
As a 5 GDL holder you cannot supervise a Class 7 driver.
How To Get A Class 5 Drivers License Alberta
The GDL license in Alberta gets you one step closer to becoming a fully licensed. To qualify, you must :
Be at least 16 years old. If you are under 18, you must get parental consent.
Have had the Class 7 learners driver's license for at least one year.
Pass a vision test.
Pass the standard road test.
Have valid ID, proof you live in Alberta, and proof of residence in Canada.
What Is A Class 5 License in Alberta?
To get your full Alberta Class 5 license you must pass the advanced road test. You must be suspension free for the last year of your Class 5 GDL license. Fulfilling these conditions will qualify you to become a fully licensed.
If you include the learner and probationary stage, it will take you a minimum of 3 years to get your full license. It will take 4 years if you get your Class 7 when you are 14.
To qualify you must obtain the following :
Be in the probationary stage for a minimum of two years
Be suspension free for the last twelve months of the two-year probationary stage
Pass the advanced road test
It will take a minimum of three years to complete both the learner's and probationary stages of the Class 5 program.
Alberta Class 5 Basic Road Test
To qualify for a Class 5 GDL or Class 5 license, you will be required to pass a road test. First, you have to pass a basic road test and then complete an advanced road test to qualify for your full Class 5. Each type of test has a maximum number of points you can get before you pass.
You will get points if you don't show the necessary driving skills (checking mirrors or blind spots), failure to follow the rules of the road, and poor maneuvering of the vehicle. You can automatically fail if you break traffic laws or endanger a pedestrian or another driver.
Passing the basic GDL road test allows you to move up from your learners to probationary license. The test determines the driver's ability to safely handle the vehicle, and judge and execute the rules of the road. Here's what you need to know :
The test is approximately 30 minutes.
Your vehicle must be in good working condition.
You must have a valid license plate and car insurance in Alberta.
The test will include vehicle handling, lane changes, obeying speed, intersection control, parking, and interacting with other drivers, cyclists, and pedestrians in a safe manner.
Alberta Class 5 Advanced Driving Test
Passing the advanced road test qualifies you for a full license. The test determines whether you have the advances driving skills and knowledge to be a safe and effective driver.
You need to pass this test to exit the graduated licensing program.
You will need your MVID number to book.
Any outstanding fines must be paid before you book.
The road test is approximately 60 minutes.
The test will challenge your ability to navigate busy intersections, highway driving, merging on the highway, and parking.
5 Tips To Pass The Alberta Class 5 Advanced Driving Test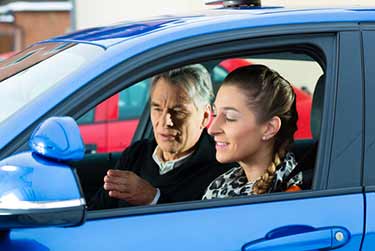 Here are five of the best tips to help you prepare for the advanced road test :
Wait until you are ready : Too many young drivers attempt to speed through the graduated drivers licensing system to get it done. For many, this often results in failing the advanced test because they are not ready. It is highly suggested to wait until you are fully confident in your abilities to pass the test and have had enough time behind the wheel.
Do a practice test : There are many practices tests available online. Work through some of them to test your knowledge.
Review the knowledge test : Refresh your memory on the rules of the road, traffic signs, and other important driving information before your test.
Book your test well in advance : Alberta Class 5 road test booking allows you to book in advance. Book during a time when you will be able to practice beforehand.
Book a session with a driving instructor : As your test date approaches, it's a good idea to book a session or two with a driving instructor. They can take you through a mock test and assess your driving abilities. They can help you improve upon your weak points and effectively prepare for the test. It can help you save on car insurance in Canada.
Class 5 License Alberta Rules
There are still certain restrictions and rules for full Class 5 drivers :
You cannot operate a motorcycle (that requires a Class 6).
You can accumulate up to 15 demerit points in Alberta as a fully licensed driver.
You cannot operate a vehicle transporting passengers for hire (commercial driving).
You cannot operate a vehicle with a capacity of more than 15 persons.
You cannot operate a vehicle with air brakes.
How Much Does The Alberta Class 5 Road Test Cost?
Passenger vehicle road tests are now delivered in the private sector by Driver Examiners contracted or employed by Registry Agents. As of April 1, 2021, Registry Agents have the ability to set the fees they wish to charge for the road tests they deliver. Depending on the type of test you take, the cost for the Class 5 road test will be around :
Basic road test : starting at $83
Advanced road test : starting at $138
It is important to note that due to COVID-19, there is another $20 charge for PPE safety protocols in some areas. There may be fees that are required to cover operational expenses. Be sure to check before you make your appointment.
Class 5 Drivers License FAQ
With a Class 5, you can drive personal vehicles including mopeds, two-axel cars, vans, or light trucks.
To move from learners to probationary driver's license you will be required to spend at least one year at the Class 7 level and pass a basic road test.
Yes. You can book any Class 5 road test online through a registry agent.
No. There are no GDL driving hours restrictions for probationary drivers. Drivers with Class 7 licenses do have driving hour restrictions.