Home > Help Centre > Information & Resources
Distracted Driving In Alberta - Laws, Demerits, Fines & FAQs
Jan 17, 2019
What Is Distracted Driving In Alberta?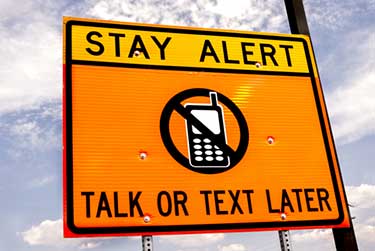 Distracted driving is one of the biggest road safety issues in Alberta today. It is the number one killer on Canadian roads. Collectively, drivers in Alberta need to do something about it.

How prevalent is distracted driving in Alberta?

More than 25,000 drivers are convicted of distracted driving annually. Many other cases are pending. And these are only the drivers who get caught. There are thousands of other drivers guilty of distracted driving on a daily basis.

Fortunately, it is 100% preventable. This blog post takes an in-depth look at distracted driving in Alberta. Learn about distracted driving laws, rules, fines, and how a conviction can impact your driving record and car insurance rates.
The Alberta Distracted Driving Law
Alberta distracted driving legislation is outlined in the Traffic Safety Act. Distracted driving laws in Alberta are outlined under section 115 :
115.1(1) Subject to this section and the regulations made under section 115.5, no individual shall drive or operate a vehicle on a highway while at the same time

(a) holding, viewing or manipulating a cellular telephone, radio communication device or other communication device that is capable of receiving or transmitting telephone communication, electronic data, electronic mail or text messages, or
(b) holding, viewing or manipulating a hand-held electronic device or a wireless electronic device.
(2) An individual may drive or operate a vehicle on a highway while using a cellular telephone or radio communication device in hands-free mode.
115.2(1) Subject to this section and the regulations made under section 115.5, no individual shall drive or operate a vehicle on a highway if the display screen of a television, computer or other device in the vehicle is activated and is visible to the individual.
115.4(1) Subject to this section and the regulations made under section 115.5, no individual shall drive or operate a vehicle on a highway while engaged in an activity that distracts the individual from the operation of the vehicle, including but not limited to

(a) reading or viewing printed material located within the vehicle other than an instrument, gauge, device or system referred to in section 115.2(2)(f)
(b) writing, printing or sketching
(c) engaging in personal grooming or hygiene, and
(d) any other activity that may be prescribed in the regulations.
What Is Considered A Distraction While Driving?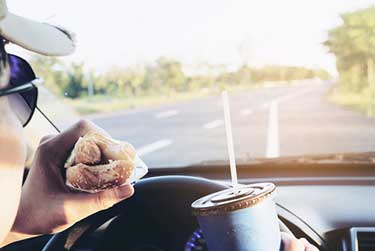 Distracted driving rules vary from province to province. According to Alberta Transportation, the following actions are considered distractions :
Using hand-held cell phones
Texting or e-mailing (even when stopped at red lights)
Using electronic devices like laptop computers, video games, cameras, video entertainment displays and programming portable audio players (e.g., MP3 players)
Entering information on GPS units
Reading printed materials in the vehicle
Writing, printing or sketching
Personal grooming (brushing and flossing teeth, putting on makeup, curling hair, clipping nails or shaving)
What Is NOT Considered Distracted Driving In Alberta?
There are a number of actions that are NOT considered distracted driving :
Using a cell phone in hands-free mode
Drinking and eating a snack
Smoking
Talking with passengers in the vehicle
Calling 911 using a hand held phone
Using a CB radio to communicate with an employer
Using a GPS that is affixed to the vehicle
Are Pets A Distraction While Driving?
While it is not explicitly stated, pets can be considered to be a distraction if drivers become too occupied with a pet while driving. Police can use their discretion and you could get a distracted driving ticket.

Traffic Safety Act 115(2)(i) & (j) allow police to charge any driver who permits anything to occupy the front seat, including pets, that interferes with the driver's ability to operate vehicle controls or obstructs their view.
Alberta Distracted Driving Fines And Penalties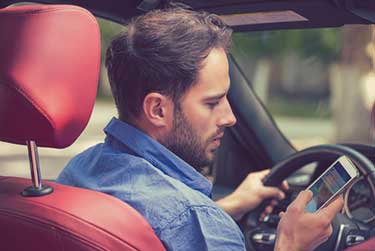 Distracted driving officially became a driving offense in Alberta on September 1, 2011. However, the province recently upgraded the distracted driving fines on January 1st, 2016.
How Much Is A Distracted Driving Ticket In Alberta?
You are subject to a $287 fine if you are convicted of distracted driving in Alberta. Additional fines can be levied if you drive carelessly. Careless driving comes with a $402 fine and six demerit points.
How Many Demerit Points For Distracted Driving In Alberta?
If you are convicted of driving while distracted in Alberta, 3 demerit points will be added to your driving record. Demerit points stay on your driving record for 2 years from your conviction date.
Comparing Alberta Distracted Driving Laws And Fines To Other Provinces
Compared to other Canadian provinces, Alberta distracted driving fines and penalties are average. The $287 is higher than 7 provinces and territories. PEI has the highest fines ($500 - $1200), followed by Ontario ($490-$1000). Quebec has the lowest distracted driving fine ($80-$100). Nunavut is the only province without distracted driving fines.

Alberta assigns the fewest demerit points (3) per conviction – along with Ontario, New Brunswick, Northwest Territories, and Yukon. The highest number of demerit points for distracted driving convictions in Canada is 5 (Manitoba and PEI).
Distracted Driving Statistics In Alberta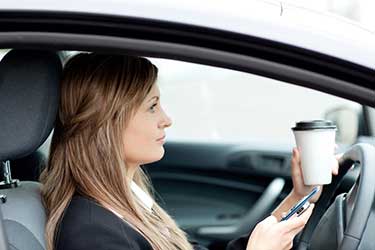 Distracted driving in Alberta is on the rise. Since Alberta distracted driving legislation was passed in 2011, the number of convictions has increased each year.

The province of Alberta estimates :
20-30% of all collisions are due to distracted driving
Distracted drivers are three times more likely to get into a collision than an alert driver
The Alberta Distracted Driver Profile
While most people assume distracted driving is a new or young driver issue, it's not. Based on data collected about distracted driving convictions, a distracted driver in Alberta is a :
35-44 year old male driver who uses a cell phone while driving
What Are The Most Common Distracted Driving Convictions?
The most common types of distractions Alberta drivers were fined for in 2017 :
Cell phone use (20,075)
Using hand held electronic devices (3938)
Display screens and GPS (39)
General prohibited distractions (230)
Reading (10)
Writing (5)
Grooming (10)
There has been a stark increase in the number of people using electronic devices :
486 convictions in 2013
3,938 convictions in 2017
There has been a decrease in the number of number of people caught reading and grooming while driving :
87 reading convictions in 2013; 10 convictions in 2017
33 grooming convictions in 2013; 10 convictions in 2017
The number of drivers caught using cell phones has actually decreased :
24,428 in 2013; 20,075 in 2017
Source : Alberta Government
Which Cities In Alberta Have The Highest Rate Of Distracted Driving?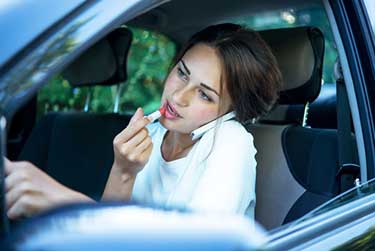 Not surprisingly, the larger municipalities in Alberta had the highest instances of distracted driving. In 2017 :
Edmonton had the most distracted driver convictions (6,594), followed by
Calgary (5,234)
Lethbridge (992)
Medicine Hat (480)
Red Deer (474)
Since 2015, distracted driving convictions have lowered in virtually all major municipalities in Alberta except Edmonton :
Calgary : 7,173 in 2015; 5,234 in 2017
Red Deer : 1,257 in 2015; 474 in 2017
Lethbridge : 1,259 in 2015; 992 in 2017
In Edmonton, distracted driving has increased significantly :
4,094 convictions in 2015; 6,594 convictions in 2017
Source : Alberta Government
Which Age And Sex Have The Highest Rate Of Distracted Driving Convictions?
Comparing gender, male drivers had the highest number of distracted driving convictions in 2017. There were 24,665 drivers convicted of distracted driving in Alberta in 2017. Of those :
9,186 were female (37%)
15,479 were male (63%)
In terms of age, the number of distracted driving convictions is spread fairly evenly across all age groups :
16-21 years old : 1,921
22-24 years old : 1,832
25-29 years old : 3,822
30-34 years old : 4,195
35-44 years old : 6,329
45-54 years old : 3,718
55-64 years old : 2,180
65+ years old : 667
Source: Alberta Government
Distracted Driving Can Impact Car Insurance Rates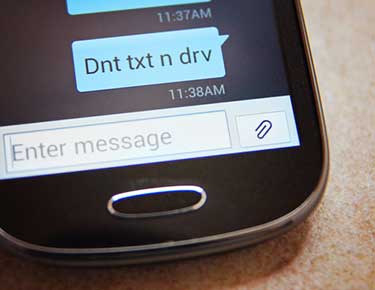 Distracted driving convictions can have a large impact on your car insurance in Alberta. A conviction will add demerit points to your driving record and you will have to pay a fine. More importantly, the ticket will go on your driving record – which could impact car insurance rates when renewing your policy.

Here are some ways getting a distracted driving ticket in Alberta could impact your auto insurance :
Higher car insurance rates : Getting a ticket generally increases your car insurance rates until it's removed from your driving record.
High risk driver status : Depending on the severity of your ticket, you could be labelled a high risk driver by your insurance company. This could make it more difficult for you to get car insurance coverage.
Non-renewal : Your auto insurance provider could choose not to renew your policy.
Loss of insurance discounts : You could lose your discounts for having a clean driving record.
Higher car insurance quotes : A distracted driving ticket on your record means you can expect more expensive auto insurance quotes when you shop around.
10 Tips To Avoid Common Distractions While Driving
The decision to drive distraction-free is up to you. It is up to each driver in Alberta to choose not to drive while distracted. Here are some simple tips to stay focused on distraction-free driving :
Know the laws : Know what is and is not considered distracted driving.
No phone : Turn off your cell phone before driving.
Out of reach : Make sure your phone and other electronic devices are out of reach.
GPS : Program your GPS before you start driving.
No food : Avoid eating or drinking while driving, if possible.
Rest up : If you are drowsy, take a break from driving.
Pets : Secure pets before driving.
Kids : Make sure your children are occupied.
Focus on driving : Focus on driving and your surroundings. No grooming.
Passengers : Let your passenger manage the radio and controls.
Following these simple tips can help reduce distracted driving in Alberta and make our roads safer for everyone!
Here Are Some Other Articles You May Be Interested In
Alberta Accident Report : Reporting A Collision To Police And FAQs
Driving Without Insurance In Alberta
Alberta Driver's License System Guide
Demerit Points In Alberta
Distracted Driving In Ontario
A Simple To Follow Guide For How To Buy A Used Car


<<Commercial vs Personal Auto Insurance - What's The Difference?