Sep 6, 2019
Get Your Auto Insurance Pink Slip Electronically In Ontario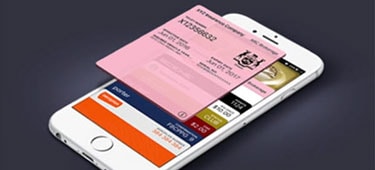 Electronic proof of insurance is something that has been debated in Ontario for some time, and it's about to become a reality. Car insurance pink slips will soon become a thing of the past, and drivers in Ontario are finally able to show proof of insurance using their mobile phone. Ontario has become the fourth province to introduce electronic proof of auto insurance (EPAI).
Electronic Proof Of Insurance Is Now In Ontario
On September 5, 2019, the Ontario government announced that drivers in Ontario can now use electronic of car insurance on their phones and other devices.
The Financial Services Regulatory Authority of Ontario has approved the use of electronic proof of auto insurance in Ontario. Digital pink slips are available for use effective immediately.
Finance Minister Rod Phillips had this to say about the announcement :
"We've all had enough paper in our lives, at least me, for one, I have experienced rummaging through the glove box, looking for that little pink slip. Well, as of today your rummaging days are over if you choose this electronic option."
"With the proliferation of mobile devices and apps and various add ons, it only makes sense that drivers in Ontario can take advantage of the same options that drivers in other provinces can," he added.
The pink paper insurance slips we all carry will not be immediately eliminated. The government has planned a one year phase in period. During this time insurers will issue both the paper and digital options.
Electronic proof of insurance is one of many auto insurance reforms proposed by the provincial government in its spring budget as part of the Putting Drivers First plan.
What Drivers Need To Know About Electronic Proof Of Auto Insurance In Ontario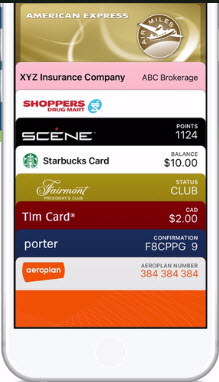 Here is the key information and takeaways from the announcement :
Get digital now : Digital pink slips are available now.
Paper version still available : Insurance companies will still issue paper pink slips for one year.
Security : Digital insurance cards will have features that prevent editing and altering to protect against fraud. Parties will not be able to track your location or collect personal data without explicit permission.
Drivers responsibility : Drivers are responsible for ensuring their phone or device can properly display the digital pink slip. Broken phone screens, poor reception and a drained battery will not be accepted as an excuse.
Insurance Bureau Of Canada Supports Ontario Governments Use Of Electronic Pink Slips
IBC supports Ontario's innovative approach to the use of digital pink slips :
"Ontario's auto insurers welcome the government's decision to allow electronic proof of insurance for Ontario drivers. Being able to provide digital documents to today's tech-savvy consumer is a baseline expectation of service we are thrilled to now be able to provide. This marks another step in making insurance easier and more accessible for Ontarians. We look forward to working with this government to bring more choice and innovation to the market," said Kim Donaldson, Vice-President, Ontario, Insurance Bureau of Canada.
Why Electronic Pink Slips?
Being able to get proof of insurance online is something drivers have wanted for some time. With technology more prominent than ever, it is the next step forward. Consumers are using their mobile devices to make payments, scan reward cards, to gain access to events, and showing proof of insurance fits with this usage pattern.
"eSlips would eliminate the need for traditional paper pink slips, representing a significant step forward in workflow efficiency for the insurance industry and meeting the expectations of today's evolving customer," CSIO said on its website.
"Nearly half of Canadian consumers have expressed an interest in receiving their proof of auto insurance electronically", said Catherine Smola, president and CEO of CSIO. "By leveraging the pervasiveness of digital wallets, the CSIO eSlips solution will provide consumers with the option of receiving their proof of auto insurance in digital form."
Digital pink insurance cards also solve the issue of drivers not being able to show proof of insurance because they forget their paper pink slip at home, saving them from getting a ticket unnecessarily.
How Electronic Proof Of Insurance Works
While the process for how the new electronic proof of insurance rules will work is still unclear, the government is currently working on a solution that will work for drivers, insurance providers and police. A printed copy of proof of insurance sent via email or an electronic copy accessible through a digital wallet are options being considered. Electronic proof of insurance is expected to begin by the end of 2017.
The Current State Of Electronic Proof Of Insurance In Canada
Compared to the United States, Canada is far behind when it comes to the use of electronic proof of insurance. The Property Casualty Insurers Association of America (PCIAA) reports that 43 states have legislation in place permitting some form of electronic proof of auto insurance. Currently, no Canadian provinces have electronic proof of car insurance.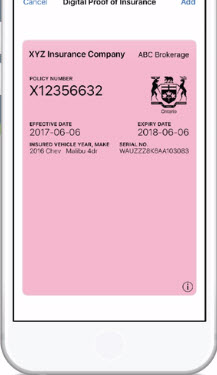 Ontario joins Alberta, Nova Scotia, Newfoundland and Labrador as Canadian provinces to have digital pink slips.
While many assume that all provinces need to do is digitize pink insurance slips, not all provinces use them. In B.C., Manitoba, and Saskatchewan, minimum insurance is secured through the province and is combined with registration.
Quebec uses an insurance certificate system; however, this document can be sent via email, making them the most modern of the provinces for offering electronic proof of coverage.
Another issue that has prevented Ontario and other provinces from moving forward is the perception that electronic delivery of insurance pink slips could create additional security and fraud concerns.
Digital Insurance Pink Slips Help Fight Fraud And Fake Insurance Slips
While some argue that electronic proof of insurance could lead to additional instances of insurance fraud, paper pink insurance slips can be duplicated and manipulated just as easily. Technology solutions such as electronic proof and secure delivery of authentic insurance cards can help minimize fraudulent use of proof of insurance cards.
"The paper insurance card is quite susceptible to fraud. Police officers have no way to validate whether a pink slip provided by a driver is valid and unexpired, and therefore are inclined to just accept it," says Willie Handler on Insurance Blogs.
This situation commonly leads to a problem where some high risk drivers cancel their policy after they get their pink slip, giving them the ability to show the police proof of insurance when they don't actually have valid insurance. The driver cancels or defaults on payment and doesn't actually have coverage, but the police do not have a way of verifying coverage unless they call the insurance provider. Electronic proof will help stop this type of fraud from occurring.
Read more: Car Insurance Fraud in Ontario – Learn How It Works and How To Avoid It
Benefits Of Electronic Proof Of Insurance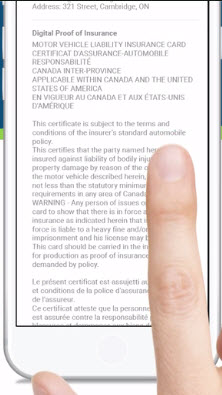 Being able to access your insurance pink slip electronically simplifies this aspect of insurance :
Eliminates paper proof : Eliminates the need for the current paper pink insurance slips.
Better access : Insurers and brokers can send proof of insurance to consumers electronically.
Digital proof : Consumers can use their phone to show proof of insurance.
Minimize tickets : It can reduce the number of tickets issued for failure to show proof of insurance.
Overall, it solves the current issues with drivers losing or forgetting proof of insurance cards and can help avoid unnecessary fines and tickets.
Electronic Proof Of Insurance Concerns
No new insurance rules are not without concern. In a recent report titled Electronic Proof of Automobile Insurance Project by Canadian Council of Insurance Regulators, there are a number of concerns about implementation and the execution of electronic insurance cards :
Will electronic proof be applicable to all classes of vehicles?
What measures will be taken to prevent fraud?
What will happen if police question the validity of electronic proof of insurance?
Will police be allowed to access other information on your device when checking proof of insurance on a digital device?
What happens if your device malfunctions or the battery dies?
Who is responsible if a driver's mobile device is damaged during inspection?
How does electronic proof work when allowing third parties to drive your vehicle?
These are all questions that will be addressed as digital pink slips are deployed in Ontario.
Here Are Some Other Articles You May Be Interested In
What Drivers Need To Know About Showing Proof Of Car Insurance In Ontario
Car Accident Reporting And What Do After You've Been In An Accident
A Guide to the Ontario Graduated Driver's Licensing System
What Are The Cheapest Cars To Insure?
Commuting In Canada : Stats, Facts, Tips On Commuting In Canada
A Simple To Follow Guide For How To Buy A Used Car

<<Getting Insurance For Multiple Cars
Wiring And Electrical Insurance Considerations>>