Oct 14, 2020
How To Get Personalized Licence Plates In Ontario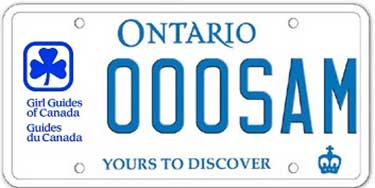 Thinking about getting a custom licence plate in Ontario? It's something thousands of drivers have. Most people at least consider it at one time or another. And many continue to get them personalized. But, just as many have been rejected because they do not meet the criteria set out by the MTO.
In this guide we'll tell you what you need to know about ordering and applying for a custom plate, learn the do's and don'ts, and get answers to common questions.
What Is A Personalized Licence Plate?
Personalized licence plates allow you to use your own combination of letters and numbers, rather than the combination provided by the MTO. For a fee, you can create a message or slogan using almost any combination of letters and numbers. There are some restrictions and rules in place to ensure the content is appropriate.
You can get them customized for personal or
commercial vehicles
. This personalization is also referred to as vanity plates.
How Much Is A Custom Licence Plate In Ontario?
It is $310 for a custom licence plate (2 to 8 characters). It is $336.40 for a one with 2 to 6 characters and a graphic. If you have a motorscyle, it will cost $310 for 2 to 5 numbers/letters without a graphic. You can pay by VISA, Mastercard, or Interac Online.
How Do I Personalize My Plate?
Purchasing a personalized licence plate is a fairly straightforward process. You can buy it online, at a ServiceOntario location or by calling 1-800-AUTOPL8 (2886758). You will need your drivers licence number or registrant identification number (RIN). You must also pay any outstanding fines and highway 407 toll fees before your order.
You can start your online order on the Ontario.ca website. You will need to follow these steps :
Enter your drivers licence number or RIN.
Choose the type you want (personal, commercial, motorcycle).
Choose if you want one with or without a graphic.
Enter the characters you would like (choose 3 options).
Check availability
If the custom plate is available, select it and confirm your purchase.
Complete the purchase process.
You can expect to receive your vanity plate in the mail in about 4 weeks.
Personalized Licence Plate Ideas That Will Get Rejected
People have a lot of custom ideas. But not all of them are considered acceptable. In fact, thousands of custom applications get rejected annually. 3,877 plates were rejected over the past year (between May 1, 2019, and May 31, 2020) for being too political, rude, or sexual. All variations of COVID are also rejected.
Here is the full list of rejected plates.
Plates are likely to be rejected if they contain objectionable content. Here's a list of topics that commonly are not accepted :
Sexual messaging or meanings
Abusive, obscene, or derogatory slang
Religious meaning or messaging
Reference to drugs and alcohol
Political figures or dignitaries
Violence or criminal activity
Human rights discrimination
Intellectual property
They also need to have clarity and be easy for law enforcement to read.
Nearly a third of the 3,315 rejected applications were refused on the criterion of clarity and readability." You may enjoy this list of 0UTLAW3D customizations from Toronto Star.
Rejectional are chosen by provincial staff. The Personalized Licence Plate Review Committee reviews questionable suggestions. They are approved or denied unanimously or it gets escalated to a manager at the MTO.
Ontario Custom Licence Plate Rules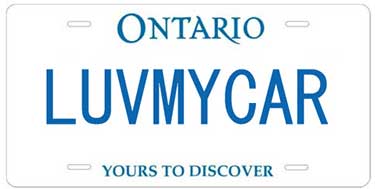 Here is the criteria they must meet :
Your combination of numbers and letters cannot already be in use.
It is between 2 and 8 characters.
You cannot have more than 4 identical numbers or letters in a row.
Interchangeable numbers and letters are not allowed (for example S/5, A/4).
How To Check Personalized Licence Plate Availability In Ontario
You can check for availability when you order personalized plates in Ontario. You will be able to look up options as part of the purchase process.
Custom Licence Plates With A Logo Or Graphic
Drivers can also purchase custom plates that included an approved logo or graphic. There are over 60 graphics to choose from several categories :
Arts and Entertainment
Charity
Community Organizations
Environment
Government
Heritage
Novelty
Professional
Sports Teams
Universities and Colleges
See the complete list.
Personalized Licence Plate FAQs
A vanity licence plate is another name for a personalized or custom plate. It's a great way for you to add your personal touch on your vehicle and to show off your interests or personality.
People get vanity licence plates for many reasons. Some equate it to being like a tattoo for your vehicle. Its something distinct that makes your vehicle stand out. People also get custom plates to show support for a favorite sports team or organization or to say something about themselves.
Customer plates work just like regular ones. Once you have them on your vehicle, you'll need to renew your licence plate sticker and follow all provincial rules regarding licencing.
It only takes a fee minutes to complete the application process. You can receive your custom plates in the mail in as short as four weeks from the date you order them.
Yes. You purchase a plate online, or choose a gift certficate. A personalized plate can be only be transferred once to anyone before being attaching to a vehicle. You can also help them out by comparing Ontario car insurance rates before.
Express Yourself With A Personalized Vanity Plate
Getting a vanity plate is a great way to express yourself or support a cause. The only question left is, what are you going to get on yours?