May 3, 2022
Ontario distributes licence plate sticker refunds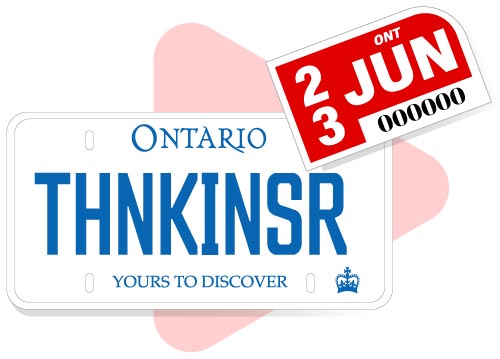 As Ontario rolls out licence plate sticker refunds, it's important to understand how you can receive your full refund and what it means to renew your sticker in the future.
Whether you drive a commercial vehicle, a motorcycle or an automobile, renewing your sticker is an essential factor to legally drive in Ontario, whether you drive a commerical or passenger vehicle.
We simplified what you need to do when renewing your licence plate sticker and what to do if it's expired.
What is a licence plate sticker?
Before 2022, a licence plate sticker is the smaller coloured sticker you will see on your rear licence plate in Ontario. It represents your plate and registration expiry date. When you renew your Ontario vehicle registration, you are provided with a new sticker to add to your plates.
The new process of a licence plate sticker is similar, but you will not receive a physical sticker to place on your licence plate.
Ontario eliminates licence plate sticker renewal and fees
Effective March 13, 2022, Ontario will be removing licence plate renewal fees and the requirement to have a valid licence plate sticker for motorcycles, mopeds, light-duty trucks, and passenger vehicles.
All vehicles owned by individuals will receive a direct refund for licence plate sticker fees paid between March 1, 2020, and March 12, 2022. To ensure you receive the refund, check online to ensure your vehicle has the correct address. Make sure you pay any outstanding fees, fines and tolls by March 7, 2022.
Eliminating these fees will save vehicle owners $120 a year in Southern Ontario. Northern Ontario drivers and light commercial vehicles will save $60 per year. Refunds are not eligible for cars that are registered to a business or company.
How do I receive my Ontario licence plate sticker refund?
The province will automatically send drivers their refunds based on the address they have on file associated with your driver's licence.
Keep in mind that the following vehicles are not eligible for refunds and will still need to pay a fee when renewing their plates :
Heavy commercial vehicles (over 3000 kg)
Farm vehicles
Busses and school busses
Motorized snow vehicles (snowmobiles)
Off-road vehicles
Trailers
Be cautious of licence plate sticker scams
Some residents have received a fraudulent refund link through email or text message offering a refund. Do not open or click the links because they are not approved messages from ServiceOntario and are scams. They will not contact you directly to get a sticker refund.
You can report this message by contacting your local police or call the Canadian Anti-Fraud Centre at 1-888-495-8501.
Ontario licence plate sticker renewal process
Drivers of passenger vehicles will still need to go online or in-person to renew their licence plate free of charge every two years.
Even with the province offering refunds on stickers, drivers must continue to renew their driver's licence every five years online or at a ServiceOntario and pay the $90 fee.
Your online receipt will serve as legal proof that you renewed it. Keep a copy of your receipt in your vehicle until you receive the new one in the mail.
What do I need to renew my sticker at ServiceOntario?
Once you own a vehicle, much like your Ontario car insurance, you must renew your licence plate sticker to keep your registration up to date.
In Ontario, you must renew every year at a minimum. You can also renew for two years for an additional cost. This can be done at a ServiceOntario location near you or online.
To renew, you will need the following information :
Licence plate number
Permit number (RIN number)
A valid Ontario car insurance pink slip or policy information
Odometer reading
Payment of any outstanding fines
You may also be required to provide your vehicle safety inspection certificate number or Drive Clean security code if you renew a heavy-duty diesel vehicle.
When should I licence plate sticker?
You can renew your Ontario licence plate sticker online up to 180 days before it is set to expire. However, you cannot renew online once it has expired. If you renew online, you will receive it within 5 business days. Once you receive it, attach it to the upper right-hand corner of your licence plate.
Where can I renew my licence plate sticker?
You can renew your plate sticker by visiting a ServiceOntario location near you or online. If you are renewing a farm or heavy commercial vehicle over 3,000 kg, you will need to go in person.
ServiceOntario locations
It is easy to find one close to you to renew your licence plate sticker. Note that not all locations accept cash.
Here are some of the central locations :
How much does a licence plate sticker renewal cost?
Depending on the type of vehicle you drive and where you live, you'll have to pay for a licence plate sticker. Most passenger vehicles do not have to pay for a plate renewal, but many commercial vehicles do.
Here is a look at the different types of vehicles and their cost :
Type of Vehicle
Southern Ontario
Northern Ontario
Motorcycle
$0
$0
Commercial vehicle (gross weight 3,000 kg and less, commercial use)
$0
$0
Commercial vehicle (gross weight 3,000 kg and less, personal use)
$0
$0
Mopeds
$0
$0
Motorized snow vehicle
$15
$0
Motorized mobile home
$120
$60
Historical vehicles
$18
$18
Ontario sticker renewal for commercial vehicles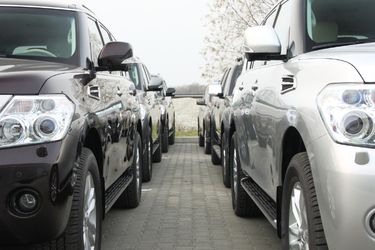 If you drive a commercial vehicle, the rules for renewing your sticker are a bit different. Here are some important notes for drivers :
If your heavy-duty commercial vehicle is over seven years old, it needs to pass an emissions test. You will receive a notice in the mail, or you can check online.
Make sure your policy is active a minimum of 72 hours before renewing.
For international registration plan (IRP) : If it expired on or after March 1, 2020 and you have not renewed, you must renew and will be required to pay a portion of the fees as a one-time payment or through a payment plan.
Heavy commercial vehicles operating in Ontario (non-IRP) : You must renew by December 31, 2021.
Can I renew my plate sticker if I have outstanding fines?
No. You will have to pay all outstanding fines to renew your plate sticker and registration. This includes 407 tolls, licensing fees, traffic tickets, red light camera tickets, and outstanding licensing fees.
What is the fine driving with an expired plate sticker?
By law, you are required to renew your licence plate sticker by your birthday in your renewal month. If you are caught driving with an expired sticker, you are subject to a $110 fine.
If you have renewed online, but have not received it in the mail, make sure you have a copy of the Extended Vehicle Validation Period Receipt.
Can I get a temporary licence plate sticker?
Yes. You can get a temporary sticker at ServiceOntario. It will allow you to drive a registered vehicle for 10 days. You can use it while completing the requirements for a regular sticker or transferring car ownership.
Sticker renewal FAQs
Someone else can renew for you online. They will need all the required information to complete the process. However, you are the only person who can renew in person.
No. You cannot complete the renewal process without your Ontario car insurance. You will need the insurer's name and policy number to renew.
The only way to renew an expired licence plate sticker is to go into a ServiceOntario location with the proper identification - you cannot renew an expired one online.
Yes, you need to renew the stick for your snowmobile yearly. However, it is not necessary to provide snowmobile insurance.
If you've moved out of the province or stopped driving, you can request a refund for the time remaining.
Suppose your sticker is going to expire before you receive it in the mail. In that case, you will receive a temporary sticker validation document. It will be valid for 14 days and must be kept in your vehicle while driving.
Your sticker expires annually or bi-annually (depending on the type you have) on your birthday. For example, if your birthday is April 12, it would expire on this date, not at the beginning or end of the month.
A final word on Ontario licence plate sticker renewals
Renewing your sticker is part of being a responsible driver in the province. Don't forget to take a quick minute to find out how you can get the best savings on car insurance to protect you.