Home > Help Centre > Information & Resources
Car Ownership In Ontario - Transfer Or Change Vehicle Ownership And More
Nov 9, 2017
How much do you really know about car ownership in Ontario? Like millions of others, you own a vehicle, but how much do you know about it?

This blog takes a look at vehicle ownership in Ontario, the types of car ownership, cost of ownership, and how to transfer ownership to family or when selling your vehicle.
Ontario Vehicle Ownership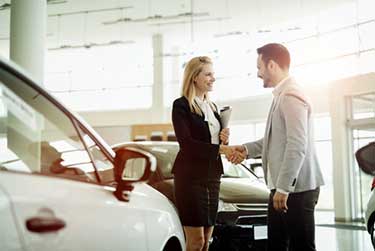 People in Ontario buy and sell cars every day. Whether you buy new or used, upon completion of the transaction, you become the vehicle owner. You have the car ownership papers, and the vehicle is registered in your name.
What Is Vehicle Ownership?
Most people associate car ownership in Ontario with the green piece of paper that is issued by the province. Some refer to it as the vehicle title or vehicle permit. You receive this document when you buy a car from a dealership, or when you transfer ownership during a private sale. It includes the following information :
The vehicle identification number (VIN)
Make and model of the car
Name and address of the car owner
The licence plate number
The smaller portion of the plate validation sticker
You are required to carry your vehicle permit with you when you drive. Most people keep it in the glove box of their vehicle, and it is the document police will request if you are pulled over.
Types Of Car Ownership
Ontario drivers commonly have questions about their vehicle ownership options. Here are a few of the most common:
Can I Legally Have Joint Car Ownership In Ontario?
Yes, joint ownership of car title is possible in Ontario. This also means that all documentation for the vehicle must be signed by both parties. If you plan to sell or transfer ownership, all parties must sign off.
Can Car Ownership Be Under Two Names?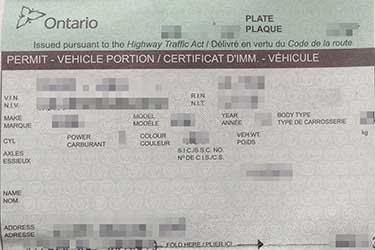 Yes, you can add two names to your vehicle ownership. Most people do so to qualify for car loans and make the car ownership more affordable. It's increasingly common for friends, roommates, and relatives to share car ownership.
Can You Put Car Ownership Under Parents' Name?
Yes, you can put vehicle ownership under your parents' name. Many parents purchase vehicles for their children and put them under their name. The child can also have their name added to the title.
I Am Leasing A Car In Ontario. Do I Own It?
No. When you lease a vehicle, you do not own the vehicle. The car dealership or parent company maintains ownership of the vehicle. You will still be provided with the vehicle ownership and registration papers.
What Is The Difference Between Vehicle Ownership Permit And Vehicle Registration?
Vehicle ownership is the process of purchasing a car. Your vehicle ownership permit is the green piece of paper provided to you by the seller. Vehicle registration is the process of registering your vehicle with the province of Ontario.

To register you will need proof of auto insurance, a valid license plate and plate sticker. This process can be completed at any Service Ontario location.
What Is The Cost Of Car Ownership?
Vehicle ownership permits in Ontario cost $32. This is applicable to all types of vehicles. This car ownership fee is often lumped into the total cost of buying a vehicle and will be listed on the bill of sale from the car dealership.

Learn more aboout the total costs of own and drive a car .
How To Transfer Car Ownership In Ontario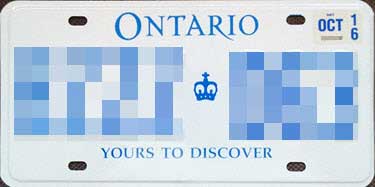 Whether you are buying or selling a used car, it's important to be aware of the laws associated with the transfer of car ownership. Transferring car ownership most commonly happens with used vehicles. Transferring ownership can happen between a dealership and a buyer, a private sale, or through family members.

Before we outline the steps required for a transfer of vehicle ownership, there are a few terms you need to become familiar with:
Used Vehicle Information Package (UVIP)
The used vehicle information package provides buyers with important information about a vehicle, including :
Vehicle details and description
Vehicle registration history in Ontario
Vehicle lien information
The average wholesale value of the car
Retail sales tax information
The condition of the vehicle
Bill of sale section
It is legally required under the Highway Traffic Act for sellers to provide the UVIP to a buyer during a private sale. UVIPs are not required when you buy from a registered used car dealer or when transferring ownership between family members. Sellers can purchase a UVIP for $20 through Service Ontario.
Safety Standards Certificate
The safety standards certificate confirms that a vehicle meets a minimum safety standards on the date it was inspected and the certificate was granted. The certificate is required when transferring a used vehicle to a new owner. This is not required when you transfer a vehicle to a spouse. The certificate is valid for 36 days and can be obtain by any inspection station licensed by the MTO. Price varies by location.
Used Car Transfer Of Ownership Steps - For Buyers And Sellers
Once you've found a vehicle and have agreed on payment terms, here is how to complete the used vehicle transfer of ownership process for buyers :
Transfer Ownership For Buyers
Make sure the VIN number on the vehicle matches the VIN number on the vehicle permit
Complete the bill of sale portion of the Used Vehicle Inspection Package
Complete the Application for Transfer section on the vehicle ownership permit
Bring the UVIP and vehicle permit to Service Ontario within 6 days of the sale
Pay the retail sales tax
Pay the licensing fees for the plates, permit, and sticker
Transfer Ownership For Sellers
Follow these steps if you are the seller transferring ownership of a used vehicle :
Purchase a Used Vehicle Inspection Package and provide it to the buyer
Record the name of buyer, signature, purchase price, and sale date on the bill of sale portion of the UVIP
Sign the Application for Transfer portion of the vehicle ownership paper
Keep your license plate and the plate portion of the ownership paper
Notify the Ministry of Transportation that your vehicle is sold
Keep in mind, the vehicle will remain registered in the seller's name until the vehicle transfer process is completed by the buyer at Service Ontario. You remain legally liable for the vehicle until the transfer is complete. Therefore, it's recommended you follow up with the buyer to ensure the transfer is completed. Maintain proof of the vehicle transfer.
How To Transfer Ownership Of A Car To Family Members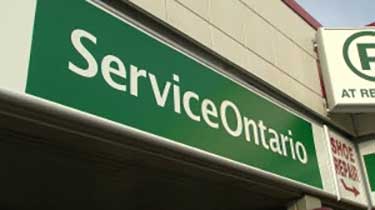 You can transfer ownership of a vehicle to most family members. This includes a spouse, parents, grandparents, children, siblings and in-laws. You do not have to pay retail sales tax to transfer ownership.

In order to complete a transfer of ownership to family, you need to provide the following documentation to Service Ontario:
Proof of Ontario car insurance
Your driver's license
Vehicle ownership permit
A completed sworn statement for a Family Gift of a Used Motor Vehicle in the Province of Ontario form
Safety Standards Certificate (not required if transferring to a spouse)
Emissions test
A completed plate transfer declaration (if you are also transferring license plates)
How to Transfer Ownership Of Car After Death In Ontario
Transferring ownership of a vehicle after a death can play out in a number of ways. The executor of the will is required to visit Service Ontario and provide a copy of the will, vehicle ownership papers, personal identification and proof of insurance, and proof of death certificate to transfer the vehicle to a beneficiary.

If the spouse is the executor of the will and the vehicle is being transferred to a family member, the rules for transferring ownership of a vehicle to a family member apply.

If two married people have a jointly owned vehicle, the surviving person can transfer the vehicle ownership into their name. A death certificate will be required to complete the transfer of ownership of a car after a death.

If the deceased does not have a will, the executor must prove the recipient of the vehicle is entitled to it. You can get a letter of opinion drafted by your lawyer and present it to the Ministry of Transportation.
Can You Transfer Ownership Of A Car With A Lien?
Yes, you can transfer ownership of a car with a lien or outstanding debt. Buying a car with a lien can be a risk. If the lien is not paid, the debt holder has the right to repossess the vehicle from the person who owes the money OR from the buyer of the car.

Always check the lien information on the Used Vehicle Information Package.
Can I Change Car Ownership Online?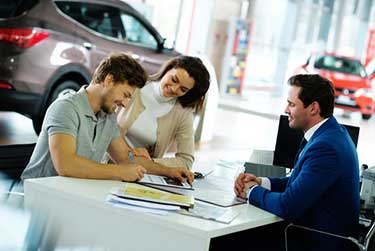 No. You cannot change car ownership online. You will need to visit a Service Ontario location to show proof of ownership, insurance, and other documents.
How Do I Complete A Car Ownership Address Change In Ontario?
You can change your address on your vehicle permit online. However, you will need to visit any Service Ontario location to pick up your updated car ownership papers.

You will need to bring your old permit with you. If you do not have your old permit, you will be required to pay a $32 fee.
I Lost My Car Ownership Documents. How Do I Replace Lost Vehicle Ownership In Ontario?
Lost car ownership papers are a common occurrence. You can replace lost, damaged, or stolen car ownership paper at Service Ontario. The lost vehicle ownership replacement cost is $32. Bring identification, your driver's license, and proof of insurance with you.
When You Need To Show Proof Of Car Ownership
There are a number of situations when you may need to show proof of car ownership:
When pulled over by police
When selling your vehicle
When transferring ownership
When replacing a lost, stolen, or damaged license plate
When it comes time for a change of vehicle ownership, make sure you do things the right way or you could end up creating a headache for you and all parties involved.
Here Are Some Other Articles You May Be Interested In
What Drivers Need To Know About Showing Proof Of Car Insurance In Ontario
Car Accident Reporting And What Do After You've Been In An Accident
A Guide to the Ontario Graduated Driver's Licensing System
What Are The Cheapest Cars To Insure?
Commuting In Canada : Stats, Facts, Tips On Commuting In Canada
A Simple To Follow Guide For How To Buy A Used Car


<<Learn About Home Insurance PremiumsDriving Without Insurance In Ontario>>