Jun 1, 2023
What to look for when buying a used car in Ontario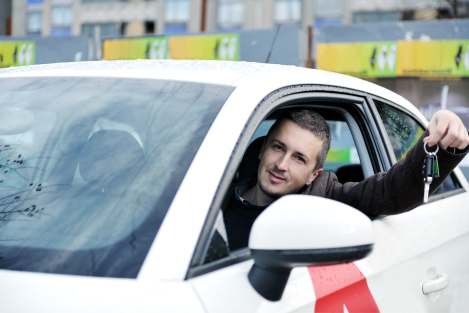 Are you thinking about buying a used car in Ontario? They are a great option. However, many people shy away because they are not educated about the steps to buying a used car. They are worried they'll buy a lemon or get suckered into a bad deal – even with rising costs. Autotrader says used vehicle costs have risen 34% from last year.
The used car market remains hot but unpredictable. Over the last two years, many industries, including automotive, have been hit with shortages and inflated prices. Interest rates, supply chain issues, and chip shortages can stretch into 2023.
Choosing a used car may have more challenges, but they are still a top option for drivers in the province. Getting some advice for buying a used car is a great first step. To help you out, we've put together this used car buying guide filled with advice and essential considerations.
What mileage on used cars is good?
A good number of kilometres on a used car would be between 50,000 to 100,000. People generally drive 15,000-25,000 annually, so you'll want to keep in that range.
Anything over 120,000 can be problematic since that's around the time many parts need to be replaced or may fail. If you buy a used car higher on the odometer, determine if it was maintained correctly and consider negotiating a tune-up or maintenance package with the dealership.
Why are used cars so expensive?
Some used cars have been reported to be more expensive than new ones, according to The Guardian. We can look at a few areas that have caused the dramatic increase in used cars. One of the issues was the microchip shortages causing supply and manufacturing issues. Another problem was the increased demand – more people wanted to drive instead of taking public transit during the pandemic.
If you are buying a used car in this market, act quickly and don't refrain from negotiating.
When will used car prices drop in Canada?
Some reports show a slow decline in used car prices in Canada. According to CTV News Montreal, there was a drop of 0.04 between June and July 2022. Keep in mind inflation is expected to continue to rise. We may not see pre-pandemic pricing, but manufacturing and availability will hopefully improve.
When is buying a used car a good option?
Let's start by saying that buying used is not for everyone. Buying a used car is very different from buying a new one. There are a lot more considerations and even risks involved. However, there are also several advantages to buying used.
More people are buying used cars in Canada than you may realize. According to Driving.ca, there are more than 22 million used cars on the road today, they make up about 65% of the market, and it's on the rise, a reason why car dealerships are so eager to buy back your car after a lease.
There are many situations where buying a used car makes sense :
You're on a limited budget.
You need a second car for your household.
You are buying your first car.
You are buying a car for your new teen driver.
You want to keep costs down and make a sound financial decision.
You don't want to get tied up in a long term lease or financing agreement.
The best tips for buying a used car in Ontario
Buying a used car is a process, but you can feel good about your decision by taking certain steps. Here are essential tips to follow when buying a used car in the province :
Establish a budget
Determine the type of vehicle you want to buy
Narrow your selection to a specific make and model
Check reviews about the vehicle. Is it one of the safest cars in Canada or known for its fuel efficiency?
Identify potential sources of used cars
Compare pricing options against industry averages
Check the vehicle history report
Contact the vehicle seller
Take the car for a test drive
Get the vehicle inspected by a licensed mechanic
Negotiate a fair price
Compare car insurance quotes to ensure you have proper coverage
Close the deal and transfer the vehicle ownership
What to check when buying a used car
There are always some important things to check when buying a used car. Not sure what to look for? Here is what to check :
Kilometers : The average vehicle accumulates about 15,000 to 20,000 kilometres per year. Look for vehicles with average to low mileage.
Reputation : Is the make and model you are considering known for reliability? Do they have a long lifespan? When do issues with these vehicles typically arise?
Age and condition : How old is the vehicle? Is it in good condition? Does it need any work? What repairs/updates have been completed?
Vehicle history : Check the VIN number of the car to see if it's been in any accidents, if there are recalls, or if there are liens on it.
Reliable seller : Check out the seller. Ask about a refund and warranty if buying from a dealer.
Insurance considerations when buying a used car in Ontario
An often overlooked consideration when shopping for a used car is car insurance. Once you have an idea of the vehicle you want to purchase, it's a good idea to speak with an advisor to find proper coverage. You can purchase gap insurance from car dealerships and financing companies to ensure you are protected between vehicles.
Then you will have an idea about how much it will cost to insure the vehicle, especially if it's a very different vehicle from the make or model you usually drive. Often used cars have lower premiums.
Knowing how much it costs to insure a vehicle when exploring your options allows you to get a better sense of the total cost of driving per month, which can factor into your approach to negotiating.
How to buy a used car in Ontario
There are many different approaches to buying a used car. Once you know the type of vehicle you want, you need to research the vehicle's history, test drive it, get financing in order, and negotiate with the seller.
How do you research a used car's history in Ontario?
So, you have an idea of the type of car you want; now it's time to research the list of vehicles you are considering. The good news is that you can use countless resources today to learn about the car you are considering. Here are some to use :
What should you consider when test driving a used car?
Always test a vehicle you are considering, new or used. A test drive is more than just driving around the block and seeing if the car is comfortable to drive. It is an opportunity for you to inspect, assess, and test out the vehicle. It's always a good idea to bring someone else with you to provide you with a second opinion. Here is what to consider during your test drive :
Desired car features : Beforehand, know the features that are important to you.
Take notes : Consider bringing a notebook to write notes about the vehicle.
Inspect : Do a thorough visual inspection of the car – interior and exterior.
Sit inside : Get in the car, and assess your comfort level with the seats and ergonomics. Make a note of the interior features, size, etc.
Test drive : Assess how the car feels. How does it drive – hit the brakes, accelerate, put it in park, drive in reverse.
Take your time : Don't rush the process – give yourself enough time to properly assess how it feels to drive the car and how it runs.
Go to your mechanic : If possible – take the car to a mechanic to check under the hood.
Can you lease a used car?
When you are comparing buying or leasing a car, you may be surprised to learn that you can lease a used vehicle. You'll have success leasing a used car if you have a good credit score, drive minimal kilometres, and have a budget for lease payments. There may be options to lease or own, or partake in a lease takeover.
How to negotiate a used car
If you've found a car you want to purchase, it's time to negotiate. Rule number one is to always negotiate. The asking price is very seldom the firm final price for the person selling a car. It's called an asking price for a reason. Here are some tips for negotiating :
Know the current market value of the vehicle : Use Kelly Blue Book, Auto Trader, and Canadian Black Book to get a good idea of how much you should pay.
Consider value for the price : There may be other things such as the inclusion of winter tires, low mileage, wear and tear that will factor into the price.
Know your budget : Know your budget and stick to it. But this doesn't mean you have to tell the seller what your top dollar is during the negotiation.
Eliminate emotion : Negotiate based on logic and have confidence in your offer.
Don't be afraid to counter-offer : Negotiations are about going back and forth, so don't be afraid to counter any offer made by the seller.
Avoid making a rash decision : Always give yourself enough time to weigh your options and make a decision.
Be prepared to walk away : You have other options, and if the deal is not what you want, walk away. Never agree to a deal that makes you uncomfortable.
What are the financing considerations when buying a used car?
There are two main payment options when you buy used :
Keep in mind that financing a used vehicle will increase the overall cost of the vehicle as you will have to pay interest and other finance fees. If you plan to finance, shop around to find the best option. Consider the dealer, credit union, or bank to get the lowest financing rates.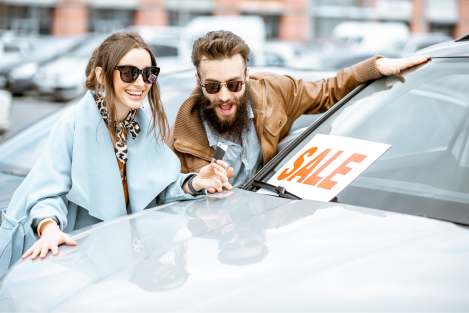 What to ask when buying a used car
Gathering as much information as possible is the key to making a solid used car purchase. One of the best ways to do this is to ask the seller many questions! Not sure what questions to ask? Here are some good questions to start with :
Reason for selling : Why are you selling the car?
Accidents : Has the vehicle been in an accident?
Repairs or modifications : Has anything been repaired, replaced or modified on the car?
Owners : How many owners has the vehicle had?
Gas mileage : How fuel-efficient is the car?
Maintenance : Did the car have regular oil changes and a maintenance schedule?
Warranty : Is the vehicle still under the manufacturer's warranty? If an issue exists, can it be fixed before the purchase?
Cash discounts : Will they consider a cash discount?
Certified pre-owned : If the car is certified pre-owned – ask to see a copy of the inspection report.
Trade-in : If you are buying from a dealer – are they willing to take a car as a trade-in? You can find out your trade-in value before going, this can help with negotiating.
Ask as many questions as you have. If the buyer gets annoyed, agitated, or tries to close the deal quickly, it could be a sign they are hiding something. Remember, you can always walk away.
When is the best time to buy a used car?
There isn't a single best time to buy a used car in Ontario. In general, there are certain times that are better than others. Here are some good times to buy :
At the end of the day, week, and month : Buying at the end of the day, week, or month can help you with negotiations. Sellers have a greater sense of urgency, opening the door for more concessions.
End of the quarter or fiscal year : Sellers will be more motivated to make sales targets. They want to shed inventory and are more willing to slash prices.
Buy toward the end of the year : Car sales are typically slower in the fall to the end of the year. December is regarded as the slowest sales month, making it a great time to shop.
Major promotions : It can be worthwhile to hold out for dealers to offer major promotional events. You'll have greater flexibility and options, and there is more incentive for the dealer to sell.
Where are the best places to shop for a used car in Ontario?
There are many places where you can shop for used cars. Today, the internet has become one of the most popular options to shop, but it's not your only option. Auto dealerships, used car lots, newspaper ads, local auctions, and private sales are also options to consider.
Here are some of the best online sources where you can start your search :
Be careful when buying used cars online
As with any other purchase you make online, you need to be careful about who you do business with. Watch out for unlicensed dealers, online scams, and sellers looking to take advantage of you. Here are some quick tips :
Seller : Always verify a seller's credibility.
Verify VIN : Verify the VIN number of the vehicle and have it inspected.
Checkout car : Never buy a car sight unseen – always check it out in person.
Car information : Get as much information as possible about the vehicle<./li>
Don't pay in advance : Never pay before you get the vehicle.
Compare : Compare car pricing and options using multiple websites.
Too good to be true : If the deal seems too good to be true, then it probably is.
Remember, if something doesn't seem right, then it's probably not. The beauty of buying used is that even if you back away from a deal, there will always be another one.
Buying a used car in Ontario from a dealer
A dealership is one of the many sources where you can purchase a used car. If the online route is not for you, buying a used car from a dealership is a common option. Dealerships can offer various vehicle options, but they are often limited in terms of make and model. One thing they can offer is assistance with financing.
Many dealers also offer warranty packages for used cars. But, like with any other type of business, it's important to do your homework and check out ratings and reviews of the dealership you are considering.
Like anything else, there are good dealerships and poor dealerships. Be diligent and shop around to find the right one for you.
How to buy a used car privately in Ontario
Purchasing a used vehicle from a private owner is slightly different. If you are interested in purchasing the car, ask to see the seller's used vehicle information package. Make sure you carefully review the vehicle history.
Test drive the vehicle and have it inspected by a mechanic. If you purchase the car, make sure you take the package. Get the vehicle permit and bill of sale. You will need the plate portion of the vehicle permit to complete the transfer of car ownership.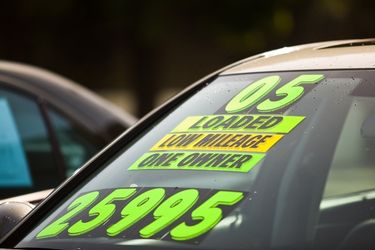 How much does a used car cost?
When you buy a used vehicle, it's important to know all costs, not just the purchase price. Additional cost considerations include :
Insurance costs
Mechanic inspection fees
Financing charges
Dealership fees (if you purchase through a dealer)
Warranty and other add-ons
When purchasing a used car from a dealer, carefully review your bill of sale for additional or hidden fees – registration, title, dealer, license, advertising, and emissions.
Benefits of buying a used car
We've all heard the saying before – the minute a new car is driven off the lot, it will depreciate - a new $30,000 vehicle depreciates just over $2,500 in the first minute. Better make that first minute of driving worth it!
Many people still have a distorted view of the used car buying process. They envision buying a beater that always breaks down and is riddled with mechanical issues. This is not the case today (in most instances).
Buying a car today is vastly different from when your parents bought a used many moons ago. Here are the benefits :
Cost effectiveness : Purchase price is one of the main factors for people buying used. Many of us simply can't afford to or don't want to spend $30,000 on a vehicle. The average price of a used car in Canada is half of this, at about $13,000.
More options : You can buy vehicles from multiple dealers, different makes and models, and different years.
High quality used vehicles : There is no shortage of high quality, low kilometre cars to choose from, many of which are just returned after a lease.
You can get exactly what you want : When you shop for used, you can get exactly what you want. Whether you want a '09 Honda Civic, '05 Ford F-150, or '12 Nissan Pathfinder, you can find one.
You can find a car within your budget : You can also shop based on budget. Whether you want to spend $5000, $15,000 or any number in between, you can find many great vehicles that will fit within your budget.
Better investment : Used cars don't depreciate in value as quickly as new. You will retain more value, and you will be able to recoup more of your money if you decide to sell.
Disadvantages of buying a used car
Like any purchase, there are pros and cons. These are some potential drawbacks of purchasing a used car :
Reliability : Used cars can be less reliable than new vehicles.
Less current features : They may have less current vehicle feature options because of older model year.
You get a lemon : There is the potential you could get a lemon.
Higher loan interest rates : Typically higher interest rates when you finance a used vehicle.
Warranty : No warranty if purchasing from a private seller.
What are the best used cars to buy?
Some used cars are more reliable than others. There are some makes and models to avoid and there are some regarded as the best cars to buy used. The best one largely depends on your driving needs and how you plan to use the vehicle.
According to Edmunds.com, here are some worth considering :
Sedans : Nissan Maxima, Mazda 3, Toyota Avalon
Hatchbacks : Scion iM, Volkswagen Golf, Hyundai Elantra GT
SUVs : Mazda CX-5, Ford Edge, Kia Sorento
Trucks : Chevy Colorado, GMC Canyon, Ford F-150
Hybrids : Toyota Prius, Chevrolet Volt, Hyundai Sonata Hybrid
Luxury Vehicles : BMW 3 Series Sedan, Hyundai Genesis, Audi A6
What is the best used car under $5,000?
If you are looking for a budget friendly ride under $5,000 consider one of these options suggested by Auto123.
Toyota Avalon
Toyota Tercel
Toyota Corolla
Toyota Camry
Toyota Matrix
Mazda 3
Subaru Outback
Acura TL
Honda Civic
Honda Accord
What is the best used hatchback car to buy?
Hatchbacks are one of the most popular vehicles on the road due to their versatility and fuel efficiency. Here are some of the best used hatchback cars to buy in Canada according to CarMax.
Honda Civic
Toyota Prius
Ford Focus
Subaru Impreza
Honda Fit
Mazda Mazda3
Hyundai Veloster
What is the best used SUV to buy?
If you are searching for the best SUVs in Canada, you will be surprised at some of the used options. Below are some of the best used SUVs in Canada according to Driving.ca.

Toyota RAV4
Chevrolet Equinox
Subaru Forester
Honda Pilot
What is the best used midsize car to buy?
According to the KBB some of the best deals for midsize vehicles are used. Here are some of the top picks for used midsize cars under $20,000.
Toyota Camry
Honda Accord
Ford Fusion
Subaru Legacy
Hyundai Sonata
Kia Optima
Volkswagen Passat
What are the best used trucks to buy?
Whether you drive a truck in the country or prefer the option for long weekend hauling, used trucks tick many of the boxes for driver's needs. Here are the top picks for the most reliable and affordable used trucks according to Motor Trend.
Nissan Frontier
Chevrolet Colorado
Ram 1500
Chevrolet Silverado
Toyota Tundra
Toyota Tacoma
Ford F-150
Buying a used car FAQs
Yes. You will need to have valid insurance before you can drive. It's recommended to get proof of insurance to complete your transaction.
You should speak with your advisor and get Ontario car insurance in order before buying. You cannot drive your vehicle without proper coverage in place. Most dealerships require proof of insurance to complete the purchase.
Certified pre-owned vehicles tend to be more expensive because they go through a more detailed inspection process. An extended warranty is also often offered as well as incentives and financing options.
Many recommend not buying used cars that were previously rental vehicles. Rental vehicles typically are driven harshly and have a lot of wear and tear.
If you are shopping for a used EV, consider the model's reliability, have it inspected by someone you trust or a professional, and consider the charging infrastructure around your home. Once you have decided which ride you're taking home, be sure to contact us to learn more about electric car insurance.
It's recommended to buy a used car that is under 150,000 km – anything close to 200,000km (or over!) is not a great idea since that's when cars usually begin to have expensive issues.
Buying a used car is a respectable alternative to buying a car in Ontario
Get as much information about the vehicle as possible before buying used. Get a vehicle history report, get the car inspected by a licensed mechanic, ask the seller many questions, test drive the vehicle, and make sure you follow all transfer of ownership rules.