Oct 22, 2020
A Car Maintenance Checklist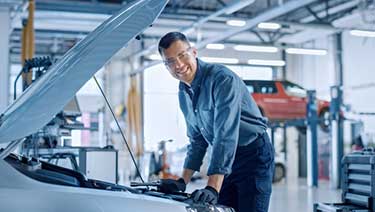 Car maintenance is part of the responsibility of owning a vehicle. Understanding when and what to service throughout the year will improve your vehicle safety and enhance performance. It will also save on repairs and increase resale value.
If you want your vehicle to last, you need to follow the maintenance schedule outlined in your manual. Regular vehicle maintenance lowers the chance of accidents caused by faulty brake systems, worn-out drive belts and poor tire tread. It also gives your peace of mind, especially when driving in poor conditions. Here's what you need to know about regular car repair and maintenance.
What Is A Typical Car Maintenance Schedule?
Scheduling of car maintenance is based on mileage or time intervals. In general, you should take your car in for an oil change every 5,000 to 7,000 kilometres or every 6 months. If you suspect there is an issue, have it checked out sooner. Check your manual for maintenance recommendations for your vehicle brand.
Regular car maintenance includes oil and filter changes, fluid inspection and top-ups, air and fuel filter replacement, tire rotation and brake inspection. It also is an opportunity to check for other issues that could become problems in the future.
What Are The Most Important Car Repairs And Maintenance?
The most important areas to keep well maintained on your car are the oil, brake pads, air filters, and tires.
Oil : Oil is what keeps your engine running smoothly. The heat from the engine breaks down the oil. If it becomes too thin, it won't lubricate the engine as well and can lead to faster wear and tear. Depending on your vehicle and the type of oil used, you should have scheduled oil changes every 5,000 to 10,000 kilometres.
Brake pads : Brake pads have no set schedule for when they need to be changed. Almost all brake pads come with a wear indicator that will make contact with a tab. When you hear a slight screeching or scraping sound, it's time to need to get your brakes checked.
Air filters : Clogged air filters can reduce your gas mileage, horsepower, and cause your engine to stall. As your air filter gets clogged with dirt and dust, there is less airflow around your engine.
Tires : Tires have built-in indicators to show their wear and tear. The tiny ridges should be 1/16 of an inch high. If you run your hands over your tire and notice them to be smooth, uneven, or have waves, it's time to invest in a new pair of tires.
Other : Various fluids, bearings, engine components, and electronics all require maintenance as well. Be mindful of your driving habits, the season, and your owner's manual for a full vehicle maintenance schedule.
Where Is The Best Place To Get Car Maintenance Done?
Unless you have experience working with vehicles, avoid DIY car maintenance. You could end up creating more issues and costing yourself more money. Generally, there are two main options for vehicle maintenance. You can visit your car dealership or a local mechanic shop. Here are some things to consider if you are planning on going to the dealership or the local shop.
Car maintenance at a dealership
Car dealerships can be pricier. The mechanics are factory-trained and are well experienced in working on your type of vehicle. The prices are also higher due to higher labour rates and factory parts as the main options for replacement.
Dealerships have access to your vehicle's full history, including service records, recalls and warranty-related repairs. Your car will be examined before it goes into service, and any recalls or updates that need to be made can be in one stop.
Car maintenance at the local shop
A local mechanic can often get maintenance done at a lower cost. All of the services outlined in the owner's manual such as brake service, transmission service, and filters, can all be handled at an independent mechanic shop. Mechanics at the local shop might not be specialized in your type of vehicle, compared to the brand dealership. Research the shop before visiting to make sure they are reputable.
Whether you own or lease your vehicle, both options have their pros and cons to handle your car maintenance needs. Consider your budget and what needs to be taken care of.
What Does A Routine Car Maintenance Schedule Look Like?
Always check your driver's manual to see recommended maintenance for your car. Here is a general list of when to bring your car in for maintenance. Timelines and recommendations will vary by car brand and model.
Monthly
Clean interior and exterior
Tires : Are they inflated properly? Is the tread good? Are they damaged?
Also check your tire pressure, which can harm your fuel economy.
Windshield washer fluid (as often as required)
If you have any warning lights, get them checked. They are indicators that your vehicle needs to be serviced.
Every three months (3,000 – 5,000 km)
Automatic transmission fluid
Power steering fluid
Battery
Engine oil and filter
Chassis lubrication
Exhaust
Every nine months (9,000-10,000km)
Automatic transmission fluid
Battery and cables
Engine air filter
Engine oil and filter
Exhaust
Fuel Filter
Power steering fluid
Rotate tires and have the alignment checked
Every 12 months (12,000-15,000km)
Automatic transmission fluid
Battery and cables
Belts, hoses, lights
Brakes
Cabin air filter
Check engine light (is it on?)
Polish
Coolant (Antifreeze)
Engine air filter
Engine oil and filter
Exhaust
Fuel filter
Power steering fluid
Steering and suspension
Wiper blades
If you are buying a new or used car, car maintenance fees should be a factor in your decision. To ensure longevity in your vehicle, always follow the scheduled maintenance and bring your vehicle in for a yearly check-up. Keep track of your receipts and records of your vehicle maintenance.
What Are Maintenance Requirements For Electric Cars?
Electric cars require less maintenance than conventional vehicles because there are fewer fluids (oil, transmission fluid, for example) to change and less moving parts. However, they still have vehicle maintenance that needs to be followed. The battery, electrical systems, electrical motor and electronics maintenance should be followed according to your vehicle guide.
What Are Daily Car Maintenance Tips?
It's a good idea to do a visual inspection of your vehicle before driving. Here are a few daily car maintenance tips to practice. When you approach your vehicle, look for any fluid leakage, under-inflated or flat tires, hazards such as ice, snow or dirt that can interfere with the steering, visibility, or braking.
From the driver's seat make sure your view is unobstructed, lights are working, and if there are any illumined warning lights. While you are driving, be alert for unusual engine or exhaust noises and squeaking or grinding noises from brakes. If you notice any changes with your vehicle, make an appointment with your mechanic.
How Much Does Vehicle Maintenance Cost Annually?
Car maintenance costs roughly amount to $1,500 annually. You should budget $100 to $125 monthly for car maintenance such as oil changes, fluid changes and filters. Some months you won't spend anything, and others you may have a higher maintenance bill.
What Vehicles Need The Least Maintenance?
People want to drive the most reliable cars. If you are in the market for a new vehicle, you might be interested in buying one that has low maintenance costs. Cars that are well maintained will last the longest. Toyota vehicles are known for providing drivers with the best value.
Is It Better To Do An Oil Change At Home Or Dealership?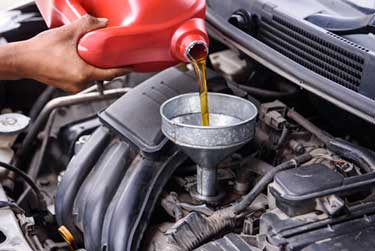 If you have experience working with vehicles, doing an oil change at home can save you money. Here are the pros and cons of doing an oil change at home versus or a mechanic.
Pros
Doing an oil change at home is convenient – you choose the date and time to work on your vehicle.
Doing an oil change at home can be cheaper because there is no labour cost and you can find oil on sale.
Getting an oil change done at a dealership or shop will not void your car warranty. Be sure you keep all receipts and invoices.
Cons
If you do not have experience with DIY car maintenance, you can damage your car and risk hurting yourself in the process.
Mistakes can be more costly. Using the wrong oil can lead to engine failure; too little oil can damage the engine parts, and overfilling can cause leakage into the engine seals and gaskets.
You need to remember to change the oil manually – make a logbook of at home-services to avoid confusion.
Car Maintenance FAQs
Here are the most commonly asked questions about car maintenance.
Follow your owner's manual maintenance schedule to know exactly what and when you should get serviced. Also consider a yearly check-up to ensure all systems, brakes, emissions, hoses and belts are functioning at their best.
Depending on what needs to be serviced, your vehicle will need regular maintenance every 5,000 to 10,000 kilometres, or every six months. Here's a look at the necessary recommendations to have your car serviced.
Engine oil and filter change - every 5,000 to 10,000 or every three months (depends on driving habits, vehicle and type of oil).
Cabin air filter – every 30,000 to 40,000 kilometres or every 24 months.
Fuel tank air filter - every 30,000 to 40,000 kilometres or every 24 months.
Coolant fluid change - every 48,000 kilometres or every 24 months.
Automatic transmission fluid – every 168,000 or every 84 months.
If you neglect your car's service requirements, it can result in higher repair bills. However, if you keep up with scheduled maintenance trips, it can save you money and help your vehicle last longer.
Most of the time, you will need to pay for vehicle maintenance on a leased car. Sometimes, car dealers will include oil changes as part of your lease agreement. Always hold onto your receipts and copies to prove any work has been done on your car.
Yes, you should keep all maintenance reports pertaining to vehicle maintenance. Service records, purchase receipts, initial paperwork and insurance should all be organized and kept safe. It will help eliminate any guesswork and unnecessary maintenance. Keeping receipts will also help you benefit from warranties on replacement parts. When selling a car, buyers often request maintenance records to ensure the vehicle is properly maintained. This can also increase the resale value.
If the repairs are necessary due to an accident, your insurer will likely cover it. This will depend on the type of car insurance quotes you have searched for and added to your vehicle.
Regular Car Maintenance Will Keep You Safe And Save You Money
We hope you find the tips and information helpful. Keeping your vehicle maintained will save you money in the long run by preventing expensive maintenance costs for large repairs because of neglect. You will likely also get more on a trade in or if you sell your car as it will be in better working condition. But most importantly, it will be safer to drive and less likely to break down. Driving a safe and reliable car is worth keeping it maintained properly.