Feb 6, 2020
High Car Safety Ratings Will Help You Save On Insurance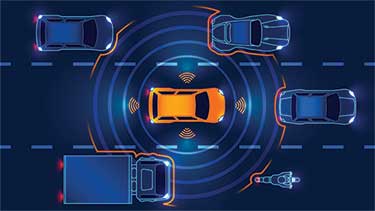 Are you driving the safest car? Are you in the market for a new vehicle? Safety is an important consideration when buying a vehicle. It's also a factor that can affect your insurance rates.
Check out the IIHS list of the safest 2019-20 models to drive and learn about how safe cars help lower insurance rates.
The List Of The Safest Cars In 2019
What are the safest cars in Canada? What are the safest car brands? Cars of all makes and models qualify as having top safety ratings.
The Insurance Institute for Highway Safety (IIHS) is the definitive source for determining the safest cars to drive. Using tests to assess vehicles accident avoidance and how it protects occupants they identify the safest vehicles to drive.
Here is the list of IIHS Top Safety Picks for 2019 :
What Are The Safest Small Cars?
Prefer to drive a smaller car? Jere are some of the top rated for safety in this class :
Honda Insight 4-door sedan
Hyundai Elantra 4-door sedan
Kia Forte 4-door sedan
Kia Niro hybrid 4-door wagon
Kia Niro Plug-In Hybrid 4-door wagon
Kia Soul 4-door wagon
Subaru Crosstrek 4-door wagon
Subaru Crosstrek Hybrid 4-door wagon
Subaru Impreza 4-door sedan
Subaru Impreza 4-door wagon
Subaru WRX 4-door sedan
The Safest Midsize Cars
Is a midsize car more your style? Here are the safest vehicles in this class :
Hyundai Sonata 4-door sedan
Kia Optima 4-door sedan
Mazda 6 4-door sedan
Subaru Legacy 4-door sedan
Subaru Outback 4-door sedan
Toyota Camry 4-door sedan
The Safest Midsize Luxury Cars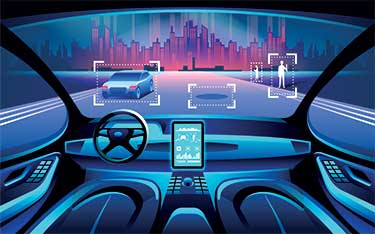 Shopping for a safe luxury car? Check out these models :
BMW 3 series 4-door sedan
Lexus ES 350 4-door sedan
Mercedes-Benz C-Class 4-door sedan
Tesla Model 3 4-door sedan
Volvo S60 4-door sedan
The Safest Large Cars
Only a few large cars made the list of safety to drive :
Kia Stinger 4-door hatchback
Toyota Avalon 4-door sedan
The Safest Large Luxury Cars
Enjoy large and luxury vehicles? Here are the top safety performers :
Audi A6 4-door sedan
BMW 5 series 4-door sedan
Genesis G70 4-door sedan
Genesis G80 4-door sedan
Genesis G90 4-door sedan
Lincoln Continental 4-door sedan
Mercedes-Benz E-Class 4-door sedan
What Are The Safest Small SUVs?
SUVs are popular option for all types of drivers. Need something for the city? Here are the safest :
Audi Q3 4-door SUV
Hyundai Kona 4-door SUV
Hyundai Tucson 4-door SUV
Lexus UX 4-door SUV
Mazda CX-5 4-door SUV
Subaru Forester 4-door SUV
Toyota RAV4 4-door SUV
Volvo XC40 4-door SUV
The Safest Midsize SUVs
Looking for an SUV with a little more room? These are the safest in this class :
Hyundai Palisade 4-door SUV
Hyundai Santa Fe 4-door SUV
Kia Sorento 4-door SUV
Mazda CX-9 4-door SUV
Subaru Ascent 4-door SUV
Volkswagen Tiguan 4-door SUV
The Safest Midsize Luxury SUVs
Drive an SUV with all the bells and whistles? These have it all from a safety perspective :
Acura RDX 4-door SUV
BMW X3 4-door SUV
BMW X5 4-door SUV
Hyundai Nexo 4-door SUV
Lexus NX 4-door SUV
Mercedes-Benz GLC 4-door SUV
Mercedes-Benz GLE-Class 4-door SUV
The Safest Large SUVs
Not too many options for safe large SUVs in this class :
The Safest Large Pickups
The Ram stands alone in the pickup category :
Criteria For The Top Safety Picks
To qualify as a IIHS Top Safety Pick vehicles must meet these criteria :
A Good rating in driver-side small overlap front, passenger-side small overlap front, moderate overlap front, side, roof strength and head restraint tests.
An acceptable or good rating in the passenger side small overlap front test.
An advanced or superior rating in the front crash prevention test.
An acceptable or good in the headlight rating.
How Does Car Safety Help Lower Insurance Rates?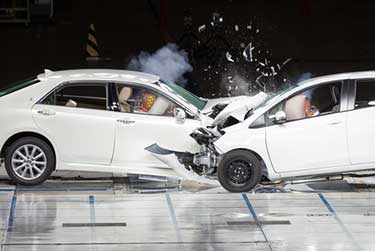 The vehicles in this list of the safest cars all have one thing in common. They can help you lower your car insurance rates. Safer vehicles are less of a risk. Vehicles with a higher safety rating are less of a risk. How?
Fewer collisions : Collision avoidance sensors provide drivers with assistance to prevent accidents and to adjust driving to avoid objects.
Less theft : Safety features such as theft prevent, engine shut off, and tracking capabilities make it less likely for vehicles to be a target for thieves.
Fewer injuries : High quality airbags, collision impact reduction design, and accident avoidance helps to reduce and prevent injuries.
All of these factors help to reduce overall claims costs for insurers. As a result, there is a lower risk for insurers, which means a lower car insurance premium for you.
FAQs About The Safest Cars
Have more questions about the safest cars to insure. Check out these commonly asked questions :
What Is The Safest Vehicle On The Market?
There are many great vehicles that share very similar safety features. Any one of the top safety picks on the IIHS list is safe. But, the key determining factor that makes a car safe is who is driving. Choosing one of the safest cars and then driving with safety in mind will make your vehicle one of the safest on the market.
What Is The Worlds Safest Car Brand?
Subaru is regarded as the safest car brand. It is also known for having affordable car insurance rates. Subaru's are considered one of the top safest cars to insure.
What Is The Safest Cars For A Teenager To Drive?
The Safest cars for young drivers are vehicles they are comfortable driving. In general, it's recommended for teen drivers to have lower horsepower and bigger vehicles. Any vehicle that appears on the top safety list is worth considering for your teen driver.
Since most teens drive used vehicles, it's also important to choose a vehicle that is known for reliability.
What Is The Least Safe Car?
Some vehicles are less safe than others. In general, smaller and faster vehicles are less safe to drive. When considering vehicles, look into reliability, recalls, collision testing performance, and the overall protection the vehicle provides if you were involved in an accident.
Here Are Some Other Articles You May Be Interested In
Parking Lot Accident : Who's At Fault? Driving Record, Insurance And Other FAQs
No Fault Insurance : How Does It Work In Ontario And Other Provinces?
A Guide to the Ontario Graduated Driver's Licensing System
What Are The Cheapest Cars To Insure?
Have A Fender Bender? What To Do When A Car Accident Happens in Ontario
A Simple To Follow Guide For How To Buy A Used Car
<<Car Ownership In Ontario - Transfer Vehicle Ownership, Cost, Lost Permit & FAQs
Average Car Insurance In Ontario By Month, Age And Gender>>