Nov 16, 2022
Plug into the top electric vehicles available in Canada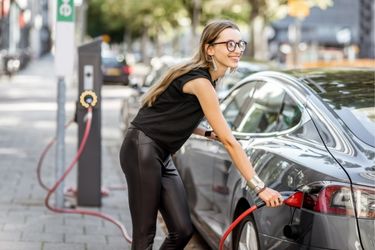 Are you thinking about making the switch to an electric vehicle?
You may be surprised to learn that electric vehicles represented almost 8% of all new motor vehicles registered in the first quarter of 2022, according to Statistics Canada. Out of these 26,018 new zero-emission registrations, 75.7% were battery electric vehicles and 24.3% were plug-in hybrid electric.
If you are one of the many consumers looking to convert to a greener ride, here are the best electric vehicles in Canada and how they will impact your electric car insurance.
Is insurance for electric cars more expensive?
Insurance is always a top consideration when buying a car, and electric cars are no different. Before we get to the list of the best electric vehicles for 2022/2023, we just wanted to answer a common question we get about electric cars – are they more expensive for insurance compared to other vehicles?
When you are comparing auto insurance quotes, the process is very similar between electric cars and traditional automobiles. The more expensive a make and model is, the more expensive it can be to insure. EVs are costly to repair and require specialized services for repair, which can lead to higher rates. You may be saving money on gas, but if you are in a collision, you will likely have a higher repair bill.
Insurance for an electric car considers driver specific factors such as demographics, driving history, vehicle use, years of driving and licence class. The vehicle make, model, and value, average kilometres driven, and how you store the vehicle will also play a role.
Before you buy your next vehicle, make sure you compare the options for electric car insurance. Always ask your insurer if you are optimizing discounts such as loyalty, winter tires and driver's training.
If you are planning to purchase an electric vehicle, there is an insurance savings incentive to consider. In spring 2022, some insurers, such as Aviva Canada and CAA began to offer a green vehicle discount. So if you are planning to purchase an electric vehicle, there is an insurance savings incentive to consider.
Cheapest electrical vehicles in Canada
Are you planning on switching to an electric vehicle after you trade in your car? Here is a look at the cheapest electrical vehicles in Canada to consider.
Hyundai IONIQ 5 : If you're looking for a longer range EV, the IONIQ 5 has a 488 km range and starts at $44,999. It is loaded with additional safety features and is perfect for everyday driving.
Hyundai KONA electric : A second runner-up for over 400 km range, costing around $44,999.
Kia Niro EV : If you are looking for the best SUV in the electric world, the Niro EV fits five passengers – ideal for families or those who need extra room for travel. The range is 385 km and starts at $42,995.
Volkswagen ID.4 : This emission-free and all-electric SUV starts at $44,995. It boasts 400 km range.
Nissan Leaf : The Leaf is a compact option perfect for city drivers. Its range is 240 km and prices start at $37,498.
Chevrolet Bolt : This top range hatchback can go as far as 417 km and prices start at an affordable $38,198.
Mini Cooper SE : This compact EV starts at $40,999 and has a range of 183 km and a notable 35-minute charge.
What is the cheapest electric car in Canada?
Not all electric vehicles come with a high price tag. The 2022 Nissan Leaf starts at $37,498 MSRP, making it one of the cheapest electric cars for Canadians. It's been around for almost a decade and since then, its range has increased to 240-km all electric driving.
Best luxury electric cars for 2022/2023
With the modern era of electric vehicles, you don't have to sacrifice luxury for functionality. Here are the top luxury electric cars for the year ahead.
2022 Tesla Model X : Although this EV will put you back around $114,990, the dramatic roofline, spacious third row, and limited production make it a unique luxury vehicle. The range is around 500km and has impressive acceleration. It's also part of the Tesla Supercharger network for easy access to fast charging.
2022 BMW iX : Luxury, range and top-level performance are all delivered in this model. This BMW is stylish, functional, and modern. Plus, the range is around 520 km so it will hold its charge for drives near and far. Prices start at $83,200.
2023 Audio e-tron : Starting at $70,800, this luxury electric SUV is entering its fifth year without any big changes. It does have a lower range at 400 km.
2022 Jaguar I-PACE : If you're looking for a futuristic yet classy EV, this is the one for you. Starting at $69,900 with redesigned infotainment and navigation features.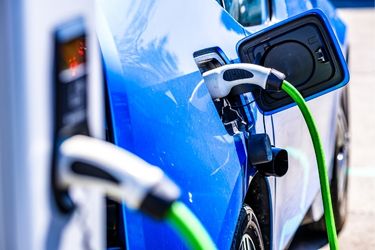 Best used electric cars in Canada
If you're opting for a used electric car, there is a vast market out there to choose from. Some consumers are concerned about overused battery concerns, so ensure the vehicle is inspected by a professional. Here is a look at some of the best pre-owned electric vehicles.
2011-2017 Nissan Leaf
2014-2019 Kia Soul EV
2015-2020 Volkswagen e-Golf
2017-2019 Hyundai Ioniq Electric
2014-2020 BMW i3
Top 3 most efficient electric vehicles in Canada
One of the main reasons why drivers are converting to electric is to help manage the rising fuel costs. Here are the top three most efficient electric vehicles in Canada for 2022/2023.
Tesla Model 3 : Canada's best selling EV is not only stylish, but it's an affordable $45,099 and it achieves 132 MPGe combined city/highway for a cost of $635 per year. Some gas vehicles cost over $100 just to fill up the tank once.
Chevrolet Bolt EV : The Bolt has a 120 MPGe rating and $700 CAD per annum running costs. The low initial price of $38,198 makes it one of the more affordable options especially after government rebates.
Hyundai KONA Electric : If you need a crossover, the KONA is your best option for an efficient electric vehicle. You'll spend an estimated $700 annually to charge up.
What is the best electric car to lease?
If you are comparing a lease vs financing an electric car, you'll want to consider budget and needs. Many dealerships offer deals to lease electric cars, but the offers are always changing. On average, Tesla is one of the most expensive options to lease, starting at $499 per month and $4,500 due at the time of the agreement. On the other side, the 2022 Hyundai Kona Electric has been as low as $279 per month, $500 cash back, and $3,899 due at signing. You'll also want to consider the costs of your Ontario car insurance, or another province, before you commit.
Best electric SUVs in Canada
As EVs have grown in popularity and manufacturing, electric SUVs are available in various sizes to suit the needs of drivers. Here is a look at the best electric SUVs in Canada for 2022/2023.
Chevrolet Bolt EUV
Hyundai Kona Electric
Ford Mustang Mach-E
Hyundai IONIQ 5
Tesla Model Y
Kia EV6
Volkswagen ID.4
Mazda MX-30
Best electric vehicle for Canadian winters
EVs are, in fact, built to last for Canadian winters and tough driving conditions. With the proper winter electric vehicle maintenance and vehicle to suit your needs, you'll get where you need to go through ice and snow.
Tesla Model 3
Tesla Model Y
Ford F-150 Lightning
Volkswagen ID.4
Ford Mustang Mach-E
Hyundai Ioniq 5
Kia EV6
BMW i4
BMW iX
Which car companies have electric cars?
The face of EVs has drastically evolved in the last few years. Many brand name manufacturers have joined forces to make the future of driving a bit greener. Here are some of the companies that offer electric cars.
Tesla : Since 2003 Tesla has been a leader in EVs and are one of the most influential companies to bring EV to the mainstream. They offer four models ranging from a small sedan to a high-end SUV.
Hyundai : Hyundai entered the electric car market in 2016 with the IONIQ Electric small liftback. They recently announced an IONIQ line-up with a medium crossover, large sedan, and SUV.
Ford : Keep an eye out for Ford's Mustang Mach-E, e-Transit van, and F-150 Lightning (voted one of the best electric trucks). Ford is also planning to make the luxury line of Lincoln to be zero-emissions by 2030.
Kia : They first introduced the Kia Soul EV overseas in 2014 and the e-Niro in Europe in 2017. They are currently working on a dedicated EV line for North America, but the Kia EV6 is available.
Mazda : The first electric MX-30 SUV was released in 2021. Mazda is working on expanding into North America and improving battery capacity.
GM : General Motors, which includes Buick, Cadillac, Chevrolet and GMC is working on new EVs to add to their line. Their history with EVs actually began in the 1990s with the Chevrolet Volt plug-in hybrid and the all electric Volt.
Mitsubishi/Nissan : In 2018, Nissan released the second-gen Leaf, a small pure electric hatchback. They are now working on debuting the Ariya electric SUV. Mitsubishi is aiming to have 50% of their lineup electric by 2030.
BMW : The BMWi3 city car was released in 2013 featuring a dedicated EV platform using a lightweight carbon fibre-reinforced polymer frame. Since then, BMW has been a pioneer of EV. They are currently widening their electric options with luxury and mainstream options.
Mercedes-Benz : The EQC medium SUV debuted in 2019, but it was actually back in 1906 when Mercedes-Benz created the battery powered Mercédès Electrique and the hybrid Mercédès Mixte. They are now working to offer nine different EV models.
Volkswagen : The e-Golf became the first mass-market EV in 2015 and now Volkswagen is branching out into a medium EV SUV, small hatch, and wagon.
Subaru : In 2021, this automaker announced that they will offer electric versions of all their models by mid-decade. The all-new electric SUV Solterra is currently available by Subaru.
What is the difference between an electric car and a hybrid?
EVs have electric motors and rechargeable batteries, versus hybrids that run on electricity and fuel. Hybrids have a backup gasoline motor which can ease the range anxiety that comes along with some electric cars. When choosing which one is right for you, you'll want to consider how much insurance for hybrid cars is and how long vehicles can run on battery alone vs fuel.
Are electric cars more expensive?
Electric vehicles are often more expensive to buy compared to fuel and hybrids. Prices begin around $40,000 but there are discounts and incentives to make them more affordable. The Government of Canada offers incentives for zero-emission vehicles through the iZEV Program. There are two different options :
Longer range battery-electric, hydrogen fuel cell and plug-in hybrids are eligible for up $5,000.
Shorter range plug-in hybrid electric vehicles are eligible for up to $2,500.
Be sure to check out federal and provincial resources to help you save on your EV purchase.
Electric vehicles in Canada FAQs
In Canada, the cheapest Tesla model is the Tesla Model 3. This high-performance luxury electric car starts at $59,999 MSRP. It has a 430 km range so it's perfect for city trips and some road trips. Don't forget to compare Tesla insurance quotes while you're at it.
Automobile manufacturers are ramping up to meet driver needs and climate change initiatives around the globe. Canada is mandating that the sale of all cars be fully electric by 2035.
Depending on the battery's size and the charging point's speed, it takes between 30 minutes and 12 hours to fully charge an electric vehicle.
Electric vehicles vs fuel: what will you choose?
If an electric vehicle is not in your price range, you'll benefit from learning about the most fuel-efficient cars in Canada. Only time will tell if manufacturers offer a wider range of options to meet the demands and budgets of the country.