Mar 14, 2022
Cars With The Best Gas Mileage in 2022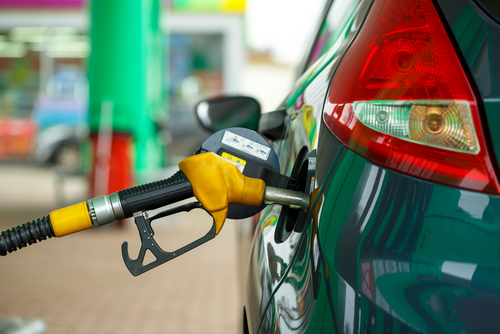 Do you have a fuel-efficient car? Feel like you're spending more than most drivers on your weekly fill-up?
According to the 2021 Fuel Consumption Guide, Canadians' annual fuel cost is 1,962 every 20,000 kilometres. Don't forget to include the 11.8% annual increase average of gasoline prices.
Here's what you need to know about choosing a fuel-efficient vehicle and the best ones to choose in Canada.
What Is Considered A Fuel Efficient Vehicle?
Fuel efficiency, or fuel economy, refers to the length of distance a vehicle can travel on an amount of fuel. Vehicles that are listed as less than 6L/100 km are considered fuel-efficient.
The 100 km is how many litres of fuel the car needs to travel 100 km. The lower the number of litres stated, the better the vehicle's fuel economy is. Depending on how many kilometres you drive per year, purchasing a car with low fuel economy can be a top of mind.
How To Know If A Car Is Fuel Efficient
The best way to determine if your vehicle is fuel-efficient is to compare the fuel economy number versus the car and gas cost. Here is an example :
Car A
Yearly Driving Average: 15,000 km
Fuel Economy: 4L/100km
Litres Required: 590L
Fuel Cost For Year ($1.15 per litre): $678.50
Car B
Yearly Driving Average: 15,000 km
Fuel Economy: 5L/100km
Litres Required: 737L
Fuel Cost For Year ($1.15 per litre): $847.55
We can see that Car A is equipped to use 4L/100km and will help you save almost $200 monthly on fuel expenses. Over a few years, fuel expenses will be over a few thousand dollars. When you calculate how much it will cost to own and drive a car, this data can help you budget.
Best Fuel Efficient Cars In Canada
In the city, most vehicles have a fuel economy of 10.7 while highway driving is 7.4L. Here are the best vehicles to invest in if you are looking for a fuel-efficient car in Canada.
Nissan Versa : One of the top cars with the lowest fuel economy comes in with 6.7L/100 km. On average, you would spend as low as $1,675 on gas, and the basic model of the car is as low as $16,498.
Toyota Corolla : This car has been known for its low fuel economy for years. On average, you'll spend $1,675 on gas with a combined fuel economy of 6.7L. The buying price is a bit higher than the Versa – the basic models start at $19,350.
Subaru Impreza : Although the city economy is around 8.3, the highway is at 6.4/100 km. With a combined average of 7.5L/km, you can expect to pay around an affordable $1,875 yearly for gas.
Volkswagen Jetta : Surprising, the Jetta is still one of the best cars on fuel. Highway driving can be as low as 5.8L/100 km, but city driving increases to 7.9L. With a combined average of 6.9L/100 km, you can expect to pay around 1,725 yearly on fuel.
Best Fuel Efficient Pickup Trucks
On average, truck models made with diesel are the best option. If you're looking for a fuel-conscious truck, here are the top choices.
Chevrolet Silverado : This popular truck has a surprising low combined fuel economy of 8.8L/100 km. You can expect to pay $2,112 for fuel yearly.
GMC Sierra: Plan to spend on average $2,184 for fuel and see a low 9.1L/100 km with the truck's diesel model.
Ford F-150 4X4 : Some models can be closer to 15.4L/100 km, but they can be as low as 10.7L with the diesel models.
GMC Grand Canyon : This series of trucks have as low as 10.9L combined economy. You can budget to spend between $2,425 - $2,825 on fuel.
Honda Ridgeline AWD : Great for city and highway driving, the Ridgeline has a combined fuel economy of 11.5L, and you can expect to pay less than $3,000 yearly on fuel.
Toyota Tacoma 4WD : Arguably one of the most sought-after trucks, it can have as low as 11.8L even with regular gasoline.
Best Fuel Efficient SUVs
Driving.ca studies show that around 47% of all new vehicles in 2020 were SUVs/crossovers. Drivers are leaning towards these vehicles because of the extra space and the valuable fuel economy.
Hyundai Kona : The winner of the lowest fuel economy is the Kona with a 7.9L combined fuel consumption. On the highway, you can see usage as low as 7.0L.
Honda CR-V : Opt for the non-AWD and you can see highway rates as low as 7.0L and city at 8.3L, bringing you a combined amount of 7.7L/100 km.
Chevrolet Equinox : If you want to spend around $2,000 yearly on fuel, this is your best option with 8.4L combined consumption. The Chevrolet Trax also falls into the 8.4L range if you prefer a compact SUV.
Ford Escape : A standard in the SUV world, the Escape, has an 8.4L but with a lower price tag than Equinox.
BMW xDrive28i : Keep in mind you'll need premium fuel for this vehicle, but it has a comfortable 8.8L/100 km.
Buick Encore : This model by Buick has the lowest combined economy available at 8.7L. City driving can raise it as high as 9.7L, but highways can be as low as 8.6L.
Subaru Crosstrek : One of the best compact SUVs on the market, you can expect to have an average of 7.9L/100 km, even with regular gasoline.
How To Improve Car Fuel Efficiency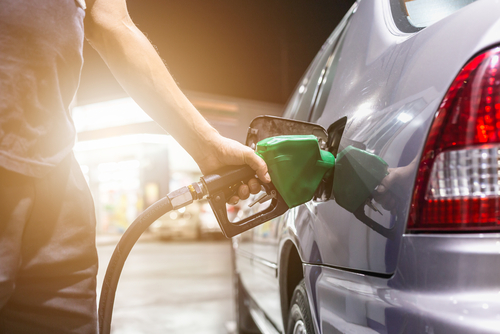 You may have a vehicle with a low usage per kilometre, but you should drive in fuel-efficient ways and maintain your vehicle to achieve the best efficiency.
With the vehicle you have now, you can drive more fuel-efficient with these techniques :
Accelerate gently : When you accelerate hard, you use more fuel. Ease onto the accelerator pedal gently when you are changing lanes or speed.
Avoid high speeds and maintain speed : Studies show that you can increase fuel usage by 20% when your speed increases and lowers.
Anticipate traffic : Keep a safe distance between the vehicle in front of you and be mindful of pedestrians so you can slow down and keep a steady speed.
Coast before braking : Observe how traffic is behaving in front of you and if there are any lights. Cruising before braking conserves fuel because it allows you to slow down instead of using your brakes right away, which takes away from your forward momentum.
When you are not driving, there are tips you can follow to improve the fuel economy, such as :
Check tire pressure monthly : You can find your vehicle's correct tire pressure on the tire place card located on the driver's door or the doorpost.
Avoid idling your vehicle : On average, vehicles waste over one cup of fuel every ten minutes.
Extra weight : Remove unnecessary weight such as sports equipment, salt or sand, and take roof or bike rakes off. Aerodynamic drag can increase fuel consumption by as much as 20% when driving.
Use air conditioning in moderation : It can increase fuel consumption by 20%. Open the windows when possible, use the flow-through or re-circulate ventilation system.
Fuel display : Drivers consume 15% less fuel by seeing the feedback from a fuel consumption display – if your vehicle has one, use it.
5 Tips For Buying A Fuel Efficient Vehicle
Shopping smart can help you save money on fuel. If you're buying a new or used car or looking for a hybrid car. Here are five tips for buying a fuel-efficient vehicle.
Buy less horsepower : The bigger the engine, the greater the horsepower, and the more fuel it will consume. The smaller the engine, the more cost affordable.
Choose a small vehicle : Generally speaking, the smaller a vehicle, the less fuel it will consume. Narrowing down the smallest version of the vehicle will help you save money in the showroom and on the road.
Simplify drivetrain : Front-wheel drive is often more fuel-efficient compared to all-wheel and four-wheel drive.
Avoid unnecessary add ons : turbocharged engines, permanent roof racks, remote starters are a few of the ways fuel may be wasted from aerodynamic drag or idling your vehicle.
Ask for fuel-efficient features : Aluminum wheels, removable roof racks, cruise control, trip computer and tachometers are some great options to track fuel usage or limit the use.
Fuel Efficient Cars FAQs
Although you can save money on your fuel expenses, purchasing a fuel-efficient car will not impact your car insurance quotes.
The 2020 Hyundai Ioniq Hybrid has been titled the most fuel-efficient vehicle in Canada as of 2020. Its fuel economy is as low as 4.1L/ 100 km. Other options include the Toyota Prius, Toyota Corolla Hybrid, and Kia Niro.
The most fuel-efficient non-hybrid in Canada is the 2020 Mitsubishi Mirage (CVT). The 6.2L/100 km paired with the automatic continuously variable transmission makes this the top choice. Runners up include the Honda Fit, Kia Rio and Toyota Yaris.
Diesel vehicles are often more efficient compared to gas. Studies show that they deliver up to 30% better fuel economy on highway driving. But, driving with diesel and trying to be fuel-efficient will depend on what type of vehicle you drive.
The Bugatti Chiron Pur Sport comes in with a 26.1L/100km. It can cost upwards of $7,000 a year for gas.