Dec 5, 2022
Top electric heavy duty and pickup trucks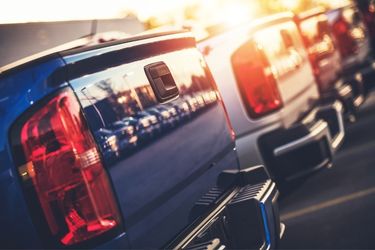 A wide selection of electric trucks will be available in Canada as of 2023. Are these new EVs ready to conquer life on the road across the country?
Electric vehicles are becoming more reliable and popular, but trucks have been slowly joining the EV revolution. We've explored some of the best electric vehicles, but many Canadians opt for trucks even with increased gas prices. In 2022, just under one-quarter of all vehicles sold in Canada's first three months were trucks.
Here is an overview of the best electric trucks in Canada.
What electric trucks are available in Canada?
It's time trucks took a new turn and enter the realm of electric power. Manufacturers are committed to lowering emissions without the loss of horsepower or towing. Here is a look at the electric vehicles available in Canada.
GMC Hummer EV Pickup
The Hummer EV is designed with the classic upright and angular exterior you would expect. It dominated terrain with revolutionary features and capabilities. Equipped with Extract Mode and Crabwalk, a unique 4-wheel Steer with wheels that can turn up to 10 degrees in either direction. It will give you the capability to drive diagonally at low speeds. Extract Mode will provide you with extra height to get over a tough spot - Adaptive Air Ride Suspension raises 6" so you'll be able to overcome any water or boulders in your way.
Ford F-150 Lighting
One of Canada's best selling trucks is back with an all electric model. It has 426-563 horsepower, 775 pounds of feet of torque, and an impressive driving range of 370-515km, depending on which Ford model you have. Designed with Ford's Intelligent Range, it will alert you with factors in temperature, traffic reports, road conditions and updates range as you drive. There is also a wide selection of exteriors, interior, and custom products for the truck bed.
Rivian R1T
Known as one of the first all electric trucks, built for whatever roads you drive, whether it be a mountain road or off-road. It has eight drive modes to suit road conditions or your personal driving preferences. The structure is made from aluminum alloy, ultra-high-strength steel and carbon fibre for enhanced safety. There are over 62 cubic feet of storage. The Rivian R1T has three battery options including standard (418+ km), large (550 km) and max (644+ km). The upgraded quad-motor AWD system pounds out 835 horsepower and 908 pound-feet of torque, giving it a three-second 0-to-60 time and 4,990-kg towing capacity.
Chevrolet Silverado EVM
Chevy's first entry into EV is the Silverado EV which will be available by 2023/2024. The brand says, "It's a category-defying, boundary-breaking game changer that can be what you need and want it to be". Ultifi is software that keeps your truck up-to-date with new features and personalized apps. It is also designed with Ultium, an all-new battery that brings more power, force, and flexibility. Initial estimates have 660 horsepower, 780 pound-feet of torque and 4,536-kg towing capacity. The first model will have a 400 range, but as the makers expand the line, expect that number to increase.
Tesla Cybertruck
Amidst the production delays, the Tesla Cybertruck promises over 805-km range and a 1,588-kg payload capacity. The Exoskeleton is made for durability and passenger protection - every component is crafted with superior strength with Ultra-Hard 30X Cold-Rolled stainless-steel structural exterior to Tesla armour glass.
While you are shopping for an electric truck, don't forget to compare electric car insurance.
How much does it cost to charge an electric truck?
Understanding how to charge an electric vehicle is an important consideration for your electric truck. The costs to charge an electric vehicle depends on the type of battery, the charger, and if you are charging at home or a public option. On average, if you charge your truck for 500 km range at home, it will cost around $10-$15. Public charging stations in Canada are pay-per-use and cost between $1.00/hour or $2.50 per charge.
What is the cheapest electric truck?
When you are looking at electric trucks in Canada, you'll not only be comparing car insurance, but you'll be looking at the costs of different makes and models. Below is a look at the cheapest electric trucks.
Make/Model
Cost
Alpha Wolf
$36,000-$46,000
Tesla Cybertruck
$39,900-$69,900
Chevy Silverado EV
$39,990-$105,000
Ford F-150 Lightning
$39,974-$95,000
Rivian R1T
$67,500-$75,500
Which electric truck has the longest range?
Range is one of the most important factors for buying an EV. If you have a truck, you'll want to know how far you can go, not only because the vehicle is bigger, but also because you will often have more weight. Here is a look at the top ranges for electric trucks in Canada.
Truck
Range
Power
Speed
Tesla Cybertruck
800 km
800 hp, 1000 lb-ft
0-60 mph in 2.9 seconds
Chevrolet Silverado EV
640 km
660 hp, 780 lb-ft torque
0-60 in 4.5 seconds
Ford F-150 Lightning
480 km
563 hp, 775 lb-ft torque
0-60 in 4 seconds
Rivian R1T
500 km
800 hp, 908 lb-ft torque
0-60 in 3 seconds
GMC Hummer EV
560 km
1,000 hp, 11,500 lb-ft torque
0-60 in 3 seconds
Bollinger B2
320 km
614 hp, 668 lb-ft torque
0-60 in 4.5 seconds
Alpha Wolf
440 km
No data available
0-60 in 6.2 seconds
Atlis XT
800 km
600 hp, 12,000 lb-ft torque
0-60 in 5 seconds
Hercules Alpha
563 km
800 hp, 1,000 lb-ft torque
0-60 in 3 seconds
Canoo Electric Pickup
231 km
500 hp, lb-ft torque unknown
No data available