Mar 8, 2021
Why Defensive Driving Is Important For All Drivers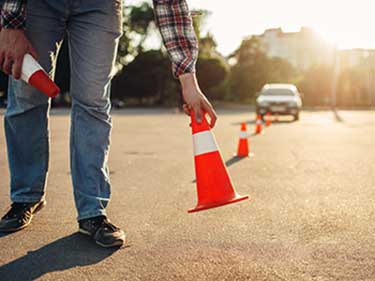 Accidents can be prevented with defensive driving. Understanding the rules of the road will help you be a safe driver, but what does a defensive driver entail?
It is everyone's responsibility to avoid an accident. While driving, you coordinate with other drivers to keep traffic moving safely. Think about how we honour right-of-way; you must be courteous in the road by giving space and using your signals. By practicing these techniques, you can reduce your chances of motor-related accidents by 90%.
Whether you are new to driver's education or want to brush up on safe driving, everyone can benefit from learning safe driving.
Here is how you can protect yourself and others by being a defensive driver and completing a course in the subject.
What Is Defensive Driving?
Defensive driving uses strategies that minimize risk to help avoid and prevent accidents such as moving violations, speeding, and impaired driving, to name a few. Above all, drivers who choose safety are successful defensive drivers.
It is based on three main areas :
Visibility : Be seen and pay attention to those around you. Always be aware of traffic around your vehicle to spot potential hazards and avoid collisions. Distracted driving and inadequate surveillance, cause around 41% of accidents.
Space : Do you notice someone driving a little too close? Are you less than two seconds behind someone? Ensure you are leaving space around yourself, so you have time to stop suddenly and keep traffic moving smoothly.
Communication : Keep your eyes on the road and make contact with drivers, pedestrians, cyclists. Always signal when you need to slow down, change lanes, or turn. Use your horn gently if you need to get another person's attention.

Using these tips on the road, you can become a defensive driver.
What Is The Most Important Element In Defensive Driving?
Did you know the most crucial factor to defensive driving is to be a safe driver? The main objective is to decrease the chances of being the cause of an at-fault accident and to avoid being involved with one.
15 Best Tips For Defensive Driving
Follow these methods to improve your safe driving habits.
Expect drivers to make mistakes on the road : Acknowledge the fact people make mistakes. Trust yourself and your skills.
Invest in safety devices : Consider car safety features such as blind-spot detection and ensure car seats are correctly installed.
Limit distractions : Distracted driving is one of the highest casualties in accidents. Do not look at your phone, limit radio usage, temperature control and other people in the vehicle distract you from the road.
Honour space : Give yourself enough distance from the cars around you to limit rear-end accidents. Knowing how to position your vehicle, so you always have a way out can help you plan if there is a hazard, so you have time to react safely.
Keep an eye on your blind spot : Monitor your blind spots and consider other drivers. Remember, if you cannot see the driver in their mirror for large vehicles, they can't see you either.
Ease on the side of caution : If you are not sure who has the right of way, take the extra moment to yield.
Do not run the red light : Always evaluate the situation at an intersection – slow down and avoid running the yellow or red lights.
Prepare for the weather : Practice proper winter driving techniques and be mindful of rain and even sunshine which can limit visibility.
Give yourself time : Allowing adequate time for travel will lower stress levels from driving and feelings of road rage.
Properly maintain your vehicle : Following regular vehicle maintenance, you can prevent surprise breakdowns.
Do not speed : In Canada, 18% of crashes result in severe injury or death. Safe drivers will honour the posted speed limit.
Buckle up : 93% of Canadians buckle up; for the 7% who do not, account for 40% of fatalities. Always use a seatbelt as a driver or passenger.
Get adequate rest :

When you get behind the wheel are not well-rested, you risk falling asleep and drowsy driving.

Handling tailgaters : If a driver is following too close, add twice the amount of space between you and them. If this is not possible, change into the next lane and let them pass. Do not slam on the breaks as it could cause an accident.
Drive at a consistent speed : If you suddenly increase or decrease your speed, make unpredicted stops and unexpected lane changes, it becomes hard for others to anticipate your next action.
3 Benefits To Defensive Driving Courses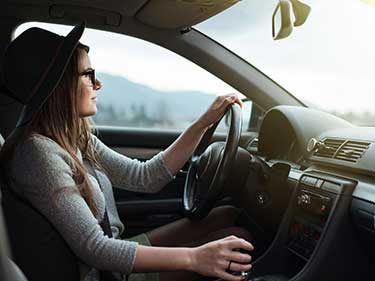 Becoming a safe driver has countless benefits. Here are three of the top reasons you should consider it :
Sense of responsibility : Throughout the course, you will gain confidence behind the wheel, strengthening your driving skills.
Lower costs : Defensive driving courses can lower your costs and remove infractions that have impacted your drivers abstract.
Road safe techniques : Learning how to spot hazards will help you to stay out of trouble. Understanding reaction time, limiting distractions, and spotting aggressive drivers are all helpful tips.
How To Choose A Defensive Driving Course
Drivers may choose to take a course online or in-class. Courses can help you learn more in-depth techniques related to safe driving.
Online vs. in-class : If your schedule allows in-class, it is highly recommended to get hands-on training. Online is convenient because you can take it at your own pace and on most devices.
Course length : Consider what your schedule is like and how long you can attend the program.
Budget : Costs start around $40 in Ontario. Do your research to find a reputable teacher for your personal or business use.
Certificate Of Achievement : Certain programs will help with your coverage costs, or they may be specific for an employer or court. Ensure you are getting the correct certification to meet your needs.
Does A Defensive Driving Course Reduce Insurance In Canada?
Yes, it can lower car insurance in Canada. These courses can help drivers lower their payments by 5% to 20%. Defensive driving courses are not only for new drivers taking driver's ed, but companies can also benefit from investing in these courses for their employees. Make sure you the proper discounts have if you have completed a defensive driving course.
Defensive Driving FAQs
It is recommended to take an MTO-approved course every three years because the certificate is usually expired after that. Individuals or companies may set their period for expiration.
By practicing safe, you will be able to choose better safety outcomes, lower your chance of being ticketed, less repairs, and save money on your policy.
Depending on the program, it can take anywhere from four to 20 hours to take it online.
Hit The Road With Lessons From Defensive Driving
Defend yourself on the road with these tips. When we all work together to practice defensive driving, our roads are safer, and costs can be minimized.
Here Are Some Other Articles You May Be Interested In
Car Accident Reporting And What Do After You've Been In An Accident
How Much Does It Cost To Own And Drive A Car?
Selling A Car In Ontario?
<<OPCF 43 - Waiver Of Depreciation And Replacement Value
How Does A Speeding Ticket In Alberta Impact Your Insurance?>>