Sep 19, 2022
Enjoy Ontario Fall Roads While Staying Safe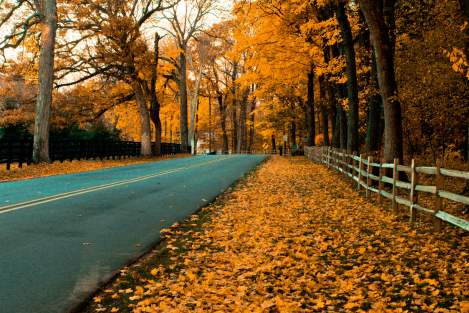 Autumn is a perfect time to take in the changing foliage, brilliant leaves, and beautiful blue sky. Taking a day trip on Ontario roads is one way to enjoy our stunning fall season.
Even though driving can be a pleasurable past-time, there are some seasonal dangers that you should be aware of. From wet or frozen leaves to quickly changing weather conditions to black ice, fall driving in Ontario can present drivers with challenging conditions that require extra precautions.
Road and driving conditions change with the onset of autumn. Here are the best fall driving safety tips to help you.
Driving factors to be aware of in the fall
When fall arrives, the new season brings many factors that drivers must be aware of. Commuters and drivers battle with increased sun glare with the sun lower on the horizon. And the changing sunrise and sunset times in the fall change the light conditions for drivers – particularly during rush hour.
As autumn moves into winter, we have fewer daylight hours. In the later afternoon, pedestrians, cyclists, and children playing on the streets are harder to see. According to CAA 1 in 3 cyclist deaths occur at night or in artificial lighting, and 34% of cyclists who were killed in crashes had been struck by a vehicle in the dark.
Fog is also more common in the fall and early winter. These conditions reduce visibility – particularly in valleys and low areas. Cold mornings can result in frost on your windows, causing reduced visibility.
One final caution – the autumn months is the mating season for many animals, and the risk of hitting a deer while driving increases. Although a hazard at dusk most times of the year – they are particularly active in the fall. According to the Traffic Injury Research Foundation, over 45,000 non-fatal collisions with wildlife occur yearly.
Best driving tips for fall
There are many increased things to be aware of during the fall. Use the following tips to drive safe :
Stopping room : Give yourself plenty of room to come to a stop at intersections and when following other vehicles.
Slow corning : Slow down when taking corners, especially on blind corners where you do not know what's ahead.
Leaves on the road : Be aware of leaves on the road. Both wet and frozen leaves are very slippery.
Changing weather conditions : Check weather conditions before you drive. Be prepared for quickly changing weather patterns leading to slippery driving conditions.
Black ice : Slippery black ice is common in the fall. Pay extra close attention on damp days when temperatures are around the freezing point.
Get a tune-up : Schedule a seasonal tune up at your local mechanic to top up your fluids and check your car for any issues.
Back to school : September can be a dangerous month for pedestrians, with more fatalities than any other month. Brush up on your school zone driving.

Sun glare : Keep sunglasses in your glove compartment for those days when there is high sun glare.
Frost on windows : Make sure you have a scrapper in your car to clean the frost off the windows. Warm your car up and ensure you have good visibility before you drive.
Reduced visibility : Less daylight in the fall makes it difficult to see children, pedestrians, and cyclists. Always be alert and pay attention to what is happening outside your vehicle.
Low beams for fog : Low beams give you better visibility when driving in the fog. High beams reflect off the fog and make it more difficult to see.
Deer are more active in the fall : Driving experts recommend not swerving to avoid a deer. If you encounter a deer, brake firmly, beep your horn and duck below your dashboard if possible. Slow down where there are deer crossing signs and pay attention to the shoulders and sides of roads.
Darkness : As days get shorter you will be driving at night, which has its challenges.
How to get your car ready for autumn driving
Changing fall weather conditions means it is time to prepare your car for colder weather. Car maintenance tips such as checking your washer fluid, lights and wiper blades can go a long way in keeping you safe. Here are some more tips for getting your vehicle ready for the season.
Wiper blades : Check your wiper blades to make sure they are in good condition for colder weather or switch to winter wiper blades.
Winter washer fluid : When fall comes, switch to winter washer fluid, which is designed to work in cold weather without freezing. They are usually rated for temperatures of - 35°C to -49°C or more.
Tire pressure : Keep an eye on your tire pressure. Fluctuating temperatures can cause your tires to expand and contract, leading to tire pressure loss.
Winter tires : When the temperature starts dropping below 7°C, it's time to book an appointment for your winter tires.
Headlights : Are having trouble seeing ahead at night? Make sure your headlights are clean, working and aimed correctly.
Fall driving in Ontario FAQs
One of the main reasons why driving in fall can be dangerous is the wet leaves. Leaves make the road slippery and can cause your tires to have less traction.
Other fall driving hazards include changing road conditions, driving in darkness, and more traffic and pedestrians due to going back to school. You never know what you could be faced with; stay alert and do not drive distracted.
There are many potential hazards to be aware of when driving in the fall. Hazards when driving in the fall include :
Rain and wet leaves - increased risk of hydroplaning, and it's more difficult to stop.
School children - stay alert for school buses and children. Take time to understand the rules for driving in school zones.
Earlier sunsets - less driving time in the daylight can lead to increased risks like fatigue, glare, and shorter depth perception when driving at night.
Wildlife - there is an increased risk of animals near roads during dawn and dusk.
As they say, failure to prepare is preparing to fail. The same holds for driving. To prepare for autumn driving in Ontario, you can :
Get a seasonal tune-up to refill your vehicle fluids and inspection. You can get your winter tires on if the temperature is below 7°C.
Keep an eye out for wildlife on the side of the road.
Avoid driving on leaves, which can be slippery.
Be mindful of back-to-school traffic.
Stock up on emergency car supplies.
Brush up on your driving at night skills.
Do not drive distracted.
Along with having a spare tire, here is what you should keep in your car in case of an emergency :
Flashlight
Extra batteries
First aid kit
Jumper cables
Non-perishable goods (unsalted nuts, dried fruit, hard candy)
Warm clothing and blankets
Snow brush, shovel
Extra windshield washer fluid
You should also have a list of family and emergency phone numbers, including documents for car insurance in Ontario and towing companies.
Enjoy your autumn driving adventures
Driving for pleasure is at its best in the fall. Ensure you get out and enjoy the season before the winter drives us all indoors. But be prepared for the changing light conditions, fog, reduced visibility, and changes to your car. Knowing these factors will ensure your safety and those you share the road with.