Oct 8, 2021
Driving Rules In Construction Zones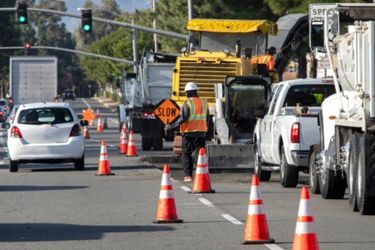 Construction seems to find its way to every route you drive, doesn't it?
Many drivers experience road rage or opt for driving distracted to find a new road to avoid congestion. In doing so, they may miss the posted speed limit or ignore detour signage, which can cause an accident.
Ignoring the rules of construction zones could leave you hefty fines and increase your car insurance quotes. Here's how you can drive safely through construction zones and which signs to pay attention to keep you, other drivers, and workers safe.
What Is The Speed Limit In A Construction Zone?
Not all construction zones have the same speed limit. That's why it's important to pay attention to signs leading up to the area. Generally, construction zone speed limits will be between 50 km/h to 70km/h on highways. They will be considerably less on secondary or regional roads.
What Is Considered A Construction Zone?
Construction zones can be defined as an area marked with traffic control devices such as signage or pylons. These markings will be seen at the beginning and end of the zone. There may be a flag person or traffic control person to help direct the flow of traffic.
Be prepared to stop and slow down when you are driving towards a construction zone.
What To Do When You Drive Through A Construction Zone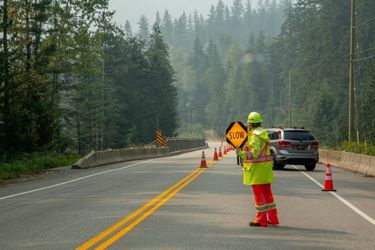 According to the MTO, roads need substantial repair every 15-25 years. As a driver in Ontario, it sure feels like it happens much more often than that, doesn't it?
It always helps to be prepared before you get into your car and start driving. Here are some tips to help you when driving through a construction zone.
Pay attention, share the road with work crews : The first tip to safely navigate construction zones is too look ahead and keep an eye on what is going on.
Plan ahead : Check your route before leaving on your GPS or 511 for the latest road closures or delays. Taking a moment to plan can help you find an alternate route or leaving at a better time.
Slow down : Drive at the posted reduced speed limit and keep a safe distance between you and the vehicle in front of you. Sudden stops are common in construction zones.
Drive defensively : Expect the unexpected – defensive driving can help you navigate road surfaces and traffic patterns that will often change unexpectedly.
Obey all road signage : Signs in construction zones will contain important information that warns drivers about essential information such as road work, traffic conditions and closures.
Keep your eyes on the road : Don't let your phone or the radio distract you from looking for new signs, signals, pavement markings, or uneven pavement.
Fines For Construction Zones
Did you know that if you are caught speeding in a construction zone, the fines are doubled? You can be fined up to $500 in Ontario and three demerit points (or more) for not obeying the traffic control person or posted signage.
Do I Still Need To Slow Down If No One Is Working In A Construction Zone?
Have you ever been driving and noticed a construction zone, but there are no workers present? Do you need to slow down if there is no work being done?
Legally, yes, you should slow down in a construction zone even if workers are not present. If you are caught, you can still face fines.
Slower speeds are not only in effect to protect workers but also to protect drivers. The speed limits are determined by the type of work being done and factor in any changes in road characteristics.
For example, speed reductions in construction zones can protect drivers from hazards including :
Uneven road surfaces
Changes in alignment and narrow lanes
Reduced sight distance
Lack of shoulders or lane markings
Construction Zone Signs
| | |
| --- | --- |
| Construction work is a specific number of kilometres ahead. | |
| There is road work ahead. | |
| There is a survey crew working on the road ahead. | |
| Traffic control person ahead - drive slowly and watch for specific instructions. | |
| You are entering a construction zone. Drive with extra caution and be prepared for a lower speed limit. | |
| Temporary detour from the regular traffic route. | |
| Flashing lights on the arrows show the direction that you should follow. | |
| The pavement has been milled or grooved. Your vehicle's stopping ability may be affected poorly - obey the speed limit and drive with extra caution. | |
| Lane ahead is closed for roadwork and will end. Obey the speed limit and merge with traffic in the open lane. | |
| The lane is closed. Adjust speed to merge with traffic in the lane indicated by the arrow. | |
| Do not pass the pilot vehicle or pace vehicle when you see this sign. | |
| Reduce speed or be prepared to stop. | |
| Follow the detour marker until you return to the regular route. | |
| Enforces doubling fines for speeding in a designated construction zone when there are workers present. | |
Construction Zone FAQs
You should not pass other vehicles in a construction zone due to the unpredictable conditions of the road ahead. There may be pavement work or a lane that ends. Be patient, and wait until you are out of the construction zone to pass another vehicle.
It's important to know that the fines will be doubled if you are caught speeding in a construction zone. If you are caught driving over 30km/h over in a construction zone, you may face fines for driving 60 km/h – which would be classifed as stunt driving, and your license could be suspended.
In addition to reduced speed, any violation in a construction zone is subject to double fines.
Driving through a construction zone can be dangerous because of debris, loose gravel, lane changes, and no shoulders.