Oct 17, 2022
What you need to know about roofs and insurance in Canada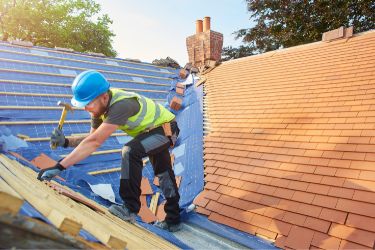 Keeping a roof over your head is a necessity of life. If something were to happen to your roof, there is no question it is an expensive repair job. Thankfully, most roof damage is covered by insurance, that is, if you have the right level of coverage in place.
This is where many homeowners become confused or make assumptions about what is covered. Do you need additional roof replacement insurance, or is your current home insurance enough?
On average roofing can last 15-50 years, depending on the material used and the workmanship behind building it. But that timeline may be cut short due to weather events, fallen trees or unresolved structural damage.
It costs homeowners on average $8,500 to install a new roof. Re-roofing can cost upwards of $10,000 or more depending on the size and materials used.
In this blog post, you'll learn how to determine if insurance can remedy any issues related to roof damage or replacement.
Will insurance cover roof replacement?
Depending on what the damage to your roof is and what caused it, your policy will cover it.
You will likely be covered for roof replacement if the damage is caused by a sudden accidental event or an act of nature.
For example, if your area experienced heavy winds, insurance will replace a roof if it is damaged from it. This is because the wind is an uncontrollable force. Keep in mind that your policy will need to outline all perils and roofs are included.
You would not be covered if the damage was your fault. If you have been neglecting repairs on your roof, or it needs to be replaced due to gradual wear and tear, you will likely not be covered by your insurer. Roofs that are over 20 years have limited coverage, if any. It's better to work with the roofing company for an extended warranty on your next roof so you will be guaranteed some type of coverage to help you with repairs.
Does my type of roof affect insurance?
When you are comparing home insurance costs, you may be asked what type of roof your home has and how old it is. Since roofing is made from various materials, such as metal or asphalt, companies need to evaluate the risk of your current situation.
For example, a metal roof is fire-resistance and more durable, which can be in favour of your policy. Since it has a lower risk, you may qualify for discounts. Feel free to reach out to us to learn more.
Does insurance cover roof leaks?
Many homeowners want to know if insurance will cover roof leaks. Coverage will depend on what initially caused the leak and what it's included in your policy. If the leak was caused by nature (an ice storm, severe rainfall, or fallen branches) you would likely be covered since the damage was from an accident. You may also want to speak with your provider about additional water damage insurance. There are situations where you may need to prove the damage was unintentional with a letter of proof from a contractor.
On the other hand, if you had missing shingles, or a maintenance issue caused the leak, your insurer will probably not cover you.
Will a new roof lower my insurance?
If you are planning on any home renovations this year, you may want to consider upgrading your roof to help lower your policy. Investing in a new roof can help lower payments because you reduce your home's risk. The newer the roof, the less risk there is for leaks and therefore a lower chance of claims.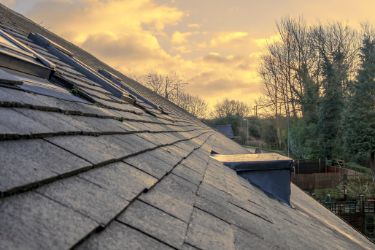 Tips for maintaining your roof
The number one way to maintain your roof is your due diligence. You can extend the life of your roof by following these steps :
Inspect your roof every spring and autumn.
Remove any leaves, needles, moss, or branches.
Cleaning eavestroughs and gutters of any debris.
Remove tree branches that overhang on the roof.
Check for pest damage.
Look for loose shingles, issues with flashing and other roofing components.
If you notice any problems, you should contact a certified roofer to examine your roof to confirm if repairs are necessary.
What are some reasons my roof repair claims would be denied by insurance?
If you file a claim for roof repair, there is a chance it will be denied. Depending on what caused the damage and what your insurer has outlined in your agreement. Most roof claims are denied because of the following reasons :
Pre-existing damage or issues : If a loss was caused by damage that already existed, such as damaged shingles, your insurer can deny the claim since the initial problem should have been fixed.
Lack of proper maintenance : If you have a property that needs a new roof, but you neglected to fix it, your claim will likely be denied because the issue could have been prevented.
Partial damage : Majority of the time partial repairs can't restore a roof to it's previous condition.
Manufacturer defect : This is why warranties are worth considering - if a roof causes damage related to manufacturer defects, your insurer doesn't need to help you with repairs. If you had a warranty, the manufacturer would cover it.
Filing with your insurer too late : The sooner you report a claim, the better. When you see roof damage or experience severe weather, contact them and the roofing company as soon as possible.
What to do if insurance denied your roof replacement claim
You can appeal the decision by your insurer by getting an on-site inspection from a contractor and submitting the required forms. You may need a lawyer to support the generating of reports. Lastly, ensure you keep a copy of images and any letters during the process for your records.
It's a good idea to check with the roofing company before filing a claim. Most roofs come with a warranty that may cover the repairs or replacements you need. If you are in the market for a new roof, consider investing in the additional warranty to help you minimize the costs associated with getting it fixed.
Best roofing materials for insurance
If you want to upgrade your roof, it's important to consider strong and durable materials that will last and lower the cost of your coverage. Here is a look at the following roof types that can handle the tough climate across Canada.
Asphalt shingles : One of the most common types of roofing due to its low cost and ease of installation. It's easy to repair and can last around 20 years.
Clay or concrete : Available in a wide range of colours and styles. Easy to maintain, but due to their extra weight you will need additional roof framing. The lifespan is around 30 years.
Metal : Metal roofs are growing in popularity, especially in locations that receive heavy snowfall. Their design sheds snow quite well, reducing the risk of collapse. They can last up to 50 years.
Tar and gravel : If you have a low slope roof, tar and gravel is ideal. The layers are laminated and then covered with gravel. This type of roof lasts around 20 years.
Insurance roof replacement FAQs
If you have a metal roof in Canada, you will likely see a lower home insurance costs. This is because metal roofs pose less of a risk compared to ashplant shingles. It can also increase your home value by up to 6%.
You will know you need to repair your roof if you notice any cracked, curled shingles, wet spots, streaks on exterior walls, wet spots on the interior ceiling, or damage around vents and chimneys. You may also notice a sagging roof deck, water damage, or light coming inside through the roof.
If your claim is approved, your insurance company will help you pay for a new roof or any necessary repairs, assuming the type of damage is outlined in your agreement. Insurers will have specific limits and perils that will be covered and others that will not be included. Depending on the claim you are making, they will cover the costs.
When you receive a payout for roof replacement from insurance, the money should all go towards the repairs, whether you do the repairs yourself or hire a third party to handle the project. If you need to prove you completed the necessary repairs, and you kept the money for something else, you could face consequences.
With the right policy, you can have help with your roof replacement
The next time you are checking off your spring home maintenance list, be sure to check your roof for any damages so you don't risk increasing your Ontario home insurance quotes.