Feb 1, 2021
Water Damage In Your House And Insurance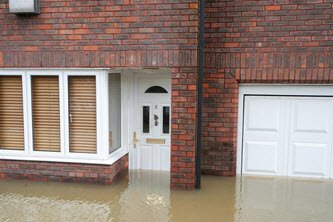 Did you know that water damage makes up the largest percentage of home insurance claim?
Water damage is one of the last things you want to find in your home. No one wants to come home to a flooded basement or other issues. It can be challenging to repair, and it can result in a costly repair bill. Unfortunately, it is one of the most common forms of damage to homes.
The costs continue to rise because of the increased number of severe storms and because many homeowners are renovating their basements – changing them from unfinished storage areas to dens, income suites, or entertainment areas for their families.
We've put together a guide to help you understand the types of water damage, common areas where issues arise, prevention tips, and how you can protect your home.
What Are The Most Common Types Of Home Water Damage?
Water damage comes in various forms. As a homeowner, you probably already know about the many different ways it can cause damage :
Flooding From Sewer Backup vs. Overland Flooding
A severe weather event can cause your home or basement to flood. It can also flood your neighbourhood. Some 'flooding' can result from water seeping into your basement. This is commonly a result of two sources :
Overland Flooding : Rising water levels outside your home.
Sewer Backup : An inability of the municipal systems to cope with rainwater runoff.
Water Damage Caused By Sewer Backup
Standard policies generally do not include protection from sewer backup. You will need additional protection added. Review your documents or speak to an advisor to confirm what you have.
Mold Damage
If you have water damage, then there is a good chance you may also have mould, and it's not something to mess around with. If you suspect mould, have it addressed immediately. Talk to your advisor about your options for claiming mould issues.
Common Areas For Water Damage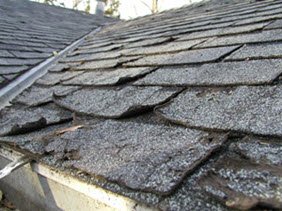 While water damage can occur virtually anywhere, there are common areas where it is more likely to occur, such :
Plumbing : A common source of leaks from old pipes, hot water tanks, toilets and faucets, or poor workmanship.
The Roof : A leak in the roof can create water damage in multiple areas of your home. Make sure you keep your gutter clear to allow for proper run off, and check your roof annually for damaged shingles and other possible areas where it can get into your home.
Sump Pump : A sump pump malfunction could cause levels to rise and get into your basement.
Drains : Basement drain clogs, left unaddressed, can cause water to get into your home. Check them annually.
Basement : You could experience basement flooding, it could get in through a crack in the foundation, and other sources.
10 Tips To Prevent Water Damage
Even though water damage is a major threat, there is also a lot you can do to reduce the risk of having severe issues. It starts with regular maintenance, and prevention continues by being vigilant.
Here are some tips to help prevent water damage in your home :
Eaves : Keep your eaves troughs and downspouts clear of leaves and other debris.
Property Grading : Get your land properly graded if you see it pooling around your house.
Downspouts : Have downspouts that extend well away from the outer walls of your home.
Foundation : If you find leaks in your basement, find the problem and have it repaired. Your foundation may also need repairs, so it's a good idea to have it inspected.
Window Damage : Repair cracks in windows or sills right away before they become an even bigger issue.
Sump Pump : Install a sump pump. Hook it up to a generator so you can operate in the event of a power failure.
Backwater Valve : Install a backup system (backwater valve). This is a sensor that triggers a balloon to inflate when water begins to flow back into your household system. Once the it subsides, the balloon deflates allowing water to flow out to the municipal system.
Winterize : If you have a seasonal home or cottage, drain pipes and turn it off before freezing sets in. Don't forget to shut off the valves for outdoor taps.
Roof : Keep your roof in good repair – if you notice issues or it's time to replace it in a timely manner.
Basement : If you are turning an old basement into a living space, seal the exterior wall. An added expense but worth it if you create an entertainment space downstairs.
Home maintenance is only part of the equation. Preventing water damage also involves remaining vigilant in your decision making throughout the year, particular in these situations :
When You Are Away : If you go away for more than a weekend, make sure that you have someone who will check in on your house or turn them off.
Heavy Rain Storms : After a big downpour, inspect your property for water and where it might be pooling. Make plans to correct the problem.
Appliances : Only use the dishwasher and washing machine when you're going to be home.
Hot Water Heater : Keep an eye on your hot water heater tank – particularly as it ages. Think about replacing it after 10 years.
Doors and Windows : Check that all doors, windows and openings are properly sealed and caulked.
What Are Signs Of Water Damage?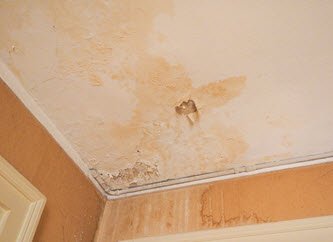 Prevention also involves knowing the common signs of water damage. Here is what you can look for :
Mold : This is a telltale sign that water damage may be present in your home. If you see mould, have a professional take a look. It's also is a sign you should start looking for the source of the issue, if it is not apparent.
Damp Smell : If you can smell dampness, you likely have water getting into your home somewhere. Identify the area where the smell is the strongest – this is likely the source of the damage.
Dripping Sounds : If you commonly hear the sound of dripping or flowing, especially behind or below the walls of the bathroom or in the basement, there is a good chance you have a plumbing issue, such as a leaky pipe. Also listen for other uncommon sounds, especially after running water.
Growing Water Bill : If you notice your bill going up without an increase in usage, there is likely an issue to get inspected.
Peeling and Cracking : Cracks and peeling paint are a sign of moisture build-up. If you notice a brownish colour or stain, it could be pooling in the ceiling or wall.
Swelling : Have you noticed baseboards or flooring starting to swell or warp? It's a sign that water is getting in.
Which Types Of Home Water Damage Are Covered By Insurance?
You will be compensated for some types, but not all of them. Don't make assumptions about what is and is not covered. Each insurer has different limits.
You can add additional protection or inclusions, such as riders. Whichever you opt for, we strongly recommend that you read and understand the protection it will provide for you. You don't want to be surprised.
Every company offers different types of protection. Typically speaking, they can cover situations such as :
Water main breaks
Burst pipes in your home
Leakage from washing machines or hot water tanks
Sewer backups
Water seepage
If a pipe suddenly bursts, you will be compensated for any unexpected and accidental events. Your insurer will cover you for your losses.
In some cases, seepage may also be covered. If you can prove that your house was flooded due to roof damage from a storm and it had been recently replaced, you would receive compensation.
Always remember that some of these are optional - you will need to get extended coverage if you want the protection
What Water Damage Will Insurance Not Cover?
It's important to be aware of the types of damage that are not covered, including :
Lack of Proper Home Maintenance
You have a responsibility to keep your home and property maintained. This means you must take consistent action to ensure that it cannot come into your home because of clogged eaves troughs or downspouts, a faulty septic system or pipes in your home. It also means that it won't cover you for this kind of damage if it is a result of an unresolved maintenance issue.
When You're Away For A Prolonged Length Of Time
If you leave it on when you are away for a prolonged time, and the pipes burst or freeze, you may not be covered for the loss. As the homeowner, you have to think about ways to minimize the possibility.
The Source Of The Water Damage
Most policies will not cover the source of the problem – for example, a faulty hot water tank – but it will cover the costs to replace the damage caused by the tank.
Flood Damage
This can result in basement flooding is not covered by standard policies. You will need to purchase additional overland flood insurance.
Should I Submit A Claim For Water Damage?
When you notice damage from water, the first thing you should do is notify your insurer. Do not do anything until you are instructed to do so. In most cases, they will send a professional to assess the scene and determine the best course of action.
The process for filing is similar to other home insurance claims. Call your provider right away to let them know what happened. They will ask you to describe the reasons for the damage, and depending on the severity of it and the situation, they will provide you with instructions for moving forward.
Don't Let Water Damage Your Home Investment
With each policy, there will be certain conditions, restrictions and exclusions. Your specific contract determines your limits. Read it carefully and thoroughly for a complete description of what is covered and exclusions.
As a homeowner, you have two important responsibilities. First, you have to maintain your largest financial investment regularly. Your other important responsibility is to ensure that you are adequately covered for any event. Regularly review it to confirm that you have a proper plan to meet your financial and housing needs by speaking with us.
Here Are Some Other Articles You May Be Interested In
The Guide To Getting Your House Ready For Winter
Tips When Buying A New House