Sep 10, 2021
Obey The School Zone Speed Limit And Rules In Ontario
School zones are about to get a lot busier. September is back-to-school season. Students of all ages will begin their commute to the classroom. Buses, crossing guards and children playing are just a few factors drivers need to be cautious of.
A 2019 CAA poll found that nearly 70% of Canadians have witnessed a distracted driver in a school zone and 64% have witnessed speeding. September is a dangerous month for pedestrians with more fatalities than any other month.
As a driver, it is your responsibility to watch out for pedestrians and obey the rules in school zones. Here is what you can do to keep the community safe during the school year.
Common School Zone Signs In Ontario
To drive safe in school zones, you need to recognize and understand school zone signs. Here are the most common road signs in school zones.
| | |
| --- | --- |
| A school zone sign is a five-sided fluorescent yellow sign with pedestrians crossing. This means you are coming to a school zone and should slow down, be cautious and watch for children. | |
| The flashing school zone sign also has flashing lights with the speed limit in effect during school hours. | |
| Reduced speed limit ahead. These will often be yellow and sometimes have flashing lights. | |
| Indicates an area where the community has identified there to be a high risk for pedestrians. Traffic related offences in this zone is subject to increased fines. | |
| Drivers must stop for a school bus when signals are flashing. | |
| You'll see this sign on multi-lane highways with no centre median. If you see a school bus with flashing lights, all directions must stop. | |
| A zone where school buses load or unload passengers without using the alternating lights and stop arm. | |
What Are The Rules For Driving In A School Zone?
School zones are put in place to ensure the safety of children. Here are the rules for driving in a school zone to consider.
Recognize school zones : School zones can have crossing guards, lights, warning signs, speed bumps and flashing lights to alert drivers. They are notably recognized by the yellow sign featuring silhouettes of two schoolchildren walking. There will be signs to alert drivers of the reduced speed. It is illegal to pass another vehicle, including buses, while in a school zone. Keep an active eye on the road and be aware of the approaching school zones.
Follow the speed limit : The speed limit in school zones is between 30 to 40km/h. Always check for posted signs to reduce your speed and prevent last minute braking. School zone speed limits are significantly lower than the roadway around the school.
Yield to pedestrians : Drivers must yield to pedestrians and crossing guards in school zones. Watch out for children exiting cars and school buses.
Yield to school buses : As a driver, you should yield to school buses at all times. Always stop when you see the red lights flashing. Do not pass school buses; not only is it dangerous, but you also risk being fined $400-$2000 and earning six demerits.
What Are The Fines For Driving Violations In School Zones?
Fines are up to 60% higher in a school zone. How much over the speed limit you were going will determine if you face other penalties or charges. At 20km/h over, you could accumulate demerit points.
How Much Are School Zone Speed Limit Fines?
The cost of a speeding ticket in a school zone depends on how fast you are caught driving.
10km/h over = $95
20km/h over = $180 + 3 demerits
30km/h over = $450 + 4 demerits
40km/h over = $595 + 4 demerits
Fines can increase if you are a repeat offender. You can also face other charges such as careless driving.
What Is The Speed Limit In School Zones In Ontario?
The school zone speed limit is between 30 to 40km/h. These speed limits are in affect 8 am to 5 pm, on weekdays from September to June.
However, it's still important to drive with care at all times when in school zones. Kids can be present after school hours and on weekends. Slow down.
School Bus Laws In Ontario
You must stop at least 20 metres short of the bus. You must not proceed until the overhead red signal lights have stopped flashing. If there is no median, drivers travelling in both directions must stop when the lights are flashing.
When approaching from the opposite direction, stop at a safe distance to let children cross and get on or off the bus. Only move forward once the red lights have stopped flashing or the bus moves. If there is a median, oncoming traffic is not required to stop. However, be mindful of children and slowdown. Vehicle owners can be charged if their vehicle illegally passes a stopped school bus, even if they weren't driving at the time.
What Is The Fine For Failure To Stop For A School Bus?
Failing to stop for a school bus is a serious offence. Here are the fines and penalties:
First offence: $400-$2000 and six points
Each following offence: $1000-$4000, six points and possible jail time up to six months
School Zone Safety Statistics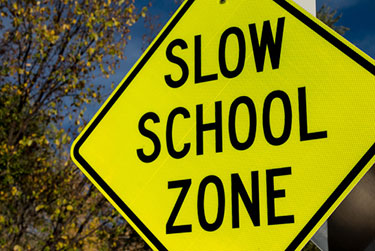 Are you curious to how safe, or unsafe, school zones can be? Here are some statistics from CAA.
The top three unsafe motorist behaviours witnessed in school zones is speeding, illegal parking, and distracted driving.
A quarter of drivers reported witnessing a near miss or collision in a school zone. More than half involved a child.
Almost half of Canadian have witnesses speeding in school zones.
6 in 10 Canadians say there are more unsafe school zone practices today than in the past.
School Zone Driving Safety Tips
Every school day, close to 824,000 students travel in 16,000 vehicles. Ensure the safety of those around you with these school zone driving safety tips.
Obey school crossing guards : Crossing guards are legally permitted to stop traffic and assist children crossing the street. Pay attention to the road and be mindful of areas where children are crossing.
Slow down and obey the speed limit : School zones limits range between 30-40km/h. Slow down and be extra cautious when driving. You never know when and where a child could pop out from.
Understand the school parking lot : Travel in the proper direction and designated lanes in a school parking lot. Only park in spots that avoid unnecessary risk and gives cars and pedestrians the room they need to cross.
Know your community school zones : Some crossings do not have school zone signage But you are still required to follow all school zone driving rules. Any pedestrian crossing. where a crossing guard is present, displaying a school crossing sign, is a school zone.
Drive as though your kids are present : Treat all school zones as if your children were present. Take the same precautions for other kids as you would your own.
How Do School Zone Tickets Affect Insurance?
School zone traffic tickets and can increase your car insurance rates. How much it will increase depends on the severity of the infraction. One ticket could affect your premiums for 3 years or more.
FAQs For Driving In School Zones
Together we can make school zones safer. Here are some commonly asked questions for driving in a school zone.
A school zone is an area on a street near a school or crosswalk leading to a school that has young pedestrians. School zones can be recognized by the yellow sign featuring silhouettes of two school children walking. There will also be signs that alert drivers of the reduced speed. There is often crossing guards and road markings to alert drivers for an upcoming school zone.
School zone speed limits are in affect 8 am to 5 pm, on weekdays from September to June.
In Ontario, the school zone speed limit is between 30 to 40km/h. Be alert for yellow signs, flashing lights and crossing guards.
If you notice anyone who is not being a safe driver in a school zone or did not stop for a school bus, you can report it immediately to police by calling 911. Be prepared to provide :
Date and time
Vehicle make, model, colour, and license plate number
Type of school bus (large, small)
If the bus was stopped and had lights flashing
If passengers were boarding or leaving the bus
Which direction the vehicle was coming from
It is illegal to pass another vehicle or bus while in a school zone. No matter how slow the car ahead of you is going, it is dangerous to pass. Be patient and pay attention to what is going on around you to keep the community safe and lower your chance of a ticket.
If you get a ticket in a school zone, you have to follow the options on the back of the ticket. You can do this by going to the courthouse or requesting a court date.
It's important to drive safe at all times, especially in school zones. Slow down and be extra vigilant when driving near schools.