Jan 26, 2022
Will insurance cover HVAC systems?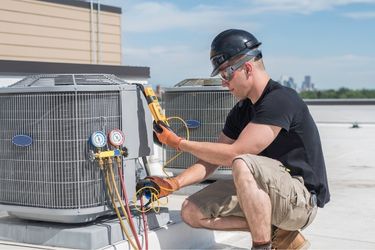 You may have been surprised to learn insurers generally don't protect your furnace, but what about the HVAC unit in your home?
There are a few nuances with HVAC and home insurance – there are some circumstances where you will be protected and others that will result in a denied home insurance claim.
What is a HVAC system?
HVAC stands for Heating, Ventilation, and Air Conditioning. It helps to control the temperature, humidity, and indoor air quality. It is the system that keeps you cool in the summer and warm in the winter.
The system will take fresh air outside or within the home. Ventilation plays a vital role in providing fresh, high-quality indoor air. It replenishes oxygen, and removes smoke, heat, dust, odours and other gases from inside. Without it, buildings would lack air circulation and stagnant interior air.
Keeping your HVAC maintenance can not only save you from paying heavy repair bills but also ensure your home has fresh air circulating.
Does insurance cover repairs or replacement to home HVAC unit?
It's crucial to remember that your policy is not a maintenance plan. When systems break down due to normal wear and tear, they don't need to pay you out. However, if an accident affects your home, you will be covered as long as the peril is included in your documents.
Let's say there is a flood in your home, and you have water damage insurancey. The flood affects your HVAC system – your provider might help you repair or replace the unit.
On the other hand, let's say you haven't had your HVAC system serviced in 12 years, and it ends up breaking down – you neglected to get repairs done. In this case, you will not be covered.
How much does it cost to replace home HVAC?
If you have to replace your home HVAC system without ducts, you will be looking at around $5,000 to $10,000. This will include the unit and installation. If your replacement needs ductwork, you'll be looking closer to $7,000-$13,000. The price range will depend on how large your house is and how much material is used.
4 signs your home HVAC has problems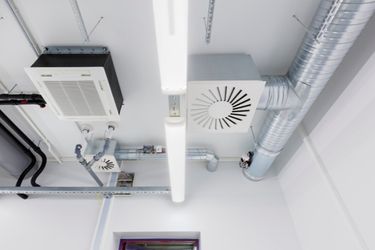 Keeping up with yearly maintenance inspections on your HVAC system can catch problems before they arise. Below are some of the most common signs that it may have problems.
Condensation, puddles or leaks : Units can become clogged or blocked, leading to condensation or puddles where fluids are leaking. Call a technician to find the problem and offer a solution.
Humidity levels : HVAC helps control humidity – when the system is not functioning at its peak, you may notice your house has above normal humidity levels.
Noises and odours : If you notice any strange noises or odours, this indicates a problem, and you should have the system checked out. HVAC is built to run smoothly and quietly; there is likely an issue when you hear something abnormal. You may notice a burning smell or rotten eggs – turn off the system and call an expert immediately.
Changing temperatures : If you notice some rooms are cooler or warmer than others, there could be problems with your unit. You may also see higher utility bills since your unit is working overtime to climatize your house.
HVAC insurance VS warranty
Since your coverage will protect you against catastrophes, warranties can be a helpful alternative to ensure your HVAC system is running smoothly. There are various types of plans which include different types of security.
If you register a product with the manufacturer, you'll be covered for some repairs during a set period. They will generally offer incentives for joining.
Extended HVAC warranties will include services outside the manufacturer's warranty. What is included in the service will be extended, and you may be able to find this through a third party.
Does HVAC include plumbing?
Heating and air conditioning produce water. A clogged pipe can lead to algae, mould, or condensation, leading to HVAC and plumbing issues. HVAC specialists can usually find issues related to plumbing, but if you have an accident that involves sewer backup insurance, you will need a plumber to identify and fix any issues.
Furnace Insurance FAQs
If your HVAC system has a leak caused by normal wear and tear will not be covered by home insurance, however, it may cover the damages caused by the leak. Depending on the severity of the leak, you may not be covered by basic policies and additional water damage insurance would be required.
HVAC means HVAC stands for Heating, Ventilation, and Air Conditioning.
Since January 1, 2017, new homes are required to have an HVAC system under the Ontario Building Code (OBC).
A final word on home HVAC systems
If you are looking for an HVAC specialist to take a look at the issue you're having, first, make sure they are certified and have contractors insurance. Shop around for different prices if possible and call your insurer to confirm what you have protection for if something happens to your HVAC system.