Aug 20, 2020
How Do Dash Cams Affect Your Auto Coverage?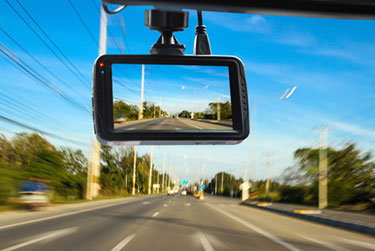 A picture is worth a thousand words. In the case of dash cams, they can save you thousands of dollars and prevent insurance price increases.
Dash cams are used more and more on Canadian roads. In accidents that have conflicting testimonies or evidence, a dash cam can be a significant factor. They can help determine who caused the accident. Dash cams do not lower your premium. They can help minimize fraudulent accidents, and determine which driver is at fault.
Thinking about being part of the 10% of Canadians that have a dash cam installed? Here is what you need to know.
What Is A Dash Cam?
A dashboard camera is a device used as a digital video recorder in your vehicle. A dash cam system is mounted on the dash of a vehicle. It is generally in the front and sometimes the rear and side. As the vehicle moves, it continuously records footage. Since roads and highways are public property, it is legal to film. Always check your local laws to make sure it is legal to have a dash cam.
Can I Save Money On Insurance With A Dash Cam?
Car insurance companies in Canada do not offer a specific discount if you install a dash cam. If you are in an accident and have a dash cam, they can help you save money in a few ways. They can also prevent your premium from increasing. Here is how :
Determining responsibility : An at-fault accident can increase your premium. If you have dash came footage that proves you are not responsible for the accident, it can help protect your premiums from increasing.
Help fight tickets : Some dash cams have the option to record footage while the car is parked and in motion. This can help you dispute a traffic ticket that could otherwise increase your premium.
Catch fraud incidents : Insurance fraud can include staged accidents by other drivers, cyclists and pedestrians. Dash cams can protect you against being a victim of fraud.
Improve your driving : Dash cams can help improve your driving skills. If you have a new driver learning how to drive, they can benefit from seeing their driving footage. They can learn what they can improve.
Are Dash Cams Covered By Insurance?
Depending on what province you live in and how the dash cam is installed, it can be covered under your policy. In Ontario, a permanently installed dash cam can be covered under your policy limit for electronic equipment that was not factory installed. Check with your insurer to see if they will include a dash cam in your car.
What Are The Benefits Of A Dash Cam?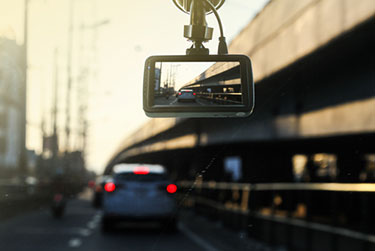 There are no car insurance savings with a dash cam. However, it can protect you from being deemed responsible for an accident that was not your fault. If you are ever involved with a case of insurance fraud, such as someone faking an accident, a dash cam can prove you are not at fault. It can also help identify and catch fraudsters in action.
Here are the benefits of having a dash can be installed in your vehicle.
Dash Cams Provide Added Security
Dash cams are synced to your car ignition which turns on and off with your car. Some cameras are equipped to run at all times. You can program dash cams to record while parked or if it senses motion, known as parking mode. These settings can benefit your case if there is car theft, vandalism or a hit and run.
Claims Can Be Easier With A Dash Cam
If both drivers debate who caused the accident, a dash cam can determine what happened at the scene of an accident.
Dash Cams Have Safety Features For Your Vehicle
Some dash cams come with automatic motion detection, wide-angle lenses, GPS systems, lane change and collision notifications.
Are There Drawbacks to Installing A Dash Cam?
There are a few cons to having a dash cam in your vehicle. Here is what you need to consider if you are planning on adding a dash cam.
Dash Cams Can Be Distracting
Distracted driving attributes to 1 in 5 road fatalities. Changing dash cam settings while driving is dangerous and illegal. You can avoid this by installing the dash cam behind your rear view mirror or on top of your dash.
Risk Of Theft Increases
Technology in cars such as GPS's, smartphones and cameras are all prone to theft. Consider dash cam options that can record when the vehicle is off or avoid leaving the dash cam in your unattended vehicle.
Dash Cams Only Have Frontal View
Not all dash cams don't offer a 360-degree view around your vehicle. There may be situations where a dash cam does not get clear footage. There are options for front and rear recording you can look for when buying a dash cam.
Dash Cams Will Not Lower Insurance In Canada
There is no insurance discount for having a dash cam installed. Having a dash cam installed will provide to be valuable if you are in an incident and there are no witnesses, or neither driver will claim responsibility.
What Are The Laws For Having A Dash Cam?
In Canada, dash cams are legal, but depending where you live it could be illegal or have restrictions. Roads are considered public space; therefore, drivers can record footage. Another legal consideration is that dash cams should not obstruct your view, and a driver cannot block their windshield.
Dash Cam FAQs
If you are thinking about investing in a dash cam, read these most commonly asked questions about dash cams in Canada.
Having a dash cam does not give you savings on Ontario car insurance, but it can protect you from being wrongfully charged for an accident. For example, the footage can prove that you were not the cause for a collision, but without the video, you could have been deemed responsible.
Dash cams can protect you from being deemed the cause for an accident or incident that was not your fault. They can help resolve a claim faster.
All drivers with a stunt driving charge in Ontario will receive 6 demerit points. This is one of the highest amounts you can get for a driving charge.
Some dash cams can be powered to record when you are not driving, known as parking mode. Parking mode will allows the dash cam to turn on when there is motion outside the vehicle. If your dash cam is plugged into the auxiliary power outlet, it will record when the car is turned on.
Dash cams can be mounted behind your rear view mirror or on top of the middle your dash. You want to make sure the camera does not block your view. Make sure the dash cam is set up before you start driving to avoid distractions.
There are a lot of things happening when we are driving. Technology can make our roads safer and help us be better drivers.
Here Are Some Other Articles You May Be Interested In
Comprehensive Insurance Coverage In Ontario
A Guide to the Ontario Graduated Driver's Licensing System
A Simple To Follow Guide For How To Buy A Used Car
What Are The Most Reliable Cars And Car Brands?
<<Driving High In Ontario
Ontario Drivers Licence Renewal>>