Sep 20, 2022
Let the flood gates open: why you should consider a backwater valve for insurance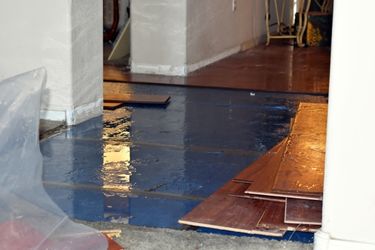 In Canada, we have seasons of extreme cold, heat, and rainfall. Sudden and severe weather can damage infrastructure and property, which is why many homeowners want to protect their homes with a backwater valve.
A recent Canadian Underwriter article found that 26% of people have had water related damage in their home – but only 43% of them knew how to prevent the issue. Sealing cracks, extending downspouts and having a backwater valve are a few preventative measures the public can take.
From urban flooding to leaking roofs, Canadians want to know how home insurance in Canada can protect their belongings and support them in the event of a claim. Even with the rise of water related claims, many homeowners are unsure if they are covered or if there is a backwater valve in their basement.
Here's what you need to know about backwater valve impact on your policy and if you should install one.
What is a backwater valve?
Backwater valves (or backflow valve) prevents flooding from an overloaded main sewer line from entering your basement. This valve automatically closes if sewage backs up from the main sewer line.
Investments in sewer backup insurance are highly recommended – basic policies will not cover your property or belongings without this endorsement added to your insurance. Some options come with an alarm that can alert homeowners if the machine is working properly or not.
How does a backwater valve work?
A backwater valve can be the difference between a basement filled with sewage water and a dry basement. It's a simple device that can be installed to prevent water from entering (or backing up) your basement when water levels in the sewer are higher than average.
Backwater valves have an internal flap that allows water to flow from your home to the sewer. However, if water flow changes direction and starts to come into your home, the flap will rise and block water from entering.
If you are installing a backwater valve, it is highly recommended to have an alarm installed on them. These are designed to notify you about the current status of any potential water leaks or sewer backups. There are even Wi-Fi sewer backup alarm protection apps available.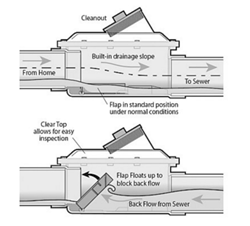 What are the benefits of installing a backwater valve?
Even though a backwater valve can be costly to install, it has several benefits. Water related events have cost Canadian homeowners more than $1 billion in losses annually. The upfront cost of upgrading your home is already more affordable than more claims.
Here are a few more reasons why a backwater valve paired with additional water damage insurance is beneficial :
It provides your home with added protection against sewer backups and flooding.
It accounts for the uncertainty of climate change and its effect on your property.
It gives you peace of mind if something happens.
You could qualify for a backwater valve insurance discount.
Will a backwater valve lower my home insurance?
You may benefit from a discount for installing a sump pump and backwater valve. How much you save will vary by your insurer, location, and other policy limits. Since the valve can prevent a flood, your insurer will see this as taking proactive measures to lower your claim risk.
Insurance Business Magazine says the average claim for water-related damages is around $43,000. Imagine something as simple as a backwater valve that can limit this risk and costly repair bill.
If you live in an area prone to flooding, your insurer may enforce the installation of a backwater valve to keep your policy active. Some municipalities offer rebates, such as Toronto's Basement Flooding Protection Subsidy Program, to support homeowners in making their homes and water safer.
Learn if you qualify for a backwater valve insurance discount by reaching out to ThinkInsure today for a home insurance quote.
Where is a backwater valve located?
Backwater valves are in your basement, nearby your sewer line or sump pump. Avoid putting objects or shelves on top of the panel that leads to your backwater valve.
How much does a backwater valve cost?
The cost of backwater valve installation depends on your home. Installing the device in a new home will cost up to $250. However, retrofitting a backwater valve could easily cost $1,000 or more.
You may require a permit if you plan to install a prevention device. Make sure to have it installed by a licensed plumber.
There is some good news if you need to retrofit. Many municipalities offer homeowners subsidies to assist with the cost of backwater valve installation. Talk with your local city hall to see if a subsidy is available. Considering the costs involved, installing a backwater valve is a worthwhile investment, especially if you live in an area prone to flooding.
When is a backwater valve required?
Installing a backwater valve can be a significant investment. Here is how to tell if you need one installed in your basement.
Heavy rainfall or snow : If you live in a location that experiences a lot of rain and snow, a backwater valve is an excellent addition to protect your home.
Neighbours have them installed : If your neighbours have backwater valves installed, it may be worth considering adding one to your home. The valve prevents the excess sewage from your neighbours from entering your home.
You have an older home : Depending on where you live and or need insurance for an older home, a backwater valve may be required.
It's covered by the municipality : Many cities are helping homeowners by covering some of the costs related to a backwater valve.
Previous flooding or backup : If you or your neighbours have experienced flooding or sewer issues in the past, it's worth upgrading your system to have the valve to prevent future problems.
How do I know if my house has a backwater valve?
Some municipalities mandate backwater valves, while others recommend them. Many newer homes have them installed, but older homes generally do not. You can find out if you have a backwater valve installed by going into your basement and looking for a round or rectangular panel. If you have a sump pump, it will be located near it.
3 Things to do before installing a backwater valve
Before installing a backwater valve, you should check a few things off your list. Here are three tips to consider before installing one.
Contact your local municipality to confirm if there are any local permit requirements, specific equipment, or rebates available.
Check that your foundation drain and eavestrough are not connected to the sanitary sewer. This disconnection will often require a sump pump and pit to be installed. You'll also want a professional to ensure water drains away from your house and neighbours.
Hire a licensed plumber to install the backwater valve. Many towns and cities offer a list of pre-approved plumbers who can help you.
Backwater valve maintenance tips
Installation and maintenance of backwater valves are best suited for certified professionals and plumbers to handle. However, there are a few tips you can do year-round.
Before opening the valve, wear gloves and protective eyewear. Sewage is toxic to your health and can lead to health issues if exposed.
When doing spring and fall home maintenance, check to see if any debris has built up around the valve.
If you notice any dirt or minor buildup, you can flush it out with water and use a brush to scrub the valve. Once you're done, be sure to secure the cap tightly.
Backwater valve FAQs
Some home insurance companies may make it mandatory to have a backwater valve installed to get approved for coverage. Homes with high flood risk usually need a backwater valve to get approved for additional flood insurance.
Backwater valves can last up to 10 years with proper maintenance. Always follow the recommendations from the manufacturer and have it checked at least once a year.
Most homes built after 1990 have backwater valves already installed. Some older homes may have them. You can confirm by checking your basement or contacting a plumber to help.
Protect your home from accidental water damage with a backwater valve
If you're considering adding additional water protection to your home insurance in Ontario, bring your questions and budget to our ThinkInsure team. We are committed to helping you find the best defence against damage from water in your home.