Dec 14, 2017
The holiday season is a busy time. As you wrap things up at work, decorate your home, navigate snowy roads, and shop for the perfect gift, it's important to take safety into consideration.
To ensure you have a happy and safe holiday season, we've put together a collection of winter holiday safety tips.
Top Home Safety Tips for the Holidays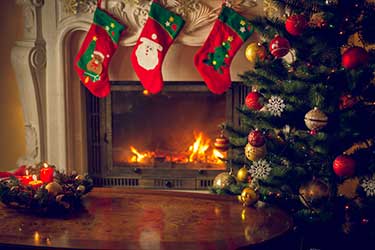 The holiday season is a time for celebration with friends and family. This means more people, more food, decorations, and hosting.
Use these safety tips for your home for a safe and enjoyable holiday season:
Keep your driveway and walkways clear: When it snows, clear your driveway and walkways of snow and ice. Your guests and delivery people will appreciate it!
Use the fireplace with care: Whether you have a natural or gas fireplace, it is a source of heat and potential danger. Keep kids and pets away, be careful when placing decorations, and always make sure the fire is out before going to bed or leaving the house.
Use candles safely: Candles are a popular decoration this time of year. They add ambience and delightful scents. Place them in low traffic areas and away from flammable materials.
Holiday plants and pets don't mix: Make sure you keep your pets away from poinsettias, holly, mistletoe and real Christmas trees. They can be toxic for pets.
Reduce the Christmas clutter: Gifts, guests, decorations, and winter clothes can create clutter. Try to reduce the clutter before the holiday season. Or at least confine it to a specific area of your home.
Be diligent with home security: Unfortunately, the holiday season sees an increase in break-ins. Therefore, it's important to always lock your doors, keep the garage closed, lock windows, and make note of strangers in your neighborhood.
Home Christmas And Holiday Safety Tips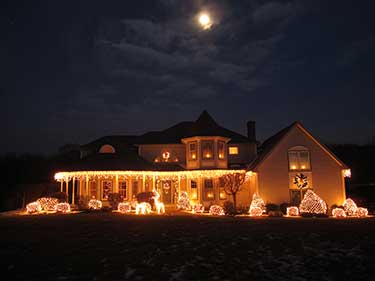 Decorating and hosting. Both are a lot of fun, but can also pose risks. Check out these holiday decoration and hosting safety tips to keep your home safe this Christmas season:
Holiday Safety Decorating Tips
As you're decorating your home for the holidays, keep an eye out for these common holiday hazards and safety slip-ups:
Safety first: We know you want your decorations to look great. But don't sacrifice safety to do it. Make sure all decorations are properly secured to your home and are not at risk of falling. Never put yourself in a risky situation to hang decorations.
Choose a safe artificial tree: Choose a tree that is fire resistant. When setting it up, make sure the base is sturdy so it won't tip or fall over.
Keep live trees watered: Make sure you choose a fresh live tree. Keep it watered to ensure it remains green, fresh, and does not become a fire hazard.
Place decorations with care: Keep all decorations away from heat and fire hazards.
Use the right lights: Make sure all lights you plan to use outside are certified for outdoor usage.
Inspect all light strands before using: Carefully inspect all light strands for damage, loose sockets, fraying, and broken lights.
Don't overuse extension cords: Never connect more than one extension cord. Make sure you don't overextend electrical outlets or they could short out.
Choose decorations wisely: Avoid using decorations that look like food or toys if you have young children or pets.
Use a helper for decorating: Always have someone spot you when using a ladder, lifting heavy boxes, and when hanging lights. Plus, a helper will give you some company and help you get things done quicker.
Place decorations carefully: Keep sharp and potentially dangerous decorations and ornaments out of reach of the kids and pets.
Turn off holiday lights when leaving: Turn off your outside and indoor holiday lights before going to bed or leaving your home.
Holiday Hosting Safety Tips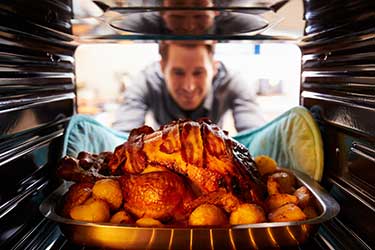 Are you hosting guests over the holidays? Use these safety tips for a safe and fun evening:
Avoid unattended cooking: It can be difficult to balance preparing a meal, being a host, and entertaining guests. As a result, many people leave food unattended. Get some help to make sure you are not stretched too thin.
Safe food handling and preparation: In the rush to prepare food, it can be easy to forget or overlook important food handling guidelines. Don't skip food prep steps.
Watch out for fire hazards: There are plenty of fire hazards to watch out for. With more people in your home, there is a greater risk. Make sure you have a screen on your fireplace, avoid placing candles in high traffic areas, and make sure people properly dispose of cigarettes.
Keep an extra eye on kids and pets: With so much going on, it's important to know who is supervising the kids and keeping an eye on pets. There are too many things that pose a risk to them this time of year. Always keep an eye on them.
Drink responsibly: Offer guests the option to stay over, have a designated driver to take people home at the end of the night, and ensure no one is driving after they have been drinking.
Winter Weather Driving and Car Safety Tips
Whether you are travelling over the holidays or just running errands to get everything ready for Christmas, it's important for all drivers to take winter car safety seriously.
At times, the roads can be a winter wonderland, or a complete disaster. Be ready for anything and everything on the roads this holiday season.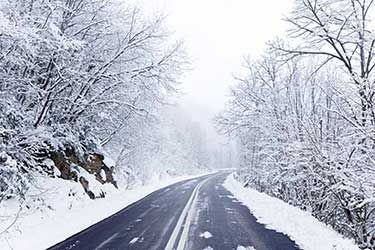 Check out these holiday driving safety tips:
Clear ALL snow and ice from your vehicle: Remove all snow from your vehicle before driving, not just what is on your windshield. This will give you maximum visibility. Plus, if you don't, you could get a ticket if you're caught by the police.
Check road conditions: Always check local road conditions before you drive. This allows you to know what to expect and the best route to take.
Plan alternate routes: Accidents and road conditions can create huge delays. Have an alternate route in mind if your main route has delays.
Give yourself extra time to travel: Always give yourself extra time to get to your destination.
Slow down: Plain and simple – reduce your speed and give yourself enough space between vehicles to read other vehicles' unpredictable actions.
Keep a safe distance behind snow plows: Keep a safe distance behind snow plows. They can create snow drifts that can reduce your visibility.
Get a winter survival kit: Purchasing or creating a winter survival kit is important. Keep it in your vehicle during the winter. Include blankets, booster cables, a small shovel, and other items you may need if your vehicle breaks down or you get stranded.
If the weather is really poor, stay home: If the weather takes a turn for the worse, staying off the road is always the safest bet.
Use a designated driver: If you are attending a holiday party, dinner with family, or will be drinking, use a designated driver, take a taxi, or call an Uber.
Holiday Shopping Safety Tips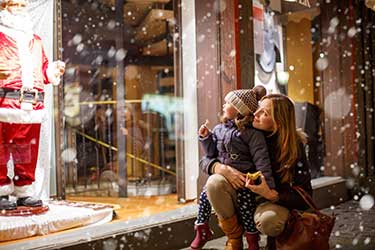 Do you have all your shopping done? Are you more of a last minute shopper? The holiday shopping season is hectic. With so many people in the stores and potential distractions, it's important to be safe when shopping:
Stay alert: Be conscious of what is happening around you. You never know who is watching.
Shop in familiar places: Shop at stores and locations you frequent.
Don't leave valuables in plain sight: Avoid leaving your wallet or gifts in plain sight in your vehicle. Put them in the trunk or cover them up.
Park in well-lit areas: Parking in well-lit and busy areas will deter thieves from approaching your vehicle.
Shop with friends: This will make you less of a target for thieves.
Avoid drawing attention to yourself: Leave the expensive jewelry, electronics, and other items at home while shopping.
Don't leave your wallet unattended: Keep your keys, wallet, cash and cards close.
Shop online with care: Only share your credit card and payment information online on trusted websites.
Winter Travel Safety Tips
The holiday season is a popular time to travel. Many of us visit family or go skiing, while others head south to get a reprieve from the cold winter weather.
If you are travelling this winter, use these tips for safe travels:
Don't broadcast your plans on social media: Avoid posting about your travel plans online. You could tip off thieves.
Give yourself extra time to travel: Winter weather is unpredictable. Always add in some buffer time when travelling during the winter. Slow road conditions and flight delays are to be expected.
Have someone care for your home while away: Have a trusted friend, family member, or neighbor keep an eye on your home when you are not home.
Check the weather: This is a must for winter travel. Check the weather and plan accordingly.
Have a plan B: Sometimes winter travel does not go as expected. Having a plan B ensures you have an alternative if the weather impacts your original travel plans.
Don't forget to pack your travel insurance: Winter weather can be unpredictable. Travel insurance protects your investment in your trip. Make sure you have it before you depart.
Happy Holidays!
From everyone at ThinkInsure, we wish you a safe and happy holiday season!
Here Are Some Other Articles You May Be Interested In
Insurance Considerations When Buying An Old House Or Heritage Home
Car Accident Reporting And What Do After You've Been In An Accident
A Guide to the Ontario Graduated Driver's Licensing System
What Are The Cheapest Cars To Insure?
The Guide To Getting Your House Ready For Winter
A Simple To Follow Guide For How To Buy A Used Car

<<Theft And Homeowners Insurance - Coverage, Claims And Prevention
Demerit Points In Alberta>>