Jul 31, 2020
HOV Lane Driving Rules, Laws And Fines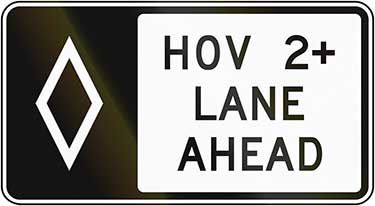 Have you been tempted to jump in the HOV lane? Want to beat the traffic? As more Canadians are hitting the road in personal vehicles, city planners are looking for new ways to reduce traffic congestion. This has led to the creation of HOV lanes and roundabouts. They can reduce traffic and improve environmental concerns around driving.
HOV lanes are designed to increase travel time and lower traffic congestion along Ontario's highways. One highway lane can handle over 2,000 vehicles in an hour. HOV lanes encourage commuters to carpool, take transit and support hybrid and electric vehicles. Lanes are open 24 hours a day, seven days a week, without any fee or permit; unless posted otherwise.
Not only do HOV lanes help with lower emissions and promote greener ways of driving, but they help drivers arrive faster and safer to their destination. Here are the rules for using HOV lanes in Ontario.
What Is A HOV Lane?
HOV (High Occupancy Vehicle) Lanes are specially designated lanes for vehicles carrying two or more people. They are also designated for specific types of vehicles to ease highway congestion.
In Ontario, HOV lanes are identified by HOV signs and markers painted on the road. They are a diamond marker and a striped buffer to separate the lane from other lanes.
What Are The HOV Lane Rules?
Vehicles can use an HOV lane if there are at least two people, including the driver. Cars, vans, light trucks, commercial trucks (less than 6.5 meters long with a gross weight of 4,500 kg or less) can use the HOV lane.
Buses, taxis, airport, emergency vehicles, motorcycles and vehicles with Ontario green license plates (hybrid and electric) vehicles can use the HOV lane with no restrictions. All vehicles must obey the speed limit when using HOV lanes.
If you see a sign that says HOV 3+, this means there must be more than two passengers and a driver in the vehicle for the lane to be used.
What Is The Fine For Improper Use Of HOV Lanes?
The fine for improper use of an HOV lane is $110 and three demerit points. OPP officers enforce HOV lanes as part of their regular highway enforcement. Here are some ways you can get a traffic ticket for misuse of an HOV lane.
If there are not two or more people in the vehicle.
Entering or exiting the HOV lane by crossing the striped buffer zone or solid line.
You are using plastic objects or mannequins to mimic more people in your vehicle.
If you are driving over the posted speed limit.
Can Hybrid Vehicles Use HOV Lanes?
Hybrid vehicles and vehicles with Ontario green licence plates can use HOV lanes at all times, even if there is only one person in the car. HOV lanes help reduce car emissions, improve air quality, reduce the number of vehicles on the road. They also improve highway infrastructure by having fewer vehicles on highways. By driving a green vehicle, you are helping to minimize the impact on the environment.
HOV Lanes In Toronto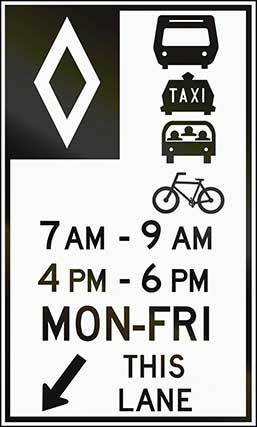 The City of Toronto requires three or more passengers in the vehicle to use HOV lanes.
When the lanes were established in the early 1990s, the average of anticipated users along with the expected operating speed of the lane, and general vehicle occupancy, decided the outcome for HOV laws in Toronto. They believed having a minimum of two people would result in high levels of carpools utilizing the HOV lane, which in turn would detract from travel time incentives HOV lanes offered.
Green vehicles are not exempt from city laws. Vehicles need to have three or more occupants. The fine for illegally driving in an HOV lane in Toronto is $110 and three demerit points.
HOV Driving Safety Tips
Here are some safety tips when entering and exiting HOV lanes.
Enter / Exit Points : You can only enter and exit the HOV lane at designated points. The lanes will be clearly marked by signs, broken white lines and diamond pavement markings.
How To Enter : Enter HOV lanes only when you see the overhead signs to the left on the highway. Make a safe lane change to the left to enter the lane.
How To Exit : Prepare to exit the HOV lane when the exit signs appear. There will be signs that direct you to specific exits or when the HOV lane will end. Prepare to merge to the right when it is safe.
End Of HOV Lane : When the HOV lane ends, other traffic is allowed to switch lanes when it is safe and use as a normal highway lane.
What Are High-Occupancy Toll (HOT) Lanes?
HOT lane permits for the QEW is a pilot project to help plan for efficient highway network across Ontario. The pilot will test innovative technology to support HOT lanes, tolling, compliance and performance. Up to 1,000 permits will be sold during each month for $180 and will be valid for three months. The project is ongoing.
Who Can Use HOT Lanes?
Here is a list of vehicles permitted to use HOT lanes :
Vehicles with a HOT permit
Emergency vehicles
Motorcycles
Vehicles with more than two people
Buses
Licensed taxis and airport limousine
Green license plates
Vehicles caught using the HOT lanes without a permit can be fined or issued a penalty.
How Effective Are HOV Lanes?
HOV lanes have led to an increase in carpooling numbers and highway capacity has improved. They also show that travel times improve once lanes open on a highway. In Canada, there are HOV lanes in Ontario, Montreal and Vancouver. There are over 130 HOV programs in North America, totalling around 4,000 km of road. Large cities such as California and Texas have been operating with HOV lanes for 30 years.
HOV Lane FAQs
Here are some additional questions and answers about driving in HOV lanes in Ontario :
If you have more than two people in your vehicle, you can use HOV lanes at any time or date. HOV lanes are open to drivers 24 hours a day, seven days a week, without charge, unless posted.
It is only legal to enter an HOV lane when overhead signs permit you to do so. The road paintings are clearly defined by white broken lines. Failure to enter when it is legal can result in a ticket.
OPP officers enforce HOV lane usage. Officers will ticket drivers who disobey laws of the HOV lane such as not having enough passengers, entering and exiting incorrectly, and speeding. Officers will pull vehicles over on the left shoulder. The lanes are also designed to allow enforcements to monitor HOV lane use.
Buses, taxis, airport, emergency vehicles, motorcycles and vehicles with Ontario green license plates (hybrid and electric) vehicles are all exempt from HOV lane restrictions.
In Ontario you can find HOV lanes on highway 403, 404, 410, 417, 427 and the QEW.
Drivers are not permitted to pass in and out of HOV lanes, even where there is a broken white line. Doing so can result in a fine or ticket.
You can pull a trailer in the HOV lane as long as the vehicle-trailer length is less than 6.5 meters.
HOV carpool lane stands for High Occupancy Vehicle. Specific vehicles, or those with two or more occupants, can use this lane for travel. Cars that are carrying a carpool are encouraged to use the HOV lane to lower the number of vehicles on highways and lower emissions.
Motorcycles can use HOV lanes at any time without any restrictions, even if there is only one rider.
Express tolls allow single-occupant vehicles to pay and use the roads. In Ontario, drivers use the 407 ETR and can obtain a transponder for secure payment. HOT lanes are also being tested for use on Ontario highways.
If HOV lanes were open to all traffic, it would reduce the effectiveness of the HOV lane. HOV lanes are designed with rideshare and transit users as a priority, with an improved and reliable trip time.
It is safer to locate a highway HOV lane to the left because it minimizes lane change interactions. Since most interchange access is located on the right side, it is safer to keep HOV lanes to the left.
There is no solid barrier to separate the lanes because it would reduce the width of highway shoulders. Reducing the width of the shoulder would make it difficult to remove snow and having a safe enforcement area. Having a painted line also allows a greater amount of entry and exit points along the highway. Drivers can respond faster to changes in traffic patterns.
Taking HOV Lanes Will Save You Time
When planning a trip for leisure or work, consider carpooling or taking public transit. Planning your trip ahead of time will not only be less stressful, but you can help minimize the impact of traffic congestion on the environment. By using HOV lanes correctly, you can enjoy a faster commute and avoid tickets, which can increase car insurance in Ontario.