Jun 9, 2020
Get Rewarded For Claims Free Driving With The Vanishing Deductible Policy Feature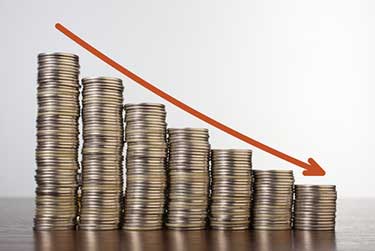 Heard about the disappearing deductible? Insurance policies are made up of more than just coverage types and options. There are also a variety of policy features and add-ons that can help you save money. One feature that is available through some insurers is disappearing deductible.
Get rewarded with your good driving habits and claims free status. Reduce your insurance deductible.
Here you will learn :
A definition of disappearing deductible
How a disappearing deductible works
Pros and cons of this policy feature
Answers to common questions
What Is A Disappearing Deductible?
A disappearing deducible is a policy feature offered by some insurance companies. It rewards those who maintain a claims free status. For each year you remain claims free, you will receive a reward – a reduction in your deductible amount. The longer you stay claims free, the lower your deductible.
This policy features works in a similar way to accident forgiveness. It can help you protect your insurance rates and save in the event of an accident.
What Coverage Does The Disappearing Deductible Apply To?
An insurance policy is made up of a number of types of coverage. The disappearing deductible endorsement is applicable to your collision coverage.
It could also apply to comprehensive or all perils coverage. How this feature applies to your policy can be different from insurer to insurer.
How Does A Disappearing Deductible Work?
The disappearing deductible formula is different with each insurer. Some offer an annual percentage discount while others reduce your deducible by a fixed amount. Here is how it works :
You sign up for the disappearing deductible feature.
You will save a specific amount off your deductible until it reaches $0.
Upon your first claim, you will pay the decreased amount.
Your deducible will go back to the normal rate after a claim.
The longer you drive safe and are claims free, the more you can save. Here's an example:
You have a $500 deductible. Your insurer gives you $50 off for each year you are claims free. You are claims free for 5 years. You get into an accident. Your deductible is only $250.
Can Any Driver Add This Feature?
It depends on your insurer. Some have requirements drivers need to meet to qualify. For example, you may need to have a clean driving record, be a loyal customer, etc. You may also be able to add this feature to additional vehicles included in your policy.
What Are The Advantages and Disadvantages Of The Disappearing Deductible?
There are pros and cons to adding this feature to your coverage.
Advantages :
It's an extra way to save on insurance.
You pay less money out of pocket if you file an at fault accident claim.
Once you sign up, your insurer will automatically lower your deductible each year.
Disadvantages :
You will have to pay an insurance premium to add it to your policy.
Not all drivers qualify.
Not all insurers offer this incentive.
It may or may not be worth it depending on when/if you file a claim.
Is A Disappearing Deductible Worth It?
A disappearing deductible is not for everyone. First, you need to determine if your insurer even offers the add-on feature. If they do, you should consider the cost to add it to your policy and your budget. Think about your driving record and chances of an accident. Perhaps making some changes to your coverage or adding another feature makes more sense.
Not sure what to do? Give us a call. Our insurance experts will happily help you determine your fit for the disappearing deductible.
Disappearing Deductible FAQs
Check out these other common questions drivers have about the disappearing deductible policy feature :
No. Each insurer that offers this feature has a unique way for administering their program. Some offer a fixed amount discount per year. Others use a percentage. Each insurer has their own rules, terms, and conditions.
Yes. Disappearing and vanishing deductible are the same type policy feature. They are two terms referring to the same thing.
This is the amount of money you have earned as a result of being claims free. For example, if you have accumulated $200 in credits and your deductible was originally $500, your disappearing deducible amount wold be $300.
No. This saving feature can be available for different types of insurance products. Some insurers offer this for home, commercial, and health coverage. Speak with your insurance expert about availability.
You will pay the disappearing deductible amount for your claim. Your deductible will return to its original amount when your policy renews.
Yes. In general, you will maintain the same savings even if you change vehicles. Terms and conditions of the policy feature vary by insurer. Speak with your provider to confirm your disappearing deducible will transfer to a new vehicle.
Here Are Some Other Articles You May Be Interested In
Demerit Points In Ontario
How Much Does It Cost To Own And Drive A Car In Canada?
Car Accident Reporting And What Do After You've Been In An Accident
A Guide to the Ontario Graduated Driver's Licensing System
What Are The Cheapest Cars To Insure?
A Simple To Follow Guide For How To Buy A Used Car
<<Direct Compensation Property Damage : Learn About DCPD Coverage In Ontario
How To Cancel Your Insurance Policy >>