Compare Audi Auto Insurance Quotes And Save!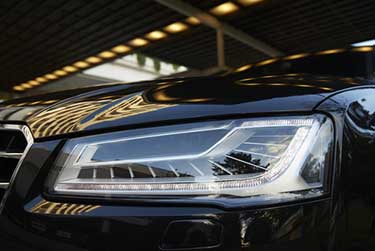 Shopping for Audi insurance? Want to get the cheapest Audi insurance rates? Audi is a leading luxury vehicle manufacturer. Thousands of Canadians drive Audi's and the Q5 SUV is quickly becoming the brands top selling vehicle.
ThinkInsure can help you get the coverage you need for your Audi. Whether you drive the popular A3, practical Q5, or sporty R8, we can help you compare quotes from all the top insurance companies in Canada. The result – the best rates and coverage.
Get quotes for all Audi makes and models. Simply call us toll free 1-855-550-5515 to compare quotes and save.
About Audi
Based out of Ingolstadt, Germany, Audi is one of the top selling luxury brands worldwide. It's the third leading luxury vehicle manufacturer in Canada. The company was founded by August Horch and is named after its founder. Horch means "listen", or Audi in Latin.
Audi, is a subsidiary of Volkswagen. The four rings in the Audi logo represent the four companies that merged in 1932 to form the original company, Auto Union.
Known for their safety, reliability and performance, Audi was the first company to perform crash tests on their vehicles, an industry standard today.
In 2018, Audi sold 1.812 million vehicles worldwide and 36, 908 in Canada. The Audi Q5 sold 11,952 units alone, a 16% increase from the previous year. For the second straight year the Audi Q5 was not only the leading luxury SUV/crossover, it was the top selling luxury vehicle in Canada overall. Audi Canada can attribute strong sales numbers to the growth of the SUV market.
Top Audi Makes & Models
Audi offers a large selection of models and body styles including SUV, sedan, allroad quattro, coupe, sportback, spyder, roadster, and cabriolet.
At ThinkInsure, we can help you compare Audi car insurance quotes by model :
Audi Q5
The Audi Q5 is the top selling luxury vehicle in Canada. This SUV is known for its comfort, style, functionality and performance. Choose from a variety of features and built a custom Q5 to meet your driving needs. MSRP starts at $45,000.
Audi Q7
The Audi Q7 is a full size SUV that embodies the spirit of the quattro. It uses cutting edge technology, has seating for 7, and includes all the luxury features you would expect from an Audi. MSRP starts at $66,000.
Audi A3
When people think about Audi, they envision the A3. This sedan is sporty, elegant, and ideal for everyday driving. Its sleek and minimalist design is luxury without the luxury price tag. The A3 is available is also available as a cabriolet and sportback model. MSRP starts at $33,000.
Audi A4
The A4 is a step up from the A3. It's the prototypical luxury sedan. It's powerful, sporty, and is the perfect combination of style and functionality. MSRP starts at $39,800.
Get Affordable Audi Insurance Rates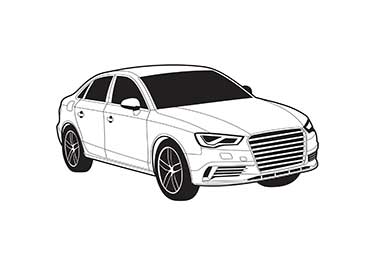 As a luxury brand with higher than average MSRP compared to other vehicles, Audi drivers can expect to pay more to insure their vehicles. But this doesn't mean you should be overpaying for Audi insurance. No matter what type of vehicle you drive, you can still take action to lower car insurance costs.
At ThinkInsure, we'll help you compare Audi car insurance rates to ensure you get the best price and best value for your insurance policy. Whether you are looking to buy or lease your first Audi, renew your insurance policy or simply explore your options, our team will help you get cheaper Audi insurance rates.
How Much Does Audi Car Insurance Cost?
Audi insurance rates can vary significantly. The company offers a diverse selection of vehicle models to choose from. Your rates will largely depend on the type of Audi you drive, in addition to many other factors such as your age, location, driving record, type of coverage and more.
You can expect to pay anywhere from $1000 for A and Q models and well over $2000 for the sportier RS and R8 models. The R8 is considered to be one of the most expensive cars to insure.
What Are The Cheapest Audi Models To Insure?
The Audi A-Class sedans and Q-Class SUVs are the cheapest Audi vehicles to insure. This is due to the lower pricing compared to other models, strong safety ratings, and more affordable repair costs.
If you are looking to buy a sports car, the Audi TT is considered to be one of the cheapest cars to insure in the sports car category.
Compare Audi Car Insurance Quotes
Compare quotes from multiple insurance companies
We save our customers hundreds everyday
It's quick, easy and free






Savings Tip - Call Us
Call to get additional car insurance discounts and expert savings advice. A quick call could save you a lot more!
Top Factors That Impact Audi Auto Insurance
Here are some of the key factors that can affect Audi insurance rates :
Insurance coverage requirements : Luxury vehicles need a strong insurance policy to protect them. Audi drivers generally add comprehensive coverage and increase coverage limits. This will slightly increase your insurance rates.


Repair Costs : Repairs for Audi's can be expensive. Some parts need to be imported. Higher repair costs will increase insurance costs.


Safety and security : Even though it doesn't appear on the most stolen list, luxury vehicles like Audi tend to be targets, especially the A5. All Audi models have a strong safety rating and good anti theft systems, which helps to lower car insurance costs. All Audi's come with a long list of standard safety features. Additional features can also be added to all models.
Get The Best Car Insurance For Audi Vehicles
At ThinkInsure, we are dedicated to helping you get the best car insurance for your Audi. We know your luxury vehicle deserves the best coverage. We'll help you choose the right types of coverage, coverage limits, deductible, and policy add-on endorsements to give you the peace of mind in knowing your Audi is protected.
Tips To Get Cheap Audi Car Insurance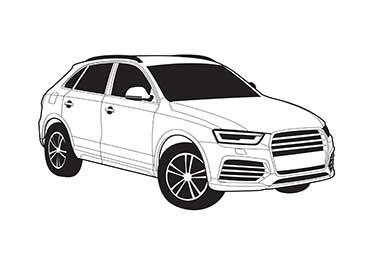 You can find cheaper Audi car insurance rates. Use these tips to save on Audi insurance :
Shop around : The most effective way to save is to compare Audi insurance quotes. You have options, lots of them. Compare quotes to find the cheapest Audi car insurance rates.
Stay claims, accident, and ticket free : It's important to drive safe, no matter what type of vehicle you drive. Staying claims free will qualify you for a discount. Having a ticket and accident free driving record will keep insurance costs down.
Bundle coverage : Combine your home or renters insurance with your auto policy to save on both policies. Own multiple vehicles? Combine them with the same insurer to qualify for a multi car discount.
Audi Car Insurance FAQs
Have questions about Audi car insurance? Most Audi drivers do. Here are some of the top questions about Audi insurance :
Are Audis Expensive To Insure?
Comparatively speaking, Audi's can be expensive to insure compared to other non-luxury brand vehicles. The make, model, vehicle features and other factors all affect Audi insurance costs.
How Much Does It Cost To Insure A Audi?
The cost to insure an Audi can be very affordable or very expensive. It depends on the make and model you drive. Get an Audi insurance quote to get an accurate assessment of insurance costs for your Audi.
Does Audi Pricing Affect Insurance Rates?
Yes. A higher retail price will impact the cost of insurance rates. As a luxury brand, Audi tends to have higher than average vehicle costs, something that influences insurance costs.
How Does Audi Insurance Compare To Car Insurance for Luxury Vehicles?
Audi models are considered to be one of the cheapest luxury brands for car insurance. The cost for insurance and its affordability compare to other luxury brands will depend on the models being compared.
What Are The Audi Lease Insurance Requirements?
All leased Audi vehicles require proof of insurance to complete the financing application. ThinkInsure can help you get the right paperwork in order for Audi lease insurance requirements.
Do I Need Audi Gap Insurance?
You may or may not require Audi gap insurance based on your financial situation and level of risk acceptance. Make sure you carefully consider your insurance needs when purchasing or leasing any vehicle.
Audi Vehicle Models Available In Canada
Audi offers an extensive list of vehicle models to choose from :
A3 : A3 Sedan, A3 Cabriolet, , S3 Sedan, RS 3 Sedan, RS 3 LMS TCR
A4 : A4 Sedan, S4 Sedan, A4 allroad Quattro
A5 : A5 Coupe, A5 Sportback, A5 Cabriolet, S5 Coupe, S5 Sportback, S5 Cabriolet, RS 5 Coupe, RS 5 Sportback
A6 : A6 Sedan
A7 : A7 Sportback
A8 : A8 L
Q3
Q5 : SQ5
Q7
Q8
TT : TT Coupe, TT Roadster, TTS Coupe, TT RS Coupe
R8 : R8 Coupe, R8 Spyder, R8 LMS GT3, R8 LMS GT4
RS : RS 3 Sedan, RS 5 Coupe, RS 5 Sportback, TT RS Coupe
E-tron : A3 Sportback e-tron, Audi e-tron
Get An Audi Car Insurance Quote
Want the best car insurance for Audi's? All Audi drivers do. Compare auto insurance quotes to get the coverage you need at the cheapest rates. Get peace of mind in knowing you are covered and saving money on car insurance. Call 1-855-550-5515 today!
Get Auto Insurance For Other Car Brands
Learn more about the insurance companies that we work with.
Popular Car Insurance Articles
Here are some of our most popular car insurance and driving articles.
What Are The Cheapest Cars To Insure?
G1, G2, G - Ontario's Graduated Driver's Licensing System Guide
Top 45 Auto Insurance Savings Tips
How Are Ontario Car Insurance Rates Determined?
Top 15 Ontario Driver's Licence Questions