Get An Ontario Car Insurance Quote And You Could Save $500 Or More!
Get an Ontario car insurance quote from one of our friendly insurance experts and you could save big. They'll quickly compare auto insurance quotes so you'll get the lowest rate.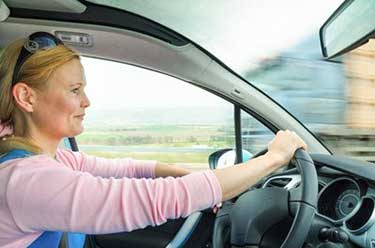 They'll provide additional savings advice and ask the right questions to make sure you get the best discounts you qualify for. When you choose ThinkInsure for your auto insurance coverage you'll get :
Expert Savings Advice : Our auto insurance experts are licensed and highly trained professionals. They will quickly recommend ways for you to save with our wide range of products and discounts we can offer you.
Compare The Cheapest Quotes : We can quickly get quotes from the best insurance providers in Ontario. So you can compare the lowest rates and save.
One Stop Shopping : We can take care of all your car insurance needs. We'll get the best quotes, provide expert coverage advice, help you save and be there for when you need us.
Personal Service : All ThinkInsure customers get a dedicated personal service representative to take care of their insurance needs. We take pride in helping our customers and by providing top level customer service.
" I'm glad I called ThinkInsure to see if I could save on my car insurance. Denise asked me a few questions then quickly got me a bunch of quotes. She explained the differences in coverage and helped me pick the best one for my needs. She ended up saving me close to $400! "
Margaret, Mississauga, Ontario
How To Get The Cheapest Ontario Car Insurance Quotes
It's easy to get the cheapest Ontario car insurance quotes with ThinkInsure. We'll quickly compare rates from the leading providers to help you save.
To get the most accurate quote it is helpful to have :
1) Your drivers license
2) Your vehicle information
Then you simply fill out some information about yourself, your driving history and vehicle :
Start Your Quote
---
Enter your postal code and some basic information.
Start
Enter Your Driving Information
---
Enter some details about your driving habits, vehicle and insurance history.
Compare The Cheapest Quotes
---
Compare quotes from the leading car insurance providers.
Choose The Best Rate
---
Choose the lowest rate and get your policy.
OR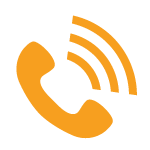 Call A Car Insurance Expert
You can also call our Ontario auto insurance experts directly to compare quotes. They will provide savings advice and look for additional discounts to help you save more. It's free and only takes a couple of minutes - 1-855-550-5515.
What Are Some Tips To Get Cheap Car Insurance In Ontario?
Working with the top providers, we can get cheap car insurance coverage for all types of Ontario drivers. We understand that you are busy and don't have hours upon hours to shop around for auto insurance quotes. So let us help.
Shopping Around For Ontario Car Insurance Quotes Pays Off
Insurance rates for the same car and driver can vary widely between providers. So when you shop around, you'll get different rates for the exact same car and driver. That's where our car insurance experts come in. It's their job to quickly find and compare quotes based on you as a driver, your vehicle and the coverage you need.
Save Time And Let Us Compare The Cheapest Ontario Quotes For You
Our licensed experts have a wealth of knowledge and a network of providers. They will use their knowledge to source insurance that meets your budget and needs.
Benefit From Our Expertise And Experience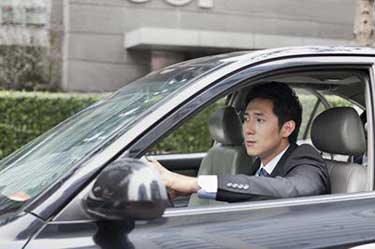 As licensed professionals, our car insurance experts continually update their education and knowledge. They provide unbiased savings advice based on your situation and their experience.
Stay Up-to-date With The Latest Developments In The Car Insurance Industry
Things change quickly in the insurance industry. Staying up-to-date allows you to use this information to help you make the best decisions. You'll capitalize on new discounts and cost saving opportunities.
Be An Educated Car Insurance Consumer
Know what your policy means and the coverage you need. If you are not sure about a specific insurance term, talk with your provider to get clarification. Never make assumptions about your coverage.
Focus On Value When Comparing Quotes
Price is important, but it's not the only thing. When comparing, make sure you understand the level of coverage you will receive for your quoted car insurance rates.
Consider Insurance Factors Before You Buy A Car
The car you drive will impact your rates. Inquire about the insurance rates of vehicles you are considering before you make your final vehicle purchase decision.
Call An Ontario Car Insurance Expert To Get The Lowest Quote
What is your unique driving situation and car insurance needs? We'll compare quotes and make sure you get the best rates possible. Even though Ontario insurance rates are the highest rates in Canada, you can have peace of mind that our licensed experts will get the cheapest rates and best coverage.
We Help Ontario Drivers Find The Best Auto Insurance Quotes
Rates Change Often So Shopping Is The Best Way To Save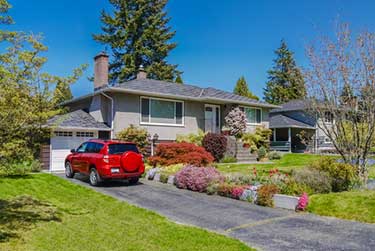 With car insurance rates being so high it's important for Ontario drivers to save as much as possible on their coverage. Insurers change their rates frequently. Driving records, vehicle details and coverage needs also change. If you want to get the lowest auto insurance rates in Ontario it's important to stay on top of your coverage needs.
Compare Quotes And Discounts
The most effective way to get cheap auto insurance and save money is to compare quotes with multiple providers. We work with the leading providers in Ontario so we can compare the lowest quotes.
Car insurance providers have many different types of discounts. They frequently change them or create new discounts to help drivers save or reward them for good driving habits.
We work with the leading insurers and our experts will quickly find the best discounts you are eligible for. Learn more about the types of car insurance discounts in Ontario.
It's important to compare quotes annually, stay up to date with insurance industry news and understand the types of discounts you qualify for. We'll help you with that and get the lowest quotes in Ontario.
How Do You Get Car Insurance In Ontario?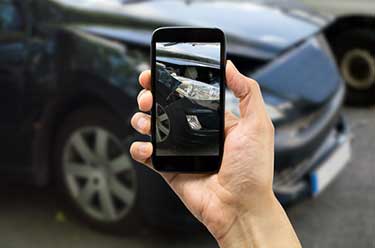 Getting car insurance in Ontario doesn't have to be complicated. Here is how Ontario drivers can get the best coverage and price for their insurance needs :
Review Your Current Policy
In the months leading up to your policy renewal, take some time to review your policy. Does your policy meet your needs still? Do you need to make changes? Add or remove coverage? If you are getting a policy for the first time, think about your driving needs and the type of coverage you may need.
Get Your Driving And Vehicle Information Ready
There is certain information you will need to collect to get a car insurance quote in Ontario. Gather your driver's license, vehicle information, and driving history. If you have other drivers on your policy, make sure you have their information as well. Make note of any information that needs to be updated in your policy.
Work With An Ontario Car Insurance Expert
Working with an expert that can get your coverage from multiple insurance companies is your best option to save. You also have more coverage options and discounts to choose from.
Contact Your Car Insurance Provider
You can compare rates in Ontario by doing a quote online or by speaking with an expert over the phone. Choose the method that works best for you.
Get Multiple Car Insurance Quotes
Make sure to compare many quotes so you get the best policy and rate. Just enter some information about you, your vehicle, driving history and coverage needs and compare the results.
Choose The Best Policy And Rate
Based on the information you provide, you will be presented with the best car insurance rates and coverage. Choose the policy that best matches your driving and insurance needs.
Complete Your Policy Application
Complete the necessary steps to secure your rates with your provider. They will complete your application and get your car insurance pink slip so you are insured!
About Auto Insurance In Ontario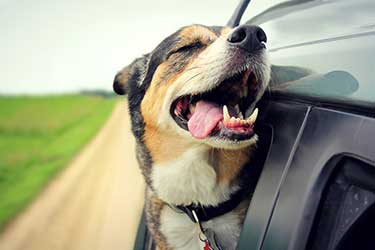 Ontario is our countries most populated province. There are more than 13.5 million residents and this number continues to grow. This means more drivers, more traffic congestion, and a greater risk for auto accidents on roadways.
You need a car insurance policy that provides you with the coverage and protection you need to drive with confidence.
At ThinkInsure, we can find you the perfect policy for drivers who commute daily on the 401, spend their weekends driving in cottage country, enjoy driving through Niagara wine country, or love to explore the natural wonders of Northern Ontario. No matter how or where you drive, we have a policy for that!
So if you live in an urban city, small town or rural area in Ontario, we can help you save on your coverage you need.
Comparing Ontario Car Insurance Quotes Is Easy!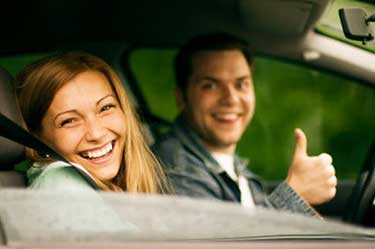 Comparing the best car insurance quotes in Ontario is easy with ThinkInsure. We believe that it is important to offer our customers choice so they get the best rates, coverage and policy for their needs.
We are also an independently owned company so we are unbiased. That means you get the best policy for your driving needs.
Our experts will quickly compare the best coverage from the top auto insurance providers we work with. This means we can help you find affordable coverage and the most competitive rates.
Much More Than A Quote Comparison Site
ThinkInsure is much more than a comparison site for auto insurance rates. Unlike other comparison sites, we do not sell your quote information to another insurance provider.
We want to help you with all your auto insurance needs, from getting the best rates and coverage to providing top level customer service. We will be there for you when you really need help and work hard to save you money on your insurance year after year.
Compare Ontario Car Insurance Quotes Online
Get quotes from the top insurers
We save our customers hundreds everyday
It's quick, easy and free






Car Insurance Savings Tip
Call us to get additional discounts and expert savings advice. A quick call could save you a lot more!
Get The Best Ontario Car Insurance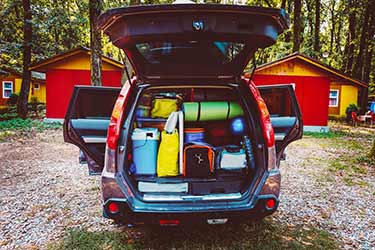 ThinkInsure car insurance experts are on your side. We work for you, not the insurers. This means that it's in our best interest to ensure that you get the best car insurance coverage and rates, given your current situation. It's our job to help our customers with all their insurance needs.
Here are some key reasons why choosing ThinkInsure makes sense.
Needs : Help you assess your personal car insurance needs.
Unbiased : Provide you with timely and unbiased advice.
Compare : Compare rates and coverage options from a variety of providers.
Explain : Explain your coverage and terms so you can better understand what is included in your policy.
Questions : Answer any of your car insurance related questions.
Claims : Help you during the claims process and be your advocate if issues arise.
Savings : Help you save money by comparing rates and discounts.
What Is The Cheapest Car Insurance In Ontario?
Getting the cheapest car insurance in Ontario is unique to each driver. There are many factors that contribute to getting lower rates. Insurance deductibles, coverage limits for collision and comprehensive coverage, driving record, claims history, experience, type of vehicle, and insurance discounts all can affect your insurance premiums.
How Much Does Car Insurance Cost In Ontario?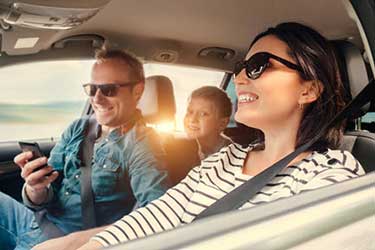 Ontario is one of the most expensive provinces for car insurance rates. Costs in Ontario can vary greatly based on many factors. Your location, diving history, age, the type of vehicle you drive, and many other factors all affect costs.
What Is The Average Cost Of Car Insurance In Ontario?
According to the Insurance Bureau of Canada (IBC), the average cost of car insurance in Ontario is $1,445 per year. Car insurance rates are higher for drivers who live in large cities such as Toronto and Ottawa. Rates tend to be cheaper in more rural areas and in Northern Ontario.
Learn more about average car insurance costs in Ontario.
What Determines The Cost Of Auto Insurance Rates In Ontario?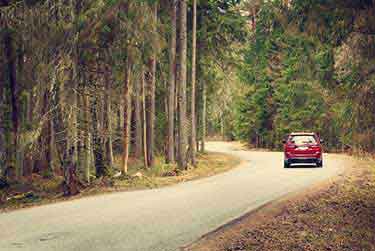 Many considerations determine car insurance rates across Ontario. Where you live, the car you drive and your driving experience are only some of the factors that impact your rates.
Here are some of the key factors that impact the cost of a policy :
Your Driving Experience : How long have you been driving? What level of graduated license do you have? Your rates lower the longer you've been insured.
Your Age : Insurers see older drivers as lower risk – as you get older, you are more likely to be a more careful driver and you will qualify for additional discounts.
Your Gender : Studies show that women are less likely to be in accidents.
Your Driving Record : How is your driving record? Do you have recent tickets or claims? They can increase rates or decrease them if the ticket falls off your record.
Your Vehicle : What car do you drive – SUV or a sedan? How old is your car? How often does the car get stolen? How safe is the vehicle?
Car Usage : Do you use your car to drive to work? How many kilometers do you drive annually? Do you use your car for business?
Where You Live : Insurers take where you live into consideration. If your neighbourhood has higher statistics for car theft and accidents, your insurance premiums will reflect the higher risk.
Your Coverage And Deductible Amount : The type of coverage you select will also impact your rates. Choosing comprehensive insurance coverage over basic coverage. Adjusting your deductible amount for collision insurance or comprehensive insurance will impact the cost of the premium.
Ontario Car Insurance Rate Changes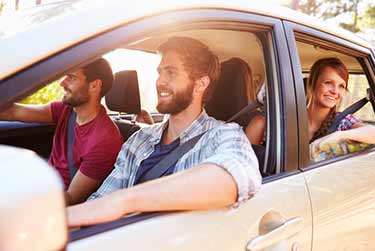 Auto insurance rates in Ontario are adjusted quarterly by the Financial Services Commission of Ontario (FSCO). They oversee insurance regulation in the province.
Insurers can apply to have their rates increased. This occurs because of changes in coverage offerings, and to help offset the costs associated with claims. Requests to increase rates must be deemed reasonable. The FSCO can also require insurers to adjust and lower rates when changes are made to the auto insurance system.
Ontario rates have increased by for 6 consecutive quarters (Oct 1, 2017 to March, 31 2019). Here is a summary of FSCO insurance rate changes since 2014 :
Here is a summary of FSCO rate changes since 2014 :
| Quarter | Overall Rate Change |
| --- | --- |
| Q2 2019 | +2.00% |
| Q1 2019 | +2.70% |
| Q4 2018 | +3.35% |
| Q3 2018 | +2.06% |
| Q2 2018 | +1.1% |
| Q1 2018 | +2.23% |
| Q4 2017 | +1.03% |
| Q3 2017 | -0.10% |
| Q2 2017 | +0.76% |
| Q1 2017 | +1.24% |
| Q4 2016 | -0.14% |
| Q3 2016 | +1.50% |
| Q2 2016 | +0.33% |
| Q1 2016 | -3.07% |
| Q4 2015 | -0.15% |
| Q3 2015 | -0.50% |
| Q2 2015 | +0.60% |
| Q1 2015 | -0.95% |
| Q4 2014 | -0.54% |
| Q3 2014 | -0.11% |
| Q2 2014 | +0.22% |
Why Are Ontario Auto Insurance Rates So High?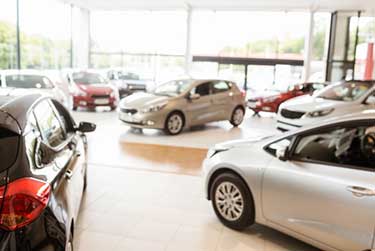 There are a number of key factors that affect rates in Ontario :
Insurance fraud : Fraud drives up the cost of coverage.
Increasing claims costs : There is an increase in the number and cost of auto insurance claims.
Greater driving risk : There is a higher volume of drivers and traffic on Ontario roads. High population density and poor road conditions are also factors.
Increased auto theft : Auto theft rates are on the rise.
Mandatory Car Insurance Coverage In Ontario
In Ontario, there are four types of car insurance coverage required by law to be included in your policy – liability coverage, accident benefits, direct compensation damage, and uninsured motorist. This is applicable to vehicles leased, financed or owned by the driver.
Drivers in Ontario are required to carry a minimum amount of mandatory insurance coverage :
$200,000 in third party liability coverage
Direct compensation property damage (DCPD) coverage
Additional Minimum Coverage Included In Your Policy
Medical payments : up to $65,000 for non-catastrophic injuries or up to $1 million for catastrophic injuries
Funeral expenses : up to $6,000
Disability income benefits : $185/week for 104 weeks
Death benefits : minimum of $25,000 to spouse and $10,000 to dependants
Income replacement : 70% of gross wages. Maximum of $400 per week
Optional Car Insurance In Ontario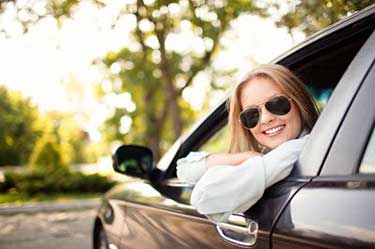 Ontario drivers have the option to add extra coverage that is above and beyond the minimum insurance requirements. Optional coverage includes :
Comprehensive coverage : Protection against all insured damage caused to your vehicle.
Collision or Upset : Protection from damage caused by a collision by another car or object.
Specified perils : Protect your vehicle from specific risks such as flood, fire, hail, or theft.
All perils : Combines comprehensive and collision and increased theft protection.
You can also increase your coverage limits for third party liability and accident benefits.
How Much Is My Car Insurance Deductible In Ontario?
All car insurance policies in Ontario included a deductible – the amount of money you pay when to file a claim. Deductible amounts can vary based on your insurer and your preferences. The standard amounts are :
$500 for collision coverage
$300 for comprehensive coverage
Your deductible amount will impact your rates. Opting to increase your deductible will lower your rates. But, it also means you will pay more out of pocket when you file a claim.
More Information To Help You Get The Lowest Ontario Car Insurance Rates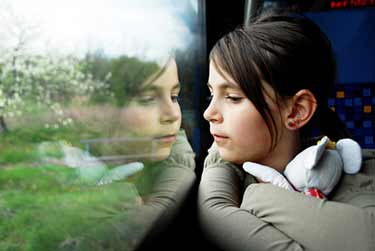 There are many factors that go into getting the cheapest car insurance. Here are some articles that you might find helpful. You can always call us at 1-855-550-5515 and we'll be happy to answer any of your questions.
General Savings Tips
Everyone wants to save on their car insurance. Here are some tips to help you save and get the cheapest rates : Top 45 Car Insurance Savings Tips
Tips For Young & New Drivers
New and young drivers have some different challenges when it comes to getting the cheapest car insurance. Here are some helpful savings tips : Car Insurance Savings Tips For New And Young Drivers
The Car You Drive Impacts Your Rate
Insurance rates are different for all cars. Some are safer and some are less likely to get stolen. Learn which ones are the cheapest to insure : What Are The Cheapest Cars To Insure?
Where You Live Effects How Much You Pay
Ontario has the highest costs in Canada. In particular, the GTA area has the highest rates because of the volume of drivers and traffic. Learn what the government and insurance providers are doing to help lower rates : Lowering The Average Cost Of Car Insurance In Ontario
Comprehensive Insurance And Collision Insurance Deductibles
The insurance deductible amounts you choose for comprehensive and collision coverage on your policy will impact the overall premium amount. The higher the deductible amount the cheaper your premium will be. Learn more about comprehensive and collision insurance : Comprehensive Insurance And Collision Insurance Explained
What Our Customers Are Saying About Us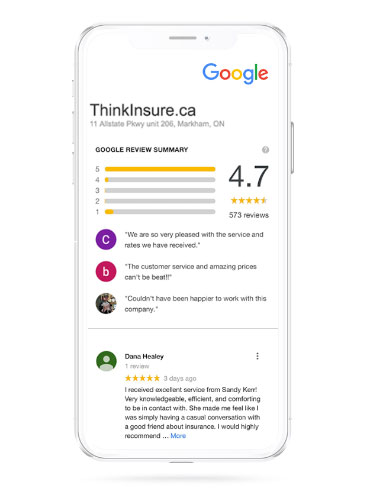 ThinkInsure is a leading provider of car insurance coverage. We help thousands of Ontario drivers get the coverage they need quickly and professionally at the lowest rates. See what our customers are saying about ThinkInsure on Google. We have an average of 4.7 out of 5 stars rating.
Driving In Ontario And The Graduated License System
Ontario has a graduated license system. All drivers must successfully complete all levels to become a fully licensed driver.
Here is a quick breakdown of the Ontario Graduated Licensing System :
What Is The Minimum Legal Driving Age In Ontario?
In order to qualify for a drivers license and to be able to drive, you must be 16 years of age.
G1 Driver's License
The G1 is your learners permit. You must be at least 16 and pass a written test. To drive you must be accompanied by a full licensed driver. Driving restrictions apply.
G2 Driver's License
To get a G2 license, you must have your G1 for one year (8 months if you complete driver training). You must pass the G1 exit road test. Driving restrictions apply.
Full G License
To get a full license you must have your G2 for at least one year. You must pass the G2 exit test. No driving restrictions apply if you are over 21.
Does Adding A G1 or G2 Driver To My Insurance Affect Premium Costs?
Adding a new driver to your policy will increase your insurance costs. Teenage drivers with a G1 or G2 have the highest insurance rates. If you are adding a new driver to your policy, ensure they complete driver training to qualify for an insurance discount.
Ontario Car Insurance FAQs
Still have questions about Ontario car insurance? Check out these frequently asked questions and answers we get :
The cheapest cars to insure in Ontario change on an annual basis. Insurance friendly vehicles have strong safety ratings, are not expensive to repair and are not frequently targets for theft. Vehicles that regularly appear on the list of most affordable car insurance include the Honda Odyssey, Jeep Wrangler, Chevy Cruze, and Nissan Versa.
Your driving record, claims history, and other factors will also impact the cost of your insurance premium. Compare car insurance rates to see which vehicle is the cheapest for you to insure.
Auto insurance rates in Ontario are some of the highest in the country. Only British Columbia has more expensive car insurance rates. One of the main reasons why it is so expensive is the prevalence of insurance fraud. This significantly increases claims costs. Other factors that impact car insurance rates include higher repair costs, more accidents, and increased average claims costs.
Based on the annual average of $1,445, the average cost for auto insurance per month in Ontario is approximately $120. Your monthly car insurance rates may be higher or lower based on your insurance premium. Maintain a clean driving record and stay claims free to keep your monthly car insurance rates low.
There is no one insurer provider that offers the lowest rates. Insurance costs vary from insurer to insurer. Insurance costs are assessed differently by each insurance provider. They offer slightly different insurance products, discounts, and insurance packages.
Shopping around is the only way to find the best rates and compare your options from multiple insurers before selecting a car insurance policy. This is why it's so important to compare auto insurance quotes. Shopping around is the only way to find the best rates.
We all know the GTA is the most expensive region. Smaller communities in rural areas have the most affordable rates. Areas in Southwestern and Northern Ontario tend to have better auto insurance rates.
The Ontario Government has announced significant changes to the auto insurance system as part of the 2019 Ontario budget. The proposed changes seek to simplify the auto insurance system, make it more competitive, and reduce insurance costs for drivers.
The key areas of the plan are :
Driver care plan
Fraud prevention
More insurance coverage options
More ways for drivers to save
Reduced regulation
Increase online access to insurance services, payments, communication with insurers
Read more about the proposed auto insurance changes in the 2019 Ontario budget.
Auto insurance rates can change often, usually quarterly. Rate changes are often a result of an increase in claims costs. When they rise or fall, rates do the same. Other factors such as changes to coverage, regulations, and new discounts also affect rate changes in Ontario. All rate changes must be approved by FSCO.
Yes. Drivers in Ontario can choose usage based insurance coverage to help lower their insurance premiums.
Yes. Ridesharing insurance is available for drivers on Ontario who work for Uber, Lyft, and other ridesharing services.
Yes. Ontario operates under a private insurance system. Drivers get car insurance through private insurance providers.
Yes. You are required to show proof of auto insurance coverage to register any type of vehicle in Ontario.
Yes. As long as you have permission and the other driver has insurance coverage on the vehicle, you can drive it. Insurance coverage follows the vehicle, not the driver in Ontario.
New drivers pay some of the highest insurance rates in Ontario. You can expect to pay higher than the average car insurance rates. Your insurance costs will depend on many factors such as your age, type of license, the vehicle you drive and more.
Your insurance policy is attached to the vehicle, not the driver. Therefore, anyone you give permission to can drive you vehicle. Any driver you permit to drive your vehicle will be covered under your policy.
This also means that if the driver gets into an accident, the claim will go on your insurance record.
Students can get lower rates by completing driver education, maintaining a good GPA, and getting added as an occasional driver on their parents' insurance policy.
You'll get your most accurate quote when you speak to an expert. Have your information ready so your insurance provider can get to work for you. The more accurate your information, the more accurate your quote will be.
Be Open About Your Driving History
When you share driving details accurately, you will get a customized, accurate quote based on your information. There won't be any surprises for you.
Have Your Driving And Insurance Information Ready
You'll need the following information to get an accurate quote :
Driver's license
Make, model and year of your vehicle
Number of licensed drivers in your household
How many drivers for each vehicle
Vehicle usage : personal, business, both
Number of claims you've had
Any moving violations in the last 3 years
Insurance coverage and liability you need
According to the Insurance Bureau of Canada (IBC), the average cost of car insurance in Ontario is $1,445 per year. Costs are higher for drivers who live in large cities. Rates tend to be less in more rural areas and in Northern Ontario.
Learn more about Average Car Insurance Costs In Ontario.
Ontario has the second highest car insurance rates in Canada, behind British Columbia. The average cost for auto insurance in Canada is approximately $1030. Ontario drivers, on average, pay more than $400 more per year.
Ontario operates under a no fault insurance system. This means you deal with your insurance provider directly for all claims. Your insurer pays for your damages and other drivers deal with their insurance provider.
Yes. All drivers are required to have valid car insurance coverage in order to own or lease a vehicle. You must carry the minimum required coverage.
Drivers convicted of driving without insurance face steep fines and license suspensions.
First offense : $5,000 - $25,000 fine.
Second offense : $10,000 - $50,000 fine, plus a driver's license suspension for up to one year.
In addition to the fines, you will be considered a higher risk and be subject to significantly higher rates.
The auto insurance market is overseen by the Financial Services Commission of Ontario (FSCO). They regulate car insurance rates in the province. Rates are set by private insurers and then reviewed and approved by the FSCO. Rates are updated quarterly.
Car Insurance Blog
We update our site regularly with information and tips on insurance savings, driving safety, news and much more.
Learn more about the insurance companies that we work with.
Other Types Of Insurance In Ontario
At ThinkInsure we can take care of all your Ontario insurance needs.
Get Cheaper Ontario Car Insurance
We can help you get the best prices for your car insurance. All you need to do is take a couple minutes to compare quotes.
Compare Ontario auto insurance quotes by calling us at 1-855-550-5515 OR compare quotes online. Start saving today!