Ontario Car Insurance Quotes

- Save With Cheap Rates
Why Choose ThinkInsure As Your Ontario Car Insurance Broker?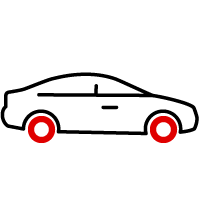 For over 40 years, ThinkInsure has been proudly providing the best car insurance coverage and customer service at the cheapest rates in Ontario. See why so many Ontario drivers choose ThinkInsure as their car insurance broker.
Savings : We can save you money. As an independent Ontario car insurance broker, we can get you insurance quotes from over 20 insurance companies. We save our average customer hundreds of dollars each year on their car insurance.
Selection : We have over 20 insurance companies to give you quotes. You can compare quotes and we'll help you choose the best option for your Ontario car insurance needs.
Service : Customer service is a top priority. We value your business and our team of car insurance experts is here to help satisfy your car insurance needs.
Made Easy : We make car insurance easy. If you are getting a new car insurance policy, making a claim or just asking a question our expert team of registered insurance brokers are there to make it easy for you. So whether you get a Online Quick Quote OR you call 1-855-550-5515, getting the best car insurance at the lowest price in Ontario has never been so easy.
Bundle your Car Insurance with your Home Insurance and save even more! Compare quotes and start saving on your Ontario Car Insurance now!
"
After my first (ever) car accident, I called Lee and she reassured me by detailing every step of the insurance claim process. She went beyond my expectations!
"
Michelle, Toronto, ON
Save With The Cheapest Ontario Car Insurance
A Fast And Free Way To Get Ontario Car Insurance Quotes
Simply enter your basic information into our online form and we will compare multiple car insurance quotes for you. Then you can make your choice from the cheapest rates in Ontario. You can also call 1-855-550-5515 and one of our Ontario car insurance experts will be happy to help you.
Your Car Insurance Needs Are Our Top Priority
As an independent insurance broker, we can get quotes from multiple insurance companies. We assess your car insurance needs and then search for the products that best meet your requirements. We make sure you receive the most extensive coverage possible for the cheapest rates in Ontario.
We Have Coverage For Any Ontario Driver
Regardless of if you have a good driving record or a not so great one, we will get you the cheapest car insurance rates in Ontario. As an independent car insurance broker, we can get you quotes from multiple car insurance carriers insuring you get the cheapest rate.
Get an Online Quote OR Call 1-855-550-5515
We compare car insurance rates for all of Ontario, from major urban areas to small towns and villages. Let ThinkInsure compare Ontario car insurance quotes for you and see how much you can save!
Ontario Driving Facts And Car Insurance
Things You May Not Know About Driving in Ontario
Wondering why there are so many cars, autos and trucks on the road in Ontario? Ontario is home to over 13.5 million people, accounting for almost 40% of all Canadians and making it the most populous province in the country.


To move all these people around, many Ontario cars and autos take Highway 401, which stretches 818 kilometers (508 miles) across the province from Windsor to the Quebec border.


Some sections of the 401 in Ontario see AADT (Annual Average Daily Traffic) numbers exceeding 400,000 cars, autos and trucks. That works out to a total yearly volume of more than 146 million cars on just those particulars section of the 401 in Ontario.


Hoping to find the open road in your car or auto to see Ontario? You've got lots of territory to cover. Ontario covers more than 1 million square kilometers (415,000 square miles), an area larger than France and Spain combined.


Driving your car or auto to a lake or cottage in Ontario this weekend? You have lots of options: Ontario has more than 250,000 lakes, which contain about one-third of the world's fresh water.


Highway 400, a main conduit for Ontario car and auto traffic to access Muskoka and Parry Sound cottage country, sees traffic volumes 25 percent higher on long weekends like Victoria Day, compared to other summer weekends. Highway 35/115 to Ontario cottage country in Haliburton and the Kawarthas sees car and auto volume 50 percent higher on the Victoria Day May 2-4 weekend compared to other summer weekends.


Start Saving On Your Ontario Car Insurance
Make sure you get the cheapest car insurance coverage and the best customer service in Ontario by choosing ThinkInsure as your insurance broker. We will shop and compare to get you the best Ontario car insurance quotes. So Click To Get A Quick Quote or call 1-855-550-5515 and save hundreds on your Ontario car insurance.

Ontario Car & Auto Insurance Testimonials
"After being with the same insurance company for years, it was a smart financial decision for us to change our car insurance plans to Thinkinsure. Saving money these days is more of a priority than ever before for us."
Mary & Bob, Toronto, Ontario
---
"I was expecting a big hassle when I was choosing and purchasing car insurance but I found it very easy. I have had a couple of reasons to call my dedicated broker in the past and always had prompt and very courteous help over the phone. Yes I would recommend Thinkinsure to everyone, in fact I have."
Dave, Mississauga, Ontario
---
"Quite easy to apply, lots of choice, easy to buy and easy to renew. A user friendly experience."
Manny, London, Ontario
---
"Thinkinsure's website was so simple to use. In a few minutes I had multiple car insurance quotes and a few minutes later I was speaking and locking in the best rate. I would recommend Thinkinsure's auto insurance to a friend."
Sonya, Ottawa, Ontario
---
"We have been with Thinkinsure for over 10 years now and haven't had a problem with them the entire time. And I like my assigned account manager-Broker, Gavin. He's always there when we call."
Paul, London, Ontario
---
"If you're new to car insurance, want to switch to a different auto insurance company or looking for a low car insurance rate, choose Thinkinsure. By shopping for lower car insurance rates, you could save hundreds on your auto insurance."
Hilary, Kitchener, Ontario
---
"Been with Thinkinsure for over 10 years now and haven't had a problem with them the entire time. And I like my assigned account manager. He's always there."
Andrew, Toronto, Ontario