Jun 29, 2016
Summer weather, Ontario scenery and fine food make for the perfect day trip. There's something about summer and driving – think top-down, carefree, wind-in-your-hair kind of driving. And at the end of the drive, top your adventure off with some fabulous restaurant destinations.
Whether you're taking a short drive with your restaurant destination in mind or you're taking a summer drive for the scenery, here are 15 restaurants that we are sure will make your drive worthwhile. All are infused with character and high-quality (but not always with high prices) cuisine.
Best Restaurants In The Greater Toronto Area
Oakville, Ontario : Kerr Street Café
Known for its delicious brewed coffees – meaning the real deal on coffee – flat white, espressos and cappuccinos, to name a few, the Kerr Street Café has morphed into a dining experience with full service. Food is local, seasonal and fresh. This is a breakfast and lunch venue – Kerr Street closes at 4 PM. Prices are very reasonable. Open airy, décor, friendly staff, healthy cuisine and unbeatable coffee make this s a great destination dining experience. Not far from the shores of Lake Ontario – take in the marina after your lunch.
This trip is about 30 minutes from downtown Toronto across the QEW. Learn more about the Kerr Street Café.
Streetsville, Ontario : The Tea Room at Robinson Bray House
The Tea Room at Robinson Bray House combines history, high tea and light lunches. There aren't many tea rooms left in Greater Toronto that are reasonably priced. This one is. But the menu extends beyond high tea to usual lunch fare like quiche and salads. They have a few unique teas for you to try as well.
This drive is about 25 minutes across the QEW and up Mississauga Road. Learn more about The Tea Room at Robinson Bray House.
Mississauga, Ontario : Mondello Ristorante
For a summer treat, eat al fresco on the patio. Mondello Ristorante is known for its creative and fresh Italian cuisine. Owned and run by the husband and wife team of Nicola and Jessica Iatomasi, Mondello Ristorante comes by its reputation for superlative Italian food naturally and honestly. Born in Naples, Italy, executive chef Nicola not only designs and prepares his own distinctive Italian menus, he even cures his own meats and bakes his own bread. The friendly staff help make the lively atmosphere as inviting as the food.
Mondello Ristorante is a 25-minute drive from Toronto. Learn more about Mondello Ristorante.
DaiLo
If you're looking for a unique twist on New Asian cuisine, DaiLo is a must stop. The restaurant believes eating well is a fundamental part of living well. They explain on their website, "Thoughtful and high quality ingredients lead to better lives and more delicious meals. Our New Asian Cuisine is predominantly Chinese fare but it follows the French tradition. At the heart of the menu is a love and respect for the dishes Chef Nick Liu ate growing up as the son of Hakka parents in Canada, but importantly, they are the dishes his ancestors have been eating for hundreds of years. Ancient favourites are augmented by Liu's signature flair and updated to suit the western palate and the modern demand for local and sustainable ingredients." Visit DaiLo Website.
Best Drives And Restaurants West Of Toronto
Waterloo, Ontario : Shawerma Plus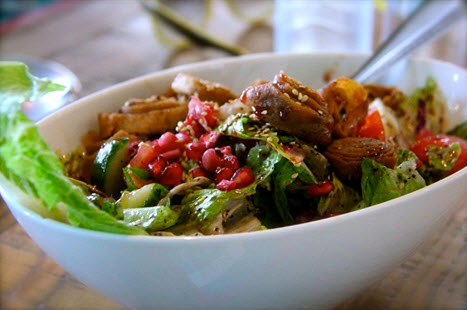 Just an hour outside of Toronto across the 401, Shawerma Plus, is the #1 rated restaurant in Waterloo by TripAdvisor. Delicious, authentic Lebanese, Syrian and Mediterranean cuisine is served in a cozy atmosphere. Some of the unique dishes you can try include: squash & stuffed vine leaves with meat, slowly roasted chicken shawarma marinated in amazing spices or hummus with pine seeds.
This trip takes about 1.25 hours from downtown Toronto. Travel back roads to take the scenic route Drive out for lunch or dinner. While you're in Waterloo, you can visit St. Jacob's Market too. Learn more about Shawerma Plus.
Kitchener, Ontario : Vincenzo's
Not far from Waterloo, this deli serves fresh food and you can grocery shop too! Styled on an Old World Market, the restaurant deli is right on the Iron Horse Trail. Take your bike and enjoy the outdoors after your meal. TripAdvisor reviewers comments include "great selection", "reasonable prices", "fresh produce" and "two thumbs up"!
From downtown Toronto, you'll drive about 1.25 hours. The Waterloo Region is home to the Amish and Mennonite Communities. Travel outside the city limits to see some spectacular farm scenery. Learn more about Vincenzo's.
London, Ontario : Tamarine Bistro by Quynh Nhi
In the heart of downtown London Ontario, Tamarine Bistro offers a blend of Vietnamese and Thai cuisine. Tamarine's menu features fresh ingredients and a flavourful spice palette with a range of delicious vegetarian, vegan, gluten-free, and low-calorie options. This local gem is also known for its friendly staff and superior service. Highly rated on TripAdvisor for its fare, service and atmosphere.
This drive is about 2.25 hours from downtown Toronto along Highway 401. A perfect amount of time for a lunch away and a day trip. Learn more about the Tamarine Bistro.
Niagara-on-the-Lake, Ontario : Treadwell Restaurant
Treadwell Farm to Table Cuisine, is the top-rated restaurant in the Niagara Region and earned TripAdvisor's 2015 Certificate of Excellence. Treadwell emphasizes "the best artisan producers from the Niagara region and surrounding areas; using the restaurant to not only showcase our team's talent to our guests, but also showcase the individuals behind the ingredients."
Travel west for 1.5 hours on Highway 403 to the vineyards of the Niagara Peninsula. Spend some time visiting historic Niagara-on-the-Lake or take in Niagara Falls. Well worth the drive. Learn more about the Treadwell Restaurant.
Hamilton-Dundas, Ontario : Quatrefoil Restaurant
Destination dining at its best. Opened in 2010, Quatrefoil Restaurant is housed in a heritage home on a leafy side street In Hamilton's "Valley Town" of Dundas. The restaurant was featured in enRoute magazine's list of Canada's 10 best new restaurants when it opened. Accolades for Quatrefoil begin with chefs Fraser Macfarlane and Georgina Mitropolous, who met while working at Toronto's celebrated Scaramouche Restaurant. While not vegetarian, with some notice, the kitchen can modify for vegetarian palettes. Expect to pay a little more but to have a unique fine dining experience.
From Toronto's downtown, you can expect a one-hour drive. Learn more about the Quatrefoil Restaurant.
Best Drives And Restaurants North Of Toronto
Barrie-Collingwood Ontario Region : Eiginsinn Farm in Singhampton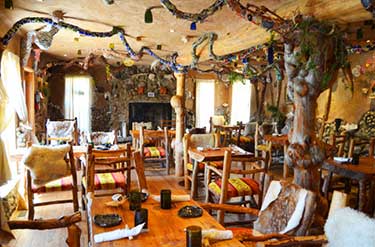 This dining experience is truly unique – beginning with its environment/location. It's located in the home of a working farm. The farm is the home of revered chef Michael Stadtländer, and has ranked #1 on Toronto Life magazine's best restaurants. The dining experience is local to the max. All food is grown on the farm – both produce and meat. It's built an international reputation for authentic seasonal "locavorism" and ethical cuisine.
Eiginsinn Farm is expensive – a once-in-a-lifetime- experience. You can expect to pay about $300 per person and you bring your own wine. You may have to reserve a month ahead. Reviewers say this is a "meal of a lifetime". If you're having a "staycation", this may be the dining and driving adventure you're looking for.
The farm is two hours north of Toronto, an hour west of Barrie and a half-hour south of Collingwood. Learn more about the Eiginsinn Farm.
Markham-Unionville Ontario : The School Fine Dining
What was once a country school built in 1888 in Markham Township now houses The School, a fine dining establishment dedicated to a high degree of culinary standards in food and service. Do you enjoy classic cuisine? Cuisine such as an appetizer of Coquilles St. Jacques, an entrée of Chateaubriand Bouquetiere or lobster tail, then dessert and a Spanish Coffee. Then this quite literal "old school" approach to formal, romantic dining is one you'll grade an A-plus.
Less than 45-minute drive from downtown Toronto, Unionville is one of Ontario's oldest towns – settled in 1796. Learn more about The School Fine Dining.
Shelburne Ontario : Mrs Mitchell's Restaurant
Mrs. Mitchell's is another old Ontario schoolhouse transformed into a cozy restaurant that oozes the atmosphere and hosts a beautiful menu. If you're into dining and concerts, then Mrs. Mitchell's is for you. They host Friday night concerts (every other Friday) with a four-course meal included in the price. Baked French Onion Soup, Filet of Sole or an omelette. There is something for everyone.
Located north of Orangeville, Mrs. Mitchell's Schoolhouse is a 45-minute drive from downtown Toronto. The Bruce Trail and the Niagara Escarpment are part of the natural features of the area that make this a beautiful drive. Learn more about Mrs Mitchell's Restaurant .
Best Drives And Restaurants East Of Toronto
Pickering, Ontario : The Waterfront Bistro
After a long week at work or a day in the garden, you'll want to relax on the patio of the Waterfront Bistro. Located right on the shores of Frenchman's Bay near Swan's Marina, you can enjoy a casual dining experience for lunch, brunch or dinner. The Waterfront offers specials every day of the week after 5 PM. Head over for a drink and appetizers or a dinner or typical Canadian or American fare.
The Waterfront is a 45-minute drive from Toronto. While the food and atmosphere are highly rated by reviewers, we think it's the view that will keep you coming back. Learn more about The Waterfront Bistro.
Kingston Ontario : Tango Neuvo Tapas and Wine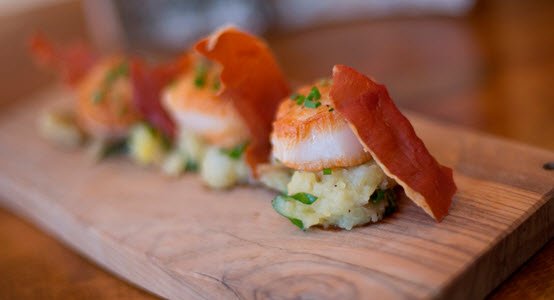 Rich with history and beautiful limestone buildings, downtown Kingston hosts many exceptional dining rooms. At Tango Neuvo Tapas and Wine, the menu is a blend of local flavours and produce and international recipes. "Tapas" – traditionally Spanish fare, is designed to "encourage conversation because people are not focused on eating an entire meal that is set before them." Wines are selected from Prince Edward County and Canadian wines.
Kingston is 3 hours east from Toronto. A day trip for some but too long for others. Learn more about Tango Neuvo Tapas and Wine.
Ottawa, Ontario : Restaurant Les Fougères in Chelsea, Quebec
I know we said Ontario drives but this one is too good to omit just because it is across the border into Quebec. Les Fougères is a 20-minute drive north of Ottawa up Highway 5 – the Autoroute de la Gatineau. You'll enjoy classic French-style cuisine. This award-winning fine dining establishment has been drawing visitors across the border to its garden setting along Highway 105 for over two decades. Whether your tastes run to sweetbreads, scallops or steak, you're bound to find satisfaction at Les Fougeres. Bon appetit!
Like Tapas, Les Fougères is more than a day trip from Toronto. Why not make a weekend of it and stay in Ottawa? Learn more about Restaurant Les Fougères.
So Why Not Go For Nice Summer Drive And Enjoy A Tasty Meal!
If you take that staycation or if you decide to escape the city, why not indulge in a few summer day trips around southern Ontario? There are many beautiful sights and delicious meals waiting for you.
Enjoy the drive. And enjoy what awaits you at your table when you get there.