May 29, 2017
Road Closure Resources To Keep You Moving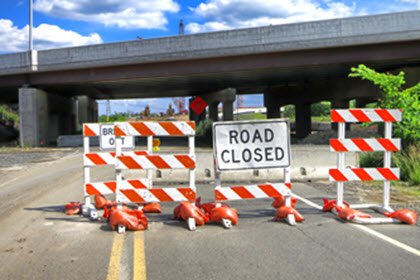 Road closures can significantly impact your driving plans in Toronto and across Ontario. From poor driving conditions, accidents, and road maintenance and construction, there are many things that can cause road closures on Toronto streets or Ontario highways.
While some traffic issues are unavoidable, being proactive and planning your drive around road closures and other traffic issues can save you time and avoid the frustration of getting stuck in traffic.
To help you beat traffic slowdowns, congestion and gridlock, we've put together a guide with some links and resources to help you get to where you want to go in Toronto, GTA, and across Ontario.
City Of Toronto's Road Restrictions Resources
The City of Toronto's Road Restrictions page offers helpful tools and links all aimed at "keeping [Toronto] traffic moving safely and effectively." You can access all the resources from that one page. Here's some of what you'll discover :
1. Road Restrictions Map With Detailed Listings
This is an interactive map with search capability. You can enter a street name, contractor or location in the search or enter info into fields on the page to find out helpful information such as :
Timeframe for road restriction
Type of road restriction
Severity of road restriction
2. Traffic Cameras On The Map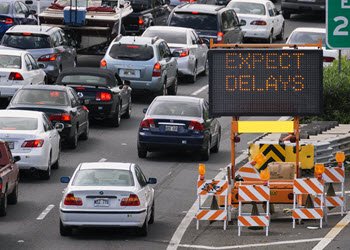 The map also shows traffic flow along the Don Valley Parkway, Gardiner Expressway, Allen Road and Lake Shore Boulevard. By clicking on a camera, you can view the latest traffic image. Check the bottom of the image to find the time stamp.
3. Check Toronto Expressways And Lake Shore Boulevard Closures
Clicking on this link will give you detailed listings about closures on the Don Valley, the Gardiner Expressway, the Allen Expressway and Lake Shore Boulevard.
Here Are The Major Toronto Expressway Spring And Summer Closures for 2017
Monday, April 17th, 2017 to Wednesday, January 31st, 2018 : Gardiner Expressway at off ramp York/Bay/Yonge is closed for construction.
Monday, April 17th, 2017 to Wednesday, December 31st, 2017 : Gardiner Expressway lane reduction from Bathurst St. to York St.
May 15 to June 10th : The intersection of Dundas and Parliament streets in Toronto will be fully closed in all directions from Monday, May 15 at 5 a.m. to Monday, June 5. Road restriction from June 6–10th.
June 4th, 2017 : From 2 a.m. to 2 p.m. : Gardiner Expressway will be closed from the Humber Bridge to Carlaw Avenue for the Ride for Heart. The DVP from Highway 401 to the Gardiner will also be closed.
July 23rd, 2017 : Gardiner Expressway : The eastbound lanes of Gardiner will be closed from 2 a.m. to noon for the Toronto Triathlon Festival. The northbound lanes of the DVP from the Gardiner to Eglinton Avenue, as well as all ramps, will also be closed.
4. Get Twitter Updates
Stay up-to-date by viewing the latest Tweets from traffic spotters' account like :

@TO_Gardiner_LS
@TO_DVP
@TO_AllenRoad
@TO_MainRoads
@OPP_GTATraffic
@TRAFFIC_Toronto

5. Active Toronto & GTA Road Restrictions Count
At the right of the page, you'll see a widget called Active Road Restrictions. This is just a handy link to the road restrictions map. But if you don't want to go there, you'll see the number of major, moderate and minor road restrictions.
The CP24 Traffic Page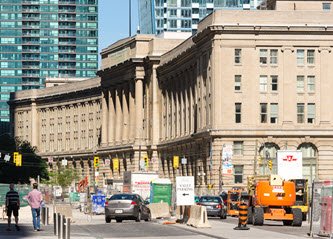 CP24 – Toronto's Breaking News Channel, gives commuters and drivers wide-ranging traffic info. This is a handy resource for instant road closure info and driving conditions all on one page.
You can access current traffic conditions and road delays from accidents and construction. Tweets from commuters provide up-to-the-minute road conditions.
Using the Using the Traffic page, you can also check :
Estimated travel times
Current road restrictions
Future road restrictions
Emergency road restrictions
The CP24 website also runs a live Twitter feed that gives you the latest Tweets from 4 different traffic and travel twitter accounts :
The OPP (Ontario Provincial Police)
MTO (Ministry of Transportation)
Ontario Travel
Canada Travel
Listen To The Radio For Road Conditions
680News is a great resource for current Toronto and GTA traffic. They have traffic updates every 10 minutes. So if there are traffic issues because of volume, weather, accidents, construction or other closures just turn your radio dial to 680 AM and you'll get up to date traffic conditions.
The 680News website is also a good resource. There is an interactive where you can zoom into City Of Toronto live traffic cameras so you can check your route for trouble areas.
Quick Tip : You can also listen to the latest traffic report on demand by simply clicking the Latest Traffic link in the "On Air Right Now" section in the upper right portion of the page.
Other Toronto Road Restriction And Closure Resources
Here are some additional resources for road closures and construction updates across the Greater Toronto Area :
Toronto Road restrictions
Toronto Police Service News Releases
City of Toronto construction information
Expressway and Major Route closures
Road Disruption Activity Reporting System (RoDARS)
Road restrictions map
Ministry of Transportation Traveller's Road Information Portal (TRIP)

Ontario Road Closures And Construction– The GTA And Beyond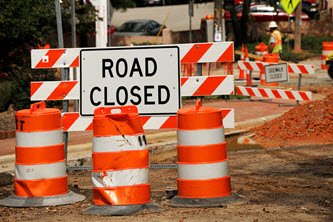 Road conditions on the 401 and other Ontario highways and rural roads can change on a moment's notice. Whether you are travelling in and around your city, in the GTA or across the province, these resources are important to check so you can plan your driving route accordingly.
Ontario Road Closures Maps
No matter where you are driving in Ontario, the Ontario 511 interactive map provides you with information about road closures, construction reports, winter road conditions and more.

The Ministry Of Transportation's Traveller's Road Information Portal
This is a handy website if you are driving across Ontario and need information about highways in a general region. If you click on a city or town on the map, you go to an interactive map. You can select the features you want shown on the map to help you plan your trip. Some of the areas also show traffic cameras so you can view latest conditions.
Plan Ahead To Reduce You Driving Stress
As a driver in Toronto, road closures, construction and emergencies can slow you down, especially in the Spring and Summer. But if you take some time before you get into the car to check your route using one of these resources, you'll get where you want to go and hopefully without delays.
Here Are Some Other Articles You May Be Interested In
A Guide to the Ontario Graduated Driver's Licensing System
How To Buy A Used Car