May 2, 2016
Lower Rates And More Choice In Coverage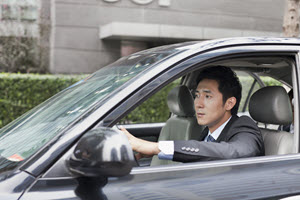 June is just around the corner. In just a few weeks, car insurance policies are changing in Ontario. These changes mean lower rates and more choices for consumers. We think that is a win-win.
We can't say it better than Celyest Power, an IBC spokesperson : "Ontario has some of the highest auto insurance premiums in Canada and that's because the insurance product is the richest in Canada," she says, pointing out that other provinces don't even offer some of the benefits available in Ontario.
"These changes allow consumers a greater choice in coverage," including lower interest rates for monthly premium payments and reducing from six months to four weeks the waiting period for people who are not working to receive benefits.
Bill 15 And Lowering Ontario Car Insurance Rates By 15%
Back in November 2014, the Ontario Government introduced Bill 15 - the Fighting Fraud and Reducing Automobile Insurance Rates Act to lower car insurance rates by 15%. The Bill aimed to address the high costs of claims on car insurance for accidents. These high claims drove insurance rates higher. Rates did come down. By 2015, car insurance rates had decreased by 7%.
Fast forward to 2016, and more changes are coming to car insurance. As of June 1, the government of Ontario is introducing changes to the car insurance system to help lower costs to meet that 15% reduction target.
So What Do These Changes Mean For Ontario Drivers?
According to the Insurance Bureau of Canada the changes coming to Ontario car insurance products will "make your premium more affordable and give you more choice."
Your insurance rates may come down. Standard coverage limits for some types of coverage will be lowered which should translate into lower rates for many policy holders.
You'll also have more choice on your accident benefit limits. In the past accident benefits were standard. Now you can apply for optional coverage. In other words, you can choose the coverage that works best for your budget.
Your policy will reflect the lower benefit when you renew after June 1st, 2016, unless you speak to your insurance provider to purchase a additional coverage.
Here are some videos from The Insurance Bureau Of Canada that help explain the changes.
These Changes Will Happen Automatically On Policy Renewals On Or After June 1, 2016
Insurance companies will be contacting policy holders by mail with information about the changes prior to their renewal. Policy holders should contact their insurance broker if they have questions regarding the changes of if they want to make any changes to their coverage.
All new policies on or after June 1st will automatically default to the new coverage levels.
More Affordable Monthly Payments With Lower Interest Rates
If you pay your car insurance on a monthly payment plan the maximum interest that can be charged has been lowered from 3% to 1.3%.
One Minor At-Fault Accident Will Not Impact Your Rates
Insurance companies recognize that there are times when a little mistake can result in a minor at-fault accident. Starting in June 2016, insurance companies will not use minor at-fault accidents to raise your rates.
The criteria for this is :
No one is injured in the accident
No one makes a claim to an insurance company
The damages are less than $2000 and paid by the driver who is at-fault
This is limited to one accident every three years
The accident occurs after June 1, 2016
Standard Comprehensive Deductible Is Increasing From $300 To $500
For drivers who have comprehensive insurance coverage the standard deductible has been raised from $300 to $500. This will help lower rates for those who decide the stay with that deductible level.
Comprehensive insurance protects vehicles for damages caused by natural disasters, fires, vandalism, theft and some other things. Learn more about comprehensive insurance coverage.
Reduction In The Waiting Period For Non-Earners
After June 1, 2016, the waiting period for accident benefits will be reduced from 6 months to 4 weeks. Non-earners are people who are stay at home parents or some one who does not generate an income. Insured people who are over 18, also qualify for this benefit.
Changes To Accident Benefits
One of the big changes to car insurance is accident benefits coverage – no matter who is at-fault in a collision. Some of the accident benefits have been reduced; some have been combined and others have been eliminated or changed.
The table below explains the main changes in accident benefits coverage and limits with the June 1, 2016 updates.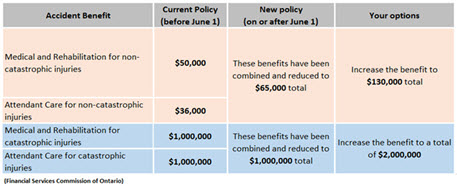 There are also other changes that allow for additional or increased coverages. You can get more information here :
You can also call your insurance broker. They will be able to answer any questions you have and make sure you have proper coverage for your needs.
How Can You Make Sure You're Still Adequately Covered With These Changes?
The June 1st reforms to the Ontario car insurance system means changes in standard coverage for policy holders. Insurance companies are also offering new products to provide more options for drivers. To better understand your policy, you should call your insurance broker. They are experts who understand these changes and can answer any questions you might have.
Here are a few other tips :
Remember The June 1, 2016 Deadline : These new changes in car insurance both the coverages and limitations will apply to your car insurance policy.
Review Your Policy When It Arrives In The Mail : We know it's not exciting reading, but review the details of your policy coverage.
Speak To Your Insurance Broker : Make sure that you feel adequately covered with the new limits. If not, discuss the new options for coverage.
Ask Your Broker To Compare Policies : Learn about rates and benefits from more than one insurance company. The Insurance Bureau of Canada says, "The biggest piece of advice is to pick up the phone and talk to your insurance provider."
Speak With Your Insurance Broker To Understand The Changes
These changes to car insurance aim to address the Ontario government's call to lower your car insurance rates. Your rates may lower but remember that your coverage may also be lower. Make sure that you check in with a broker or with your insurance company to ensure that you are comfortable with the changes to your policy.
More Ways To Save On Your Car Insurance
What Are The Cheapest Cars To Insure? Top 10 Car Insurance Savings Tips Car Insurance Savings Tips And Discounts For New And Young Drivers Save Up To 25% With Usage Based Car Insurance
Other Helpful Links On Car Insurance Reforms
Insurance Bureau of Canada - Your Auto Insurance Policy Is Changing PDF Insurance Bureau of Canada - Ontario Auto Reforms FSCO - Changes to Automobile Insurance Regulations
<<Uber Challenges In Ontario – Insurance, Driving, Permitting & Taxi Drivers
Uber And Ride Sharing Services Now Legal In Toronto>>