May 4, 2016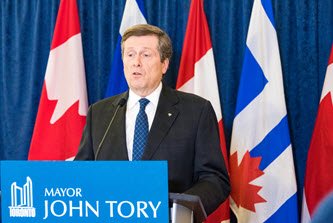 After months of wrangling and debate, the Toronto City Council legalized UberX as a transportation option in Toronto after a 27-15 vote on May 3, 2016. Mayor John Tory has promoted Uber as a viable alternative and has walked a careful line of trying to appease taxi companies while hearing the demands of the general public for Uber insurance.
The complicated new rules – about 20 pages in regulations – are an attempt to regulate both Uber and the taxi industry. The taxi industry is not happy with the new rules saying that the rules are unfairly biased against it.
The new bill from Toronto City Council introduces a new Private Transportation Companies (PTC) licensing category which will include "ride sharing services" such as Uber and Lyft.
Highlights Of New Rules For Uber (PTCs) And Taxis
There are many new rules that will apply to Uber drivers and other ride sharing services if they want to operate in Toronto. Some rules for taxis have also changed in effort to help make things more fair. Below is a summary of some of the key changes.
Fares
Uber - Can only book fares by using a smartphone app.
Taxis - Can pick up curbside customers hailing and book fares via a smartphone app.
Background Checks
Uber - Background checks are now required for all drivers.
Taxis - Background checks continue to be required for taxi drivers.
Annual Licensing
Uber - Annual licensing fee of $10 per driver and 20 cents per trip.
Taxis - Annual licensing fee of $290 per driver.
Driver Licensing
Uber - Must have G-class a license and a city permit.
Taxis - Must have a Taxicab drivers license.
Vehicle Safety Checks
Uber - Vehicles must now have 2 safety checks per year.
Taxis - Taxis continue to require 2 safety checks per year.
Base Fair
Uber - UberX drivers must raise its base fare from $2.50 to $3.25 to be the same as taxis.
Taxis - Taxicab base fare remains at $3.25.
Liability Insurance
Uber - Uber drivers need $2 million in liability insurance and must show proof of insurance to the City of Toronto.
Taxis - Taxis drivers need $2 million in liability insurance.
Surge Pricing (can raise pricing based on demand)
Uber - Uber has already been applying surge pricing in high demand times.
Taxis - Taxis can now apply surge pricing if rides are booked via a smartphone app.
Cameras And Emergency Lights
Uber - Cameras or emergency lights aren't required now but this will be reviewed by city council.
Taxis - Cameras and flashing emergency lights continue to be required.
Uber And The Insurance Industry – So Far
Uber as a company, provides 3rd party liability for its drivers. This coverage is not seen as adequate coverage for drivers and riders in Ontario. Aviva Insurance, in an attempt to address the need for existing customers, developed and launched a new product in February 2016, in spite of many challenges – including the lack of legislation for this new model of ride-sharing.
Aviva's Add-on For Ride Sharing Driver Coverage
Aviva's coverage is an add-on to Ontario car insurance. Greg Somerville, CEO of Aviva Canada says, "We're excited to offer a simple and affordable solution within a driver's existing personal auto policy, thereby providing drivers and passengers with an absolute peace of mind that they have insurance coverage while ride-sharing." It protects ride-sharing drivers from the time they respond to a request for a lift to when they drop passengers off.
There are some qualifications to get this coverage such as :
Max 20 hours per week use for ride sharing.
Must be licensed for 6 years in Canada or U.S.
Can only carry 8 passengers.
Learn more about the Aviva ride sharing coverage here or contact your insurer.
As more cities embrace ride-sharing services, insurers will most likely develop new, innovative insurance products to keep customers – both drivers and riders – safe and protected.
Ride Sharing Services Are Changing The Transportation Industry
Uber and other apps like it, have 'disrupted' the transportation industry and how it meets consumers needs. This new legislation seeks to regulate both Uber and other ride-sharing services (like Lyft and TappCar) – in an effort to satisfy both sides of the field.
The taxi industry maintains that this legislation signals the end of the taxi industry. Uber and its supporters see this legislation as a "great day for riders in the city of Toronto, a great day for drivers as well using the Uber platform," Said Uber's Ian Black.
This legislation is a bold move to try to fairly regulate taxis and Uber drivers. Time will tell if Toronto's legislation will bring a level playing field to the Uber drivers and taxi drivers. And time will tell if riders are better off with the new legislation.
Other Ride Sharing Related Articles
Uber Challenges In Ontario – Insurance, Driving, Permitting & Taxi Drivers
Uber And Ride Sharing Insurance Coverage From Aviva
Toronto Legalizes Uber-X in Marathon Meeting
UberX will be allowed to operate legally in Toronto, city council decides