Mar 23, 2016
Uber And Its Mass Appeal
Uber is a "ride-sharing business" that is based on a phone app. It's causing waves in the taxi and insurance industries because Uber has pushed the boundaries on car insurance and it's disrupting the taxicab and limousine market. Although Uber has had many challenges and hurdles to overcome – and more to follow), it is here to stay. The wrinkles just have to be worked out.
Drivers and users alike install the Uber app on their smartphones. People needing a lift and those offering a lift – for a fee – can connect through the app. If you need a lift, you can :
Find an Uber vehicle nearby your location
Request a lift
Pay with a credit card through the Uber app
Uber has mass appeal because it is convenient and usually less expensive than using a commercial taxi or limousine service.
Uber's Says It's Committed To Driver And Rider Safety
Late in 2015, an Uber representative was quoted in a Globe and Mail article Globe and Mail article that "it [Uber] has been committed from the start to "safely connecting riders with drivers and a big part of this means every ride is covered by insurance."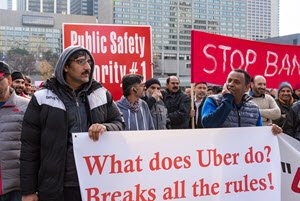 But in 2016, some grey areas still remain and cities and insurance companies continue to try to clarify :
Car Insurance : What is the right kind of insurance for an Uber driver? If you're in an accident when you're providing a paid fare and your car insurance is for personal use, will your policy cover you for third party damages and medical costs?
Licensing For Drivers : What type of license should Uber drivers hold? Since their car is both personal and commercial, what sort of license should a driver have? Should Uber drivers be bonded?
Laws And Regulations : Since the company connects drivers with riders, taxicabs believe that Uber is unfairly operating as a cab service. Many cities are still trying to come to establish fair licensing of Uber drivers.
Uber And Insurance
Late September 2015, Uber announced that it was working with Intact Insurance to develop an "innovative, new insurance plan for ridesharing in Canada that we hope will come to market soon. This plan will be the first of its kind designed exclusively for the ridesharing industry in Canada." As recently as this past month, there has been no announcement about a new product.
More recently, Aviva Insurance announced that it is offering insurance coverage for UberX drivers. There are certain terms and conditions for meeting insurance requirements.
Terms For Insurance Coverage For Ontario Uber Drivers
To be covered by Aviva ride sharing insurance , Uber drivers have to meet these conditions :
Drivers can ride share for a maximum of 20 hours a week.
You must be licensed for a minimum of 6 years in the US or Canada.
You can carry up to 8 passengers.
Your vehicle cannot be licensed as a commercial vehicle (no taxis or limousines).
You can receive this coverage as an addition (endorsement) to your personal vehicle insurance if you meet these conditions. According to Aviva Insurance, "Uber does not currently offer any ridesharing insurance that fully conforms with Ontario's minimum automobile insurance requirements." Uber only provides 3rd party liability for its drivers. This is not adequate for drivers in Ontario.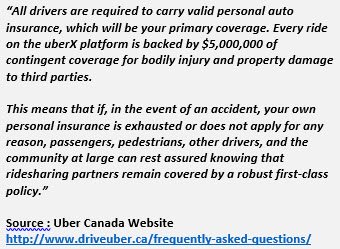 Uber Canada's website has some basic information about the coverage in the FAQs but it is best to check with your insurance broker or company to better understand implications with personal coverage and ride sharing services.
So it's unclear whether Uber's insurance coverage protects your car from damages.
Uber And Legislation
All over Canada, taxi legislation does not cover a ride-sharing service like Uber. On top of a lack of provincial legislation, there are municipal bylaws that do not take into account the business model that Uber operates from.
What's The Future For Uber?
From the consumer's perspective, Uber is a game-changing innovation that offers benefits that consumers want – price-affordability and convenience. And at some level, it probably feels good to be helping someone who is looking to make some extra bucks.
Insurance companies are working hard to create new products for this new model of ride-sharing with a fee structure. Municipal and provincial governments are studying how to adjust legislation and bylaws to allow ride-sharing in Canadian cities without damaging the taxi and limousine industry.
Uber is here to stay. The battle will not be between taxis and Uber anymore but between different ride-sharing companies – like Lyft or TappCar (launched March 14th, 2016).
Other Insurance Articles
Learn More About Ride Sharing Insurance
How Are Insurance Rates Determined In Ontario
Why Does Car Insurance Cost More In Ontario & Greater Toronto Area?
Learn About Usage Based Insurance Where You Can Save Up To 25% With Good Driving Habits
Top 10 Car Insurance Savings Tips
Car Insurance Savings Tips & Discounts For New And Young Drivers